'He's All That': 10 Easter Eggs From 'She's All That' You Definitely Missed
Hollywood is notorious for continually remaking movies and retelling old stories. (Case in point: A new Cinderella film seems to pop up every couple of years). Still, some sequels and remakes are pretty successful. He's All That is a remake of a '90's classic She's All That. Instead of shying away from its predecessor, He's All That is full of Easter eggs from She's All That — and we bet most viewers missed many of them.
'He's All That' is a gender-swapped remake of 'She's All That'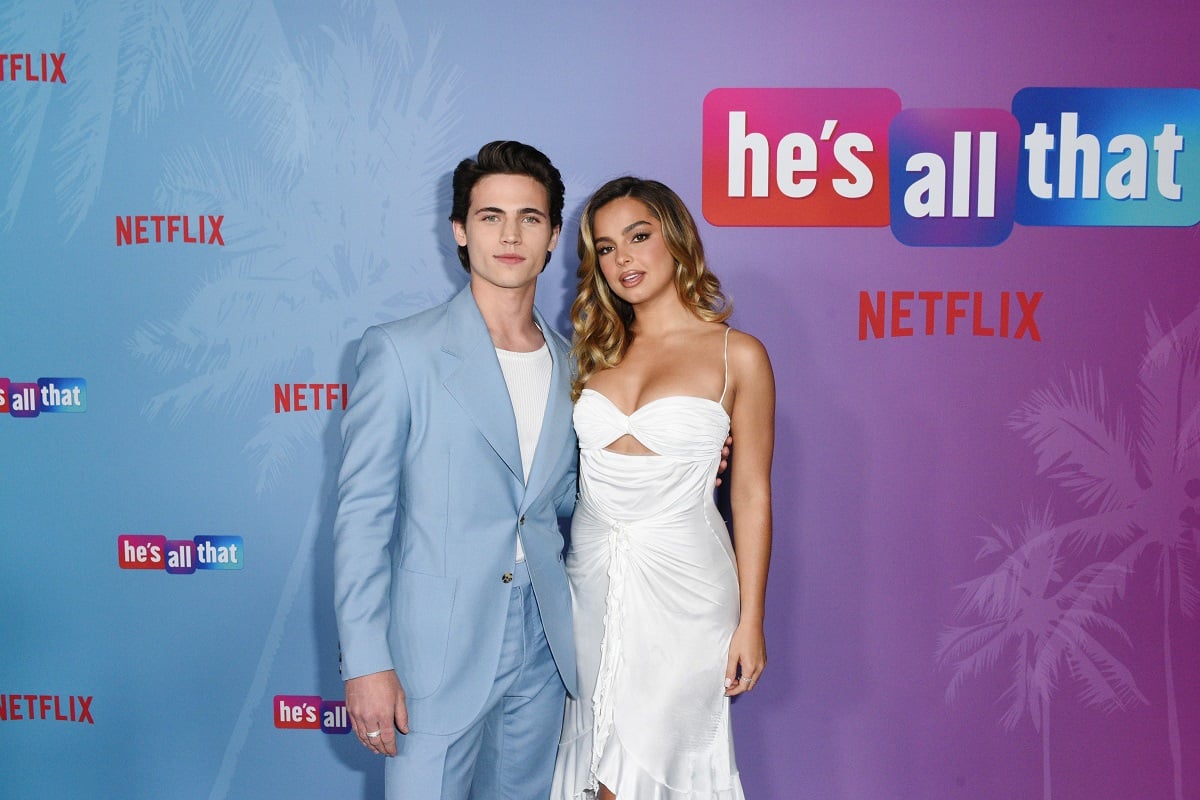 If you grew up in the '90s, you most likely remember She's All That. The teen rom-com began with the most popular guy, Zack Siler (Freddie Prinze Jr.), in school getting dumped by his popular girlfriend. In a macho attempt to seem unphased, he bets his best friend that he can make any girl prom queen. His best friend chooses an artsy outcast, Laney Boggs (Rachael Leigh Cook). After a makeover and some unforeseen chemistry, the duo falls in love.
He's All That is a remake of She's All That, but the popular female influencer, Padgett Sawyer (Addison Rae) must make the male outsider, Cameron Kweller (Tanner Buchanan) prom king in the new version. Although the film is an updated take on the original, it roughly follows the same format and storyline.
'He's All That' had plenty of Easter eggs from 'She's All That'
He's All That did little to hide the fact that it was a remake. In fact, Easter eggs are scattered from beginning to end. They included:
1. Rachael Leigh Cook
Cook didn't reclaim her role in the remake — but she is in the film. In He's All That, Cook is the main character's single mother, Anna.
2. Matthew Lillard
Lillard also returned for the remake, albeit playing a different character — but he still shows off his iconic dance moves.
3. A public breakup
In the original, Zack was dumped publicly in front of the whole school. He's All That features a public breakup as well, but this time it is in a more modern environment. That's because Padgett's boyfriend breaks up with her on Instagram live in front of all of her friends and followers. In the original, Zack was dumped for a Real World cast member, which could be compared to an influencer of that decade.
4. '90s-inspired clothing
The He's All That costume designers did a great job of keeping attire similar to the '90s original. There are crop tops, bucket hats, and more.
5. The artsy nerd
The leading male in He's All That, Cameron, is a photographer. This is very similar to Laney's love of art in the original movie.
6. Epic house parties
Teen rom-coms are known to have over-the-top house parties. There is an epic post-makeover house party in She's All That where Laney debuts her new look. He's All That made sure to include parties as well. There are actually two: One is a pool party before Cameron's makeover, and the other is a post-makeover costume ball.
7. Finding out about the bet
Not only does Cameron find out about the bet in the remake, but he repeats the exact same line as Laney did when she found out in the original. They both say, "Am I a f*cking bet?!"
8. The red dress
In She's All That, Laney debuts her transformation in a stunning red mini-dress. The red dress is kept alive in the remake. Padgett debuts her red dress for the prom.
9. Bizarre choreographed dance scene
She's All That had a bizarre dance scene where everyone knew an overly choreographed dance. He's All That kept the tradition alive. At prom, the students break out into an equally over-the-top dance sequence.
10. The song 'Kiss Me'
Sixpence None the Richer remade their song Kiss Me for the remake. Cook even remarks that she has heard the song before.
'He's All That' is now streaming on Netflix
He's All That is now available to stream on Netflix. Although the remake is made for the new generation, it will delight both old and new generations. It keeps enough of the original story intact while adding the new social dynamics teens face today to keep everyone entertained.
RELATED: Freddie Prinze Jr. Refused 'She's All That' Remake Role, Claims Rachael Leigh Cook