HGTV's Christina Anstead Shares How She Improved Her Health in Upcoming Book
Christina Anstead of HGTV is remaining in quarantine during the coronavirus crisis with her husband Ant and kids Taylor, 9, Brayden, 4, and Hudson, 7 months. Though she's following social distancing guidelines, Anstead is keeping busy homeschooling her kids and working on her various home improvement projects.
The reality star is now adding 'author' to her list of credits with the launch of her new book on wellness.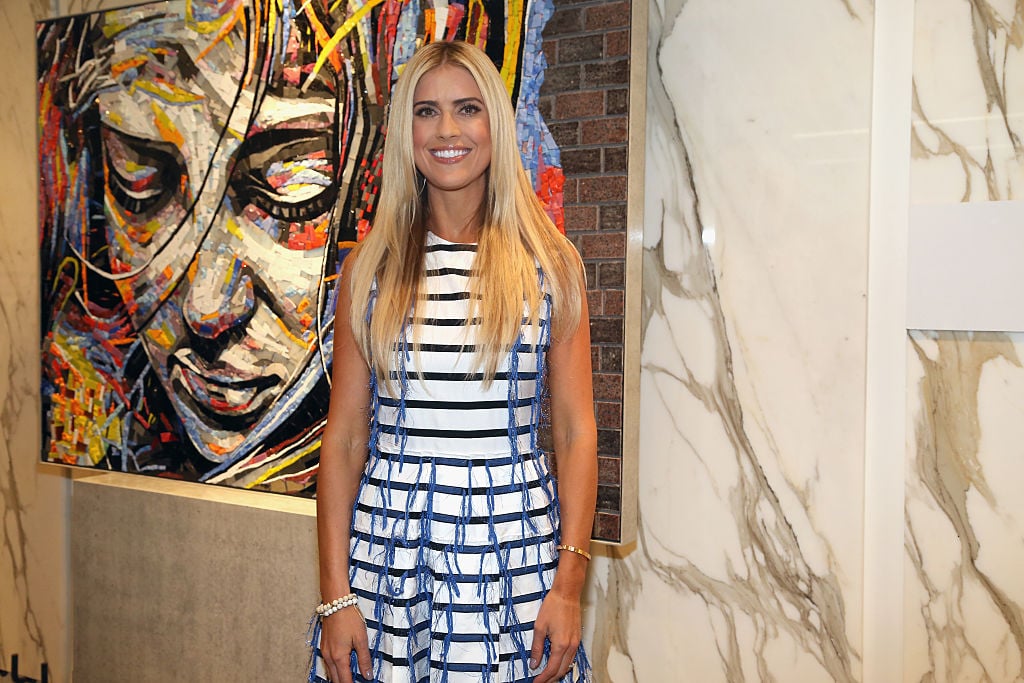 'The Wellness Remodel'
In November, Anstead took to social media to announce her upcoming book she wrote with nutritionist Cara Clark. Detailing her own health issues and the steps she took toward greater wellness, Anstead includes meal plans, workout tips, and personal stories about her journey.
"So excited to announce our book The Wellness Remodel coming out in April 2020!" Anstead wrote on Instagram. "I've been following @caraclarknutrition meal plans since 2013 and credit her to really showing me what eating healthy looks like. This book will include all our favorite recipes as well as workout tips and strategies for reducing stress and being more mindful."
Formatted into three sections – "Gut Rehab" which hones in on food and nutrition; "Building a Strong Foundation" that focuses on exercise; and "The Rewire" dedicated to mindfulness – The Wellness Remodel: A Guide to Rebooting How You Eat, Move, and Feed Your Soul offers an accessible guide to all aspects of wellness along with practical everyday strategies that readers can easily follow.
Anstead's health struggle
The Flip or Flop host revealed she was battling some health issues that she wasn't properly addressing. "Five years ago I didn't feel great," Anstead told People. "I'd have brain fog or constantly feel like I was in fight-or-flight mode, but I just thought, 'Well, I'm stressed, so this is how I should feel.'"
Becoming a familiar face on the small screen since her house remodeling show began on HGTV, Anstead noted that viewers would inquire about her health and nutrition regimen more than home improvements.
"Since Flip or Flop first aired in 2013 people really weren't asking me like, 'Hey, what paint color is that or where'd you get that cabinet,'" she explained. "It was more, 'How do you stay healthy? How do you balance work life with the kids? What are you eating during the day?' So it was kind of always in the back of my mind."
With the help of Clark and several medical and wellness specialists, Anstead was able to improve her health through a series of changes and now wants to share what she's learned.
"I wanted to provide people with information that's helped me along the way," she said. "I dive into autoimmune issues and naturopathic doctors and meditation crystals. And then also workouts and a variety of recipes."
Anstead's new regimen
Now on a better path of wellness, Anstead has become a fan of more mindful forms of exercise and has discovered how important it is to block out unnecessary diversions.
"Now I'm more in tune with my body," the Christina on the Coast star said. "I know how to cope with stress and my Hashimoto's disease [an autoimmune disorder that can cause hypothyroidism]. Instead of crashing myself with exercise, I do yoga and practice meditation on the Headspace app. When my mind's quiet and there are no distractions, that's when I get really, really good ideas."
Anstead reminds herself that one off day will not dictate how the rest of her week plays out. "I can have a bad day, sure," she said. "But I'm not going to have a bad week or a bad month. I've always had that perspective."
The Wellness Remodel is scheduled for release on April 14.