'High School Musical: The Musical: The Series' Finale Recap — What Happened During 'Act Two'?
Oh, Wildcats, you haven't seen anything yet. With opening night off to a rocky start, there are a few casting changes for "Act Two" of this high school production. Will Nini and Ricky finally confess their love for each other? Will Nini be accepted into that prestigious acting school? Here's our recap of the season 1 finale of Disney+'s original television show, High School Musical: The Musical: The Series.
This article contains major spoilers from episode 10 of High School Musical: The Musical: The Series. Read at your own risk!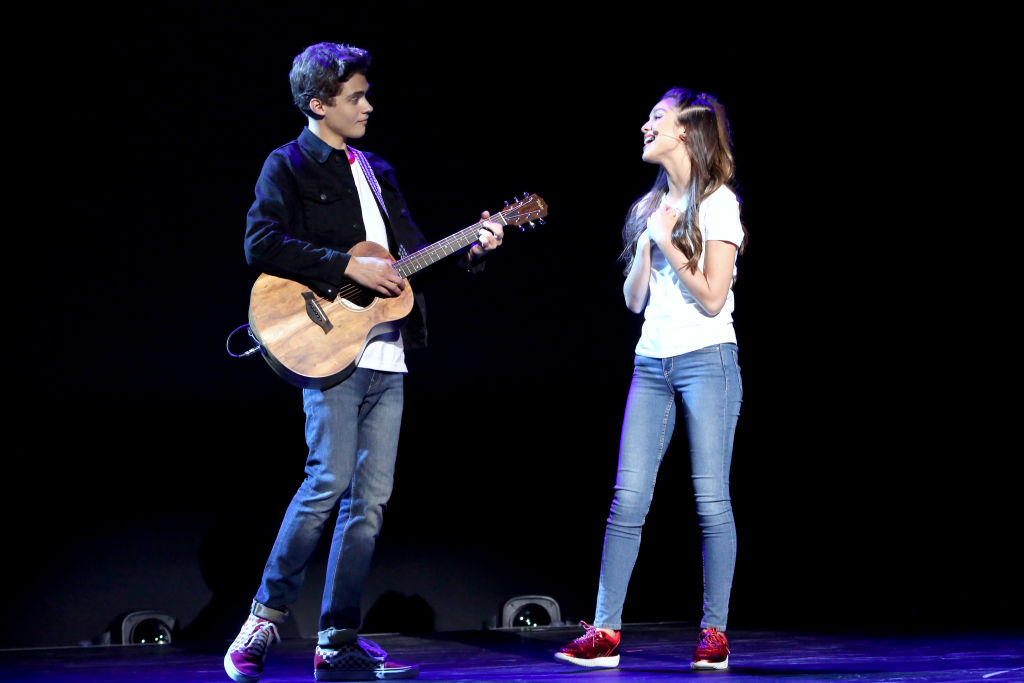 EJ fills in for Ricky, as the leading role for this 'High School Musical'
This episode picks up right where viewers left off. Nini is feeling shaky because of the Dean in the audience and Ricky is feeling shaky because of his mom's new boyfriend who showed up unexpectedly. To give Nini her best shot, Ricky decides to let EJ play Troy and Carlos so graciously fills in for Chad.
Ricky tries to call Nini and tell her what happened but if she's onstage, she can't pick up the phone. Nini doesn't figure it out until EJ steps onstage for one scene. At the same time, Big Red is killing the lights and soundboard, falling for Ashlyn at the same time.
Ricky's mom finds him lingering in the hallway and asks what happened and Ricky kind-of confronts her. Upset and angry, our leading man just goes into the auditorium to support his teammates. Backstage, Nini finally gets Ricky's text and it's right before "Breaking Free." Gina finds Ricky in the hallway and the two head into the auditorium.
Right before 'Breaking Free,' Nini sees Ricky in the audience
Gina and Ricky enter the auditorium right as the new Troy and Gabriella are about to sing "Breaking Free." Once Nini spots Ricky and she's at a loss for words, EJ goes off-script stepping off the stage and letting Nini choose to sing with Ricky.
Nini starts singing and runs into the audience, taking Ricky's hand and asking him to sing. The two head back to the stage and sing the rest of the song, and it's pretty flawless. We also find out that EJ bought Gina the phane ticket earlier.
The whole cast returns for the curtain call and even gives Miss Jenn her apple moment. Still, Nini looks in the audience and notices the Dean left early. While everyone else is celebrating backstage, Nini is pretty heartbroken. (Also backstage, Ashlyn finds out the flowers are from Big Red, which is so adorable.) Ricky decides to go and talk to Nini.
Ricky had a pretty important question for Nini
Nini is packing up all her stuff and Ricky goes up to ask her how she's feeling. She shrugs and says maybe she was just meant to stay at East High. But what was the question Ricky had for her earlier? Oh, Ricky says, he just wanted to know what happens now. Nini laughs, he can Big Red could play some video games. She grabs her backpack and heads for the door. Just then, Ricky says I love you.
After a pretty adorable speech from Ricky, the two finally kiss. They exchange gifts and then, Nini heads out to find her family. Out in the hallway, Gina says she has to catch a flight back home, but Ashlyn offers for her to stay in her guest room. Then, she says she has a crazy idea.
Meanwhile, Nini runs into the Dean from the school who did not leave. Turns out, she was pretty impressed by the performance and she offers her a spot, starting next month. Just as the Dean walks away, Nini says Ricky. She's got a pretty important decision to make and fans will have to wait until next season to find out if she stays.
(During the credits, viewers also see a surprise tap number from Big Red. He thinks he's alone in the auditorium, but Ashlyn, with flowers in hand, is thoroughly impressed. She drops her flower and the two kiss.)
Episodes of High School Musical: The Musical: The Series are available on Disney+. To learn more about this streaming service and to subscribe, visit their website.