The Hilarious Christmas Gift Meghan Markle Gave Queen Elizabeth That Made Her 'Burst Out Laughing'
Meghan Markle's Christmas gift for the queen was a hilarious hit. Find out what she got Queen Elizabeth that made her burst out laughing.
Prince Harry and Meghan Markle may have missed the annual Christmas gathering with the royal family, but they've taken part in the tradition in the past. One year, in fact, Markle won over the queen with a hilarious gift that made Queen Elizabeth "burst out laughing."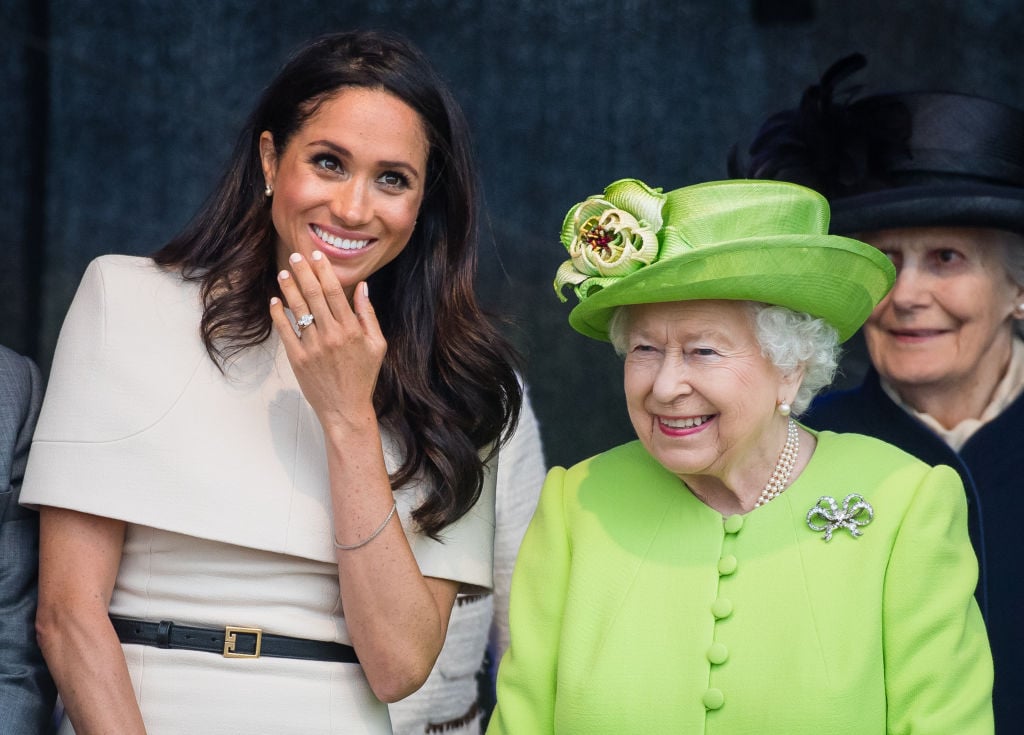 The royal family has a unique holiday tradition
The royal family's annual Christmas gift exchange is much different than what many fans would expect. While there is some formality with the holiday gathering at Sandringham, the family's gift exchange is a much lighter component of their time together, as they reportedly exchange gag gifts.
The tradition has been in effect for years, with the royal family opening the gifts on Christmas Eve and sharing many laughs over the presents. One year, for example, Prince Harry gifted the queen a shower cap that read "Ain't Life A B**ch?"
Royal biographer Brian Hoey wrote for the Wales Online in 2014: "Trestle tables are laid out in the Red Drawing room at Sandringham, with sections marked off with tape showing where each family member's gifts should be."
He continued, explaining: "During the afternoon, they all creep down to the drawing room and secretly place their gifts on the table. The rule is that no-one may open their parcel until given permission by Prince Philip who supervises the proceedings."
The types of presents, Hoey noted, "should be an inexpensive 'joke gift' — the cheaper the better — after all what else can you give the family that has everything?"
As for the rude gift Prince Harry gave his grandmother, Hoey remarked, "yes, she did like it!"
Princess Diana didn't know about the cheeky gift exchange
Princess Diana wasn't told about the gag gift exchange and was reportedly left embarrassed when she gave expensive cashmere sweaters and scarves as presents.
Royal experts Zoe Borrell and Angela Mollard discussed Princess Diana's oops during the Royals podcast, with Mollard noting: "When Diana first went she didn't know that there was this joke present tradition."
She added: "So she had got Princess Anne this gorgeous cashmere jumper. It was all very sensible and expensive. And she handed it over and she hadn't been made aware that it was just novelty presents. Poor thing! They didn't communicate very well."
While Borrell believed that "Charles should have told her that before they went," Mollard pointed out: "I don't think they were talking much." She explained: "They got married in August and I don't think they were talking by December. So he didn't give her that information and she was very annoyed about it."
Meghan Markle's hilarious gift to the queen revealed
In 2017, shortly after Prince Harry and Markle got engaged, the couple were on hand at the royal family's Christmas in Sandringham.
According to a report, Markle got in on the gift exchange fun with a hilarious singing hamster toy that was a big hit with the queen.
A source told the Daily Star: "Meghan bought a little hamster that sings with a little rope for Her Majesty. It was so funny, especially when the corgis tried to take hold of the toy."
The insider shared that the queen "burst out laughing," telling Markle, "It can keep my dogs company."
The queen's corgis, unfortunately, ripped the toy apart.