Hilary Duff Considers Having Another Baby During the Pandemic: 'Should We Do One More?'
Hilary Duff, former teen idol, is probably best known as Lizzie McGuire, the Disney Channel television series (2001-2004) on which she played the title character. Her successful show led to The Lizzie McGuire Movie in 2003. Then, she accepted roles in the movies Agent Cody Banks, A Cinderella Story. The Perfect Man and Raise Your Voice. Her popularity as a teen led Rolling Stone to name Duff "Teenage of the Year" in 2003. However, Duff is in her 30s now, a working actress and mother. With two kids already, does Duff want more?
Hilary Duff, age 32, has 2 children
Duff, 32, is now the mother of two young children. Duff began dating Canadian hockey player Mike Comrie in 2007, and they married in 2010. She announced her pregnancy in 2011 and gave birth to her son Luca in March 2012. After giving birth, Duff admitted in a USA Today article it was "a struggle to lose the 50 pounds she gained while pregnant with son Luca."  She gradually changed her diet, worked out with a trainer, and took up boxing to help with the process. Sadly, Duff and Comrie's marriage ended in divorce in 2016, with Duff granted primary custody of their son.
Duff and songwriter Matthew Koma have been together since January 2017 after working on her album, Breathe In, Breathe Out. In June 2018, they announced she was pregnant with their first child. 
Hilary Duff had her second kid, a daughter, in 2019
Duff shared the challenges of her second pregnancy with her followers on social media.
"Man, pregnancy is hard," she wrote on Instagram in July 2019. "Giving love to all mamas who make it look effortless … this journey is hard as hell and also incredibly special."
Duff dealt with common pregnancy complaints, like having to use the bathroom frequently, the inability to tie her shoes, as well as the changes in her physical appearance.
RELATED: Hilary Duff Explains Controversial Photo of Son, Tells Trolls 'Get a Hobby'
A few months later, Duff and Koma announced the birth of their daughter, Banks Violet Blair in on Instagram. Duff shared, "She joined our world at home on Thursday afternoon and is absolute magic."
More recently, Duff has expanded her television acting career. She co-starred on Younger, a TV Land series. The comedy-drama premiered in 2015 and has run for six seasons. Duff plays the character Kelsey Peters, and received People's Choice nominations in 2016 and 2017 for her performance.
Do Duff and her husband Matthew Koma want more children?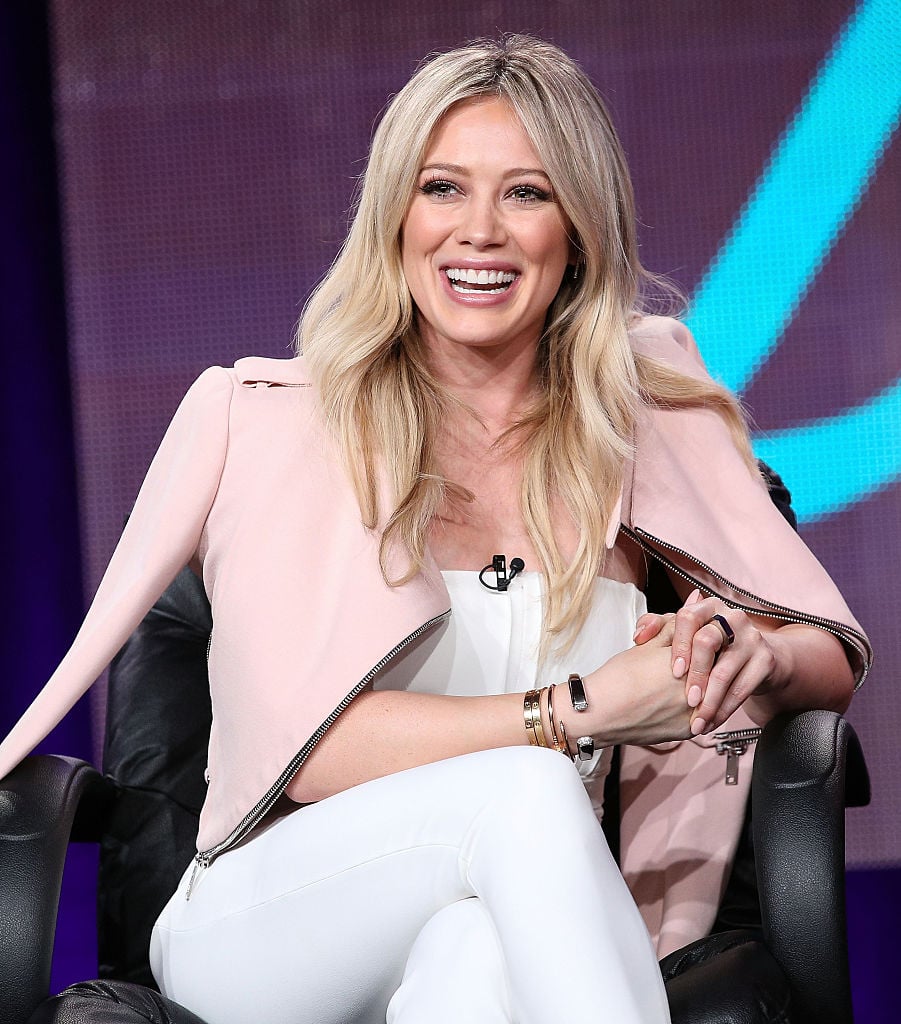 RELATED: Why Miley Cyrus Wanted to 'Copy' Hilary Duff
Despite any reservations about another pregnancy, BuzzFeed reported recently that Duff has indeed been considering having another baby during the COVID-19 pandemic.
She and her husband have spent the quarantine with her family, adapting to a new routine of home-schooling and wearing face masks when out in public. Duff and Korma have admittedly been "going back and forth" about whether they should consider another child at this time.
"We're obsessed with our kids and we're like, 'should we do one more?'" The Lizzie McGuire star wondered. "Is this a good time? We're always kind of talking about it and toying with the idea, but nothing too serious yet."