Hilary Duff Says Miley Cyrus 'Kind of Embarrasses Me,' But Calls Her 'the Epitome of Cool'
Singer Miley Cyrus and actor Hilary Duff both got their start in the same place: on the Disney Channel. Duff starred as the titular character in Lizzie McGuire. She portrayed the preteen/teenage girl who often narrates through her animated conscience from 2001 to 2004, before leaving the network behind.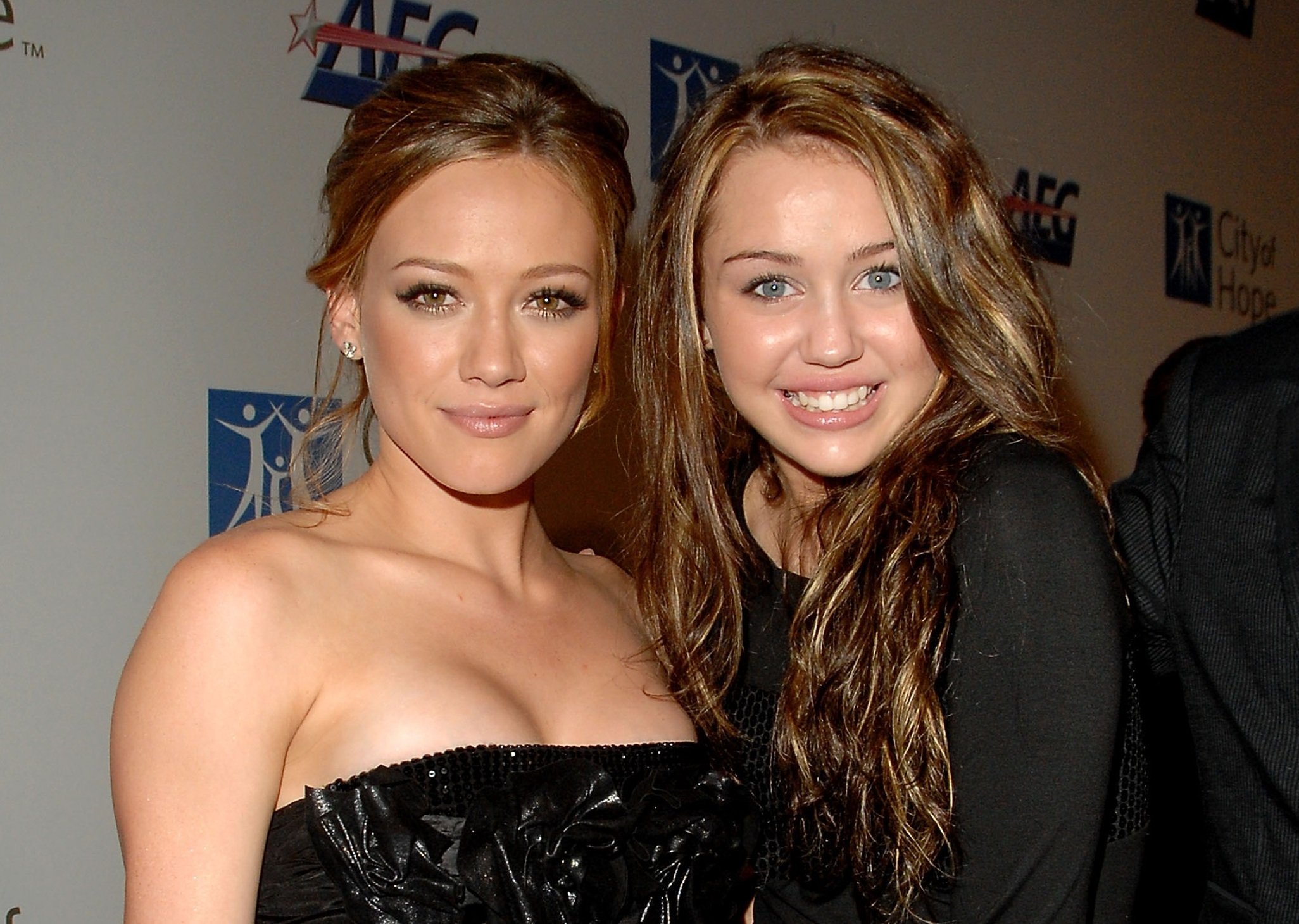 Years later, Cyrus starred as Miley Stewart, a teenager with a country music alter ego, in Hannah Montana. The sitcom aired from 2006 to 2011, after which Cyrus followed in Duff's footsteps, hoping to get into feature films. However, she ended up focusing on her music career. Here's what Duff said about Cyrus in July 2020.
Cyrus has long been a fan of Duff
Cyrus has never been shy about her adoration of Duff. "She's kind of set the way for all of us [Disney Channel stars], not only just in a business sense, but [by] saying that it is OK to be a good girl," she told MTV in 2008. "Whether it was her or not, I would definitely be doing what I'm doing, but she definitely made it more acceptable.
Years later, Duff presented Cyrus with an award and the Global Action Awards in 2011. "I've got to tell you, I never thought I'd get an award from Hilary Duff," she said when she accepted it. "This is a dream come true for me. She inspired me, and now I'm here being able to inspire other kids."
Duff appeared on 'Bright Minded: Live with Miley'
In March 2020, amid the coronavirus (COVID-19) pandemic, Cyrus began hosting an Instagram Live show. Duff was one of her early guests, and when she introduced her, she referred to her as the "queen of the universe, apple of my eye, the ruler of my heart," as well as "the reason I wanted to do any of this."
While Cyrus spent time praising Duff during their virtual chat, it became clear that the feeling is mutual. Duff told Cyrus how much she liked the show, saying, "You have been such a bright light, and you have made so many choices that have been so bold, and you are an inspiration." 
She praises Cyrus, calling her 'the epitome of cool'
Speaking with Cosmopolitan in July 2020, Duff spoke about a new product she's promoting. She also touched upon her Bright Minded conversation with Cyrus. And once again, Duff praised the singer, remarking on how she feels about being the subject of Cyrus' adoration.
"I love Miley," Duff said in the interview. "She's always showing me so much love and it kind of embarrasses me in a way. I'm like, come on, you're like the epitome of cool and it's really sweet that she's just so vocal about being a fan growing up with me and I love her. "
Duff says 'never say never' about a crossover reunion
In the interview, Duff was asked about the Lizzie McGuire revival series at Disney +, which has been put on hold. And a possibility was floated: What about a crossover between Lizzie McGuire and Hannah Montana. "Oh my god, I've never heard that one," she said. "But you might be starting something right now."
Duff continued, adding, "I don't know, I've never thought about a Hannah Montana and Lizzie McGuire crossover, but never say never! Anything goes these days, right?"