Hilary Duff 'Wasn't Acting' in 'Lizzie McGuire' but There Was 1 Aspect of the Character She Didn't Love
Actor Hilary Duff currently stars in the TV Land series Younger, as Kelsey Peters. But she was set to return to the character that made her famous — Lizzie McGuire — in a revival series. Though the Disney+ show never made it to air, Duff remains grateful for the original. Discover what she said about being Lizzie.
Hilary Duff starred in 'Lizzie McGuire'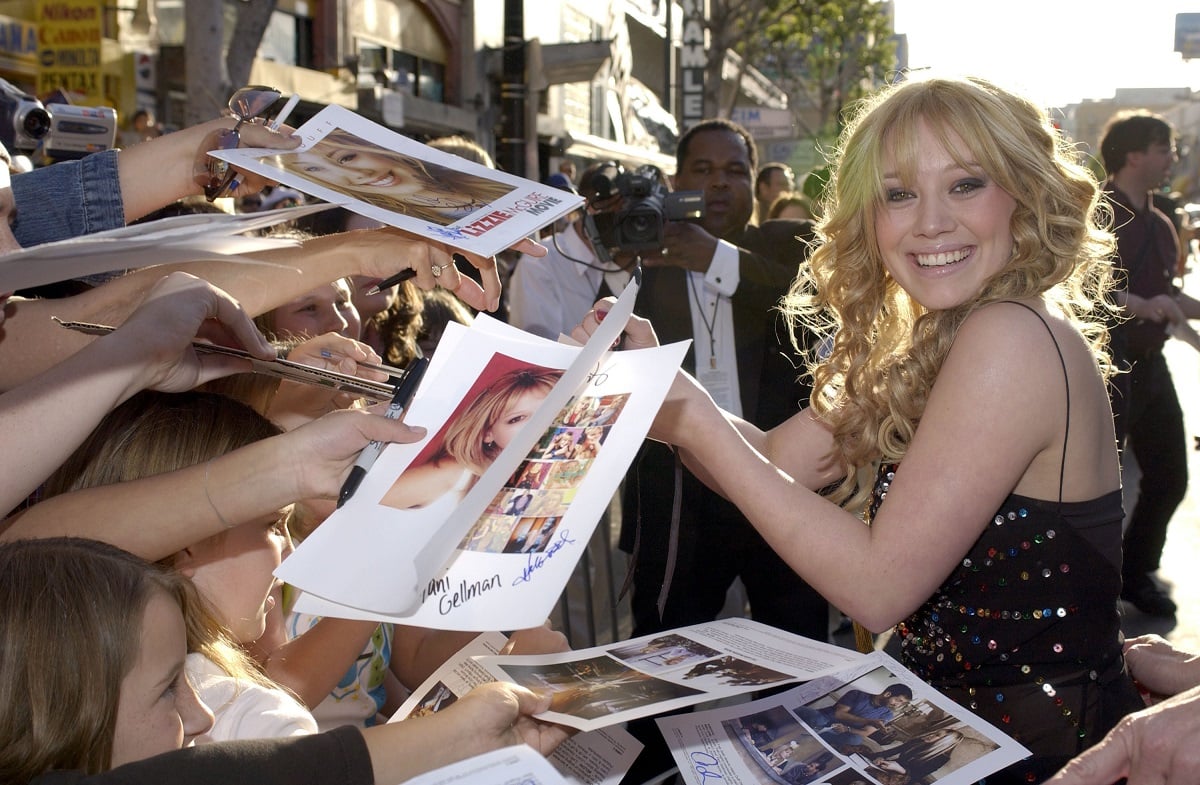 Duff gained notoriety for portraying the titular character in Lizzie McGuire. The Disney Channel series about a preteen girl and her friends and family aired for two seasons from 2001-2004 on the network. It was such a hit that a feature film, The Lizzie McGuire Movie, earned a theatrical release in 2003.
Though Duff has continued to act, she's still best known for Lizzie McGuire. "I'm constantly reminded about it," she said on the Zach Sang Show in 2015. While it bothered her in her teens and early 20s, Duff said, "Now, I think I'm just at such peace with it. I look back, and I'm like, 'I worked really hard on that.'"
She 'totally blew' her first audition
Duff says she "totally blew [her] audition" for Lizzie McGuire, that she was told, "You're not prepared. Come back when you're prepared." "She did bomb the audition," executive producer Stan Rogow told Vice in 2021. "But it was so cute and charming that it was like, okay, let's bring her back. And she just kept on getting better."
"Was she Meryl Streep at 12? No. Very few child actors are," casting director Robin Lippin remarked. "But there was something so appealing about Hilary that even when she screwed up, you still really liked her, and you were rooting for her. In TV, it's so much about personality, and her natural qualities and how real she was won over."
Duff said she 'wasn't acting' in the show
Duff didn't have to try hard to be Lizzie. "That was such a big part of who I was," she said. "That character was me. I wasn't acting." She explained how it drew from her life. "The writers would be like, 'What's happening with you and your friends? What are you wearing right now?' I picked all my own clothes. We had so much in common."
"The secret sauce of Lizzie McGuire was casting Hilary," said Rogow. "It was just very, very simple. She was nice and sweet, and you wanted her to be your best friend. Hilary pulled that off because it's who she was. It ended up being this perfect blending of character and actor." 
Duff didn't love how often she had to fall
Lizzie was known for her sense of style, her people-pleasing nature, and, of course, her clumsiness. When the accident-prone teenager wasn't tripping and falling disastrously, her animated self was doing something similar. And this concept got a little old for Duff after a while.
"At one point, she said, 'Do I have to fall down every episode?'" said Rogow. "And I said, 'Well, yeah, Hil, you do because it's really, really funny and it makes you so accessible.' When Lizzie would fall down, kids would go, 'Hey! I fall down too. Not necessarily literally, but if she can do that, and she's okay, then I'm okay.'"