Hip-Hop Icon Grandmaster Melle Mel and Goth Rapper Jason Chaos Create History With 'Concrete Shakin'
Hip-hop legend Grandmaster Melle Mel and goth rapper Jason Chaos flipped the script by collaborating on their new single, "Concrete Shakin'."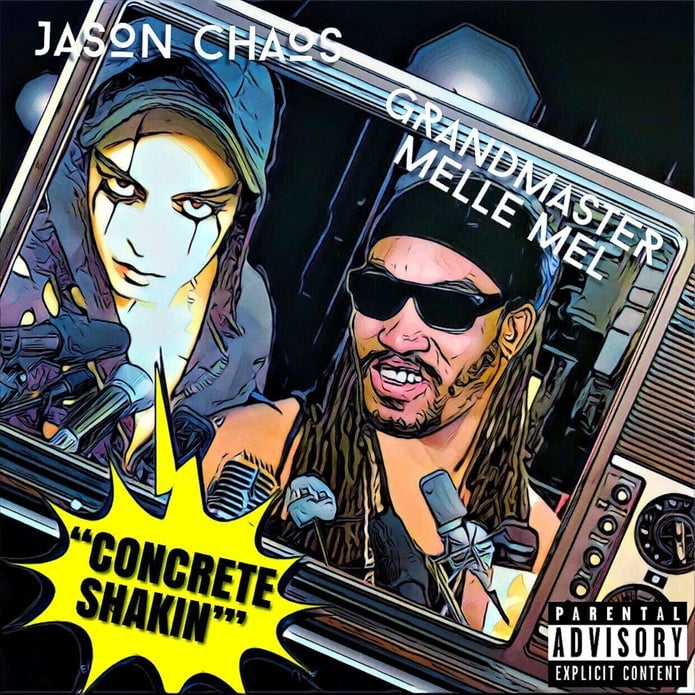 The history-making partnership is the first time a hip-hop and goth rap artist fused together to bring their message to the forefront. Melle Mel, leader of the legendary group Grandmaster Flash and the Furious Five, is a founding father of hip-hop, beginning with party music in the 1980s.
But he said that "flipping the script" was how he managed to keep his sound fresh and viable, which is what he's done once again with his collaboration with Chaos.
Grandmaser Melle Mel flips the script and stays alive
Melle Mel spoke with Showbiz Cheat Sheet about the evolution of hip-hop. "From one song to the next everything is basically different but everything comes from the roots of hip-hop," he said. "It wasn't a whole lot going on, but hip-hop was out. Just like right now you have to find the new normal. Hip-hop was our normal because there was nothing going on."
"At first we started just partying," he shared. "But my whole thing is you always have to flip your game so nobody get wise to you. That's when I started writing conscious lyrics so you had to flip it. But you have to flip your game so you can stay ahead of your game."
Melle Mel explain that the concept of "conscious" rap evolved from his signature song "The Message."
"When we signed the Sugar Hill records and Sylvia Robinson wanted to do 'The Message,' then that's when the whole conscious genre of rap came about," he remarked. "But after 'The Message' it opened up a whole other lane. And then after that people started taking hip-hop seriously. Because before that, they were thinking it was something that was gonna last maybe a couple of years and just die out."
'The people that are successful at hip-hop, they basically make bad music'
Melle Mel said the market is now flooded with artists. But who does he think is producing quality music?
"There's definitely a lot of artists out there. You've got the J. Coles and the Kendrick Lamars, but that's the exception. That's not the rule," he explained. "The rule of hip-hop, it actually went backwards. In any genre, you have good music and you have bad music. I talk to people all the time and what I say about hip-hop is how the hood is. That comes from the bottom up not the top down."
"They're not going to respect good music. The people that are successful at hip-hop, they basically make bad music. And the image is all wrong," he said. "Like 6ix9ine and Cardi B is the face of hip-hop. You don't want to bring none of them home to your parents!"
Melle Mel also commented on Kanye West's music.
"Obviously he's a very talented guy," he said. "But he caught up in the notoriety of the thing. If you're making hits, all you've got to do is keep making hits. Don't nobody care what you've got to say. Don't nobody want to know how you feel, especially if you aren't making hits. That's his problem. But he's got a lot of talent. You know, you stick to the script. Nobody needs to know how you feel. That's not the interesting part of you. The interesting part of you, was you made hits."
The concrete is already shaking
Melle Mel explained that he met Chaos through a mutual friend. "Jason had the song and maybe my name came up in conversation," Melle Mel said. "I heard the song and we got together."
The song, ironically, came about as the pandemic crept into the United States and then race relations exploded. "It was like meant to be because whatever we wrote about in the song, it's like something we envisioned already in our lyrics," Chaos explained to Showbiz Cheat Sheet. "Even Melle Mel's verse — he's so real about politics today. And a little bit about how the police officers are … [it's] very interesting like how all this happened."
"And we were feeling it as artists," Chaos continued. "We wanted to write about stuff like this. The song is really about, it's called 'Concrete Shakin.' The message is about act now, own up to your failures, and don't wait for the world to end. Also, reach out to other artists out there." Build bridges with everyone, he added. The single will be featured in the film, Duke of York scheduled for release in 2021.
'Concrete Shakin,' released under 7 Crown Records is available now on Spotify and Tidal, as well as Apple Music, Google Play Store, and Amazon.