'Hobbs & Shaw' Stars Jason Statham and The Rock Have Fight Scene Stipulations That Say They Can't Lose
Hobbs & Shaw aims to build off the success of the Fast & Furious franchise by pairing Dwayne "The Rock" Johnson with fellow action star, Jason Statham. With the "Sexiest Man Alive" Idris Elba in the mix for the new movie, fans are flocking to see these tough guys duke it out on screen.
Before landing the Hobbs & Shaw spinoff, Statham and the Rock were in other Fast & Furious movies as either villains or heroes. If you're familiar with the series, then you know that fighting is just as prevalent as crazy car stunts. But how about those fight scenes get an extra dose of choreography, all for the sake of glory?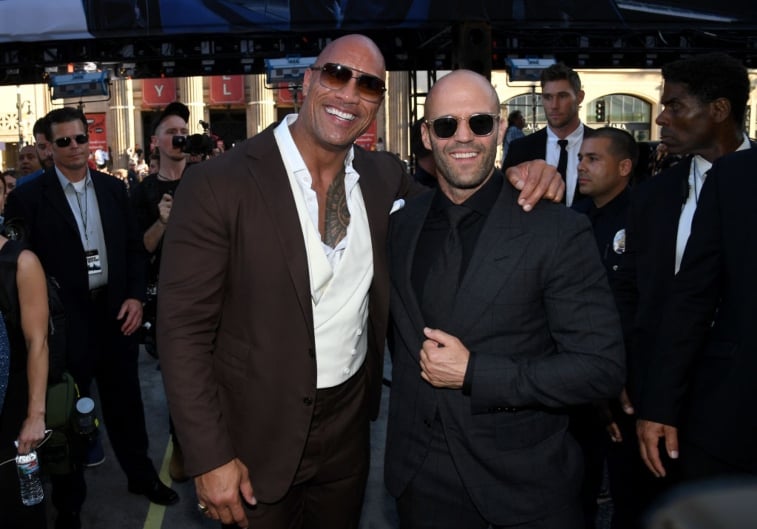 Contracts state that no man can be a loser
We're simplifying this a bit here, but it's recently been revealed in a Wall Street Journal report that Statham, Johnson, and Vin Diesel each had stipulations in their Fast & Furious contracts stating they can't go down in a fight. Basically, the scenes are devised so that it looks like no one comes out on top, whether it's landing more kicks, punches, or collapsing on the ground.
The report said that Diesel was concerned about how many punches Statham got in during a fight, and he didn't want to look like a wimp. It was his initially his idea to come up with a counting system for such scenes, but producers eventually settled on choreographing the bouts so that no one character would look like they took a loss.
The article noted that each actor has their own method:
"According to producers and crew members on the films, Mr. Statham, 51 years old, negotiated an agreement with the studio that limits how badly he can be beaten up on screen. Mr. Diesel, 52, has his younger sister, a producer on the films, police the number of punches he takes. And Mr. Johnson, 47, enlists producers, editors and fight coordinators to help make sure he always gives as good as he gets."
To fans, this may sound like a game of egos—and it might be considering a past feud between Diesel and the Rock—but if nothing else, it's an interesting and funny peek behind the scenes. We wonder if Elba has a provision too.
It's all in good fun with the actors
There's been no shortage of jokes and slick comments thrown out by Statham, Elba, and the Rock while they're promoting Hobbs & Shaw. Outside of work, these guys have a camaraderie that makes it easy for them to tease each other and make cracks about one another's physiques, toughness, and work projects (like Cats).
Elba recently mentioned during an interview with Steven Colbert that he and the Rock went back and forth about the "Sexiest Man Alive" title. As you can guess, both want to hold on to it.
Comicbook.com found the Rock poking fun at himself over the WSJ fight scene report and learned from Universal Pictures that the team behind the franchise knows that fans hold these characters in a certain regard, and they want them all to be perceived as heroes. It's all about the fans—and the optics.