'Hocus Pocus': How Old Are the Sanderson Sisters?
It's all just a bunch of hocus pocus. How old are the Sanderson Sisters from 'Hocus Pocus?' Learn more about these characters here.
Never ask a woman for her age. Still, it's pretty natural to wonder how old these characters are from Disney's original movie. During the 1600s, the Sanderson Sisters conjured up some magic in Salem, Massachusetts. In 1993, Winifred, Sarah, and Mary woke again, ready to cause some trouble. How old are these witches from Hocus Pocus? Here's what we know about the Halloween classic.
'Hocus Pocus' starts with a flashback to the 1600s
It's just a bunch of hocus pocus. This Disney original movie, directed by Kenny Ortega, premiered in 1993. Since then, it's become a Halloween staple for many fans, who love everything from Dani's cat to Bette Midler's song "I Put A Spell On You."
"The fact that 'Hocus Pocus' found a niche in that world where it cannot be extricated from the holiday itself to me is really amazing," Thora Birch, who portrayed Dani Dennison said during an interview. "I'm really surprised, but humbled and happy to be a part of something like that. I had the best time on that film — maybe more than any other movie I worked on."
Now, some fans are wondering just how old Winifred, Sarah, and Mary Sanderson are. The story of Hocus Pocus actually began in the 1600s, a time in Salem where witch hunts were fairly common. According to Disney Fandom, "in 1693, the Sanderson Sisters, now graying and stooped with age, decide to brew the Life Potion, which will steal the life force of a child to restore their own youth and vitality."
The Sanderson Sisters from 'Hocus Pocus' are hundreds of years old
If the Sanderson Sister were asleep for over three hundred years, does that count as a time that they age? Centuries passed from the moment they were "killed" in 1693 until the moment a virgin lit the Black Flame Candle in 1993. Technically, they haven't aged from the moment they were executed in 1693. However, at the time of the events in Hocus Pocus, the Sanderson Sisters are over three hundred years old.
If you visit Walt Disney World during October, you can see the Sanderson Sister, who since aged another 25 years. Winifred, Sarah, and Mary are the stars of Mickey's Not-So-Scary Halloween Party and appear as the kooky, beautiful stars of the show.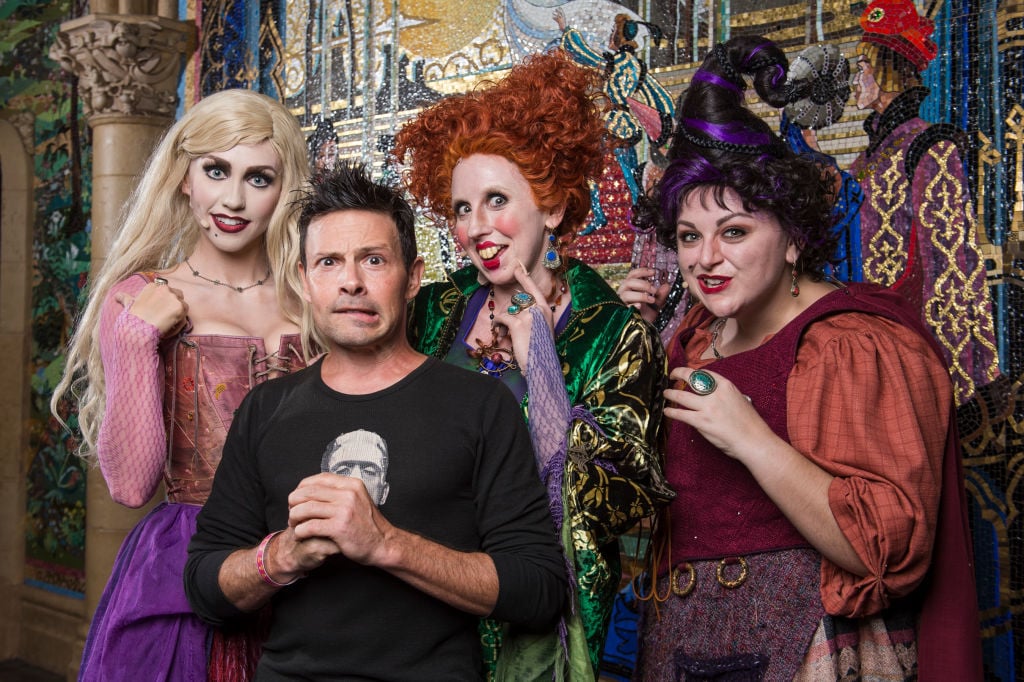 Will 'Hocus Pocus' be on Netflix this Halloween?
We've got some good news for Hocus Pocus fans. Thanks to Freeform's "31 Nights of Halloween," this Disney movie will be playing on multiple nights throughout October. Other films appearing on this television network include The Nightmare Before Christmas, Charlie and the Chocolate Factory, The Haunted Mansion, and Hotel Transylvania.
Because of Disney Plus, most Disney-related content will leave other streaming platforms within the upcoming months. That includes the Halloween special entitled Mickey's House of Villains, Coco, and The Princess and The Frog. However, movies like Twitches and Hocus Pocus may appear on this new subscription service.
Disney Plus launches in the United States on Nov. 12, 2019. Hocus Pocus is available for watching on Freeform this October.