Is 'Hocus Pocus' on Netflix, Disney+, or Any Other Streaming Services This Halloween?
'Hocus Pocus' is a Halloween favorite. And many viewers may want to know if 'Hocus Pocus' is available to watch on Netflix, Disney+, or any other popular streamers.
No film embodies the spirit of the spooky season like Hocus Pocus. And if you're looking to watch the classic 1993 movie online, you may be wondering if Hocus Pocus is on Netflix, Disney+, or any other streaming services this Halloween.
What's 'Hocus Pocus' about?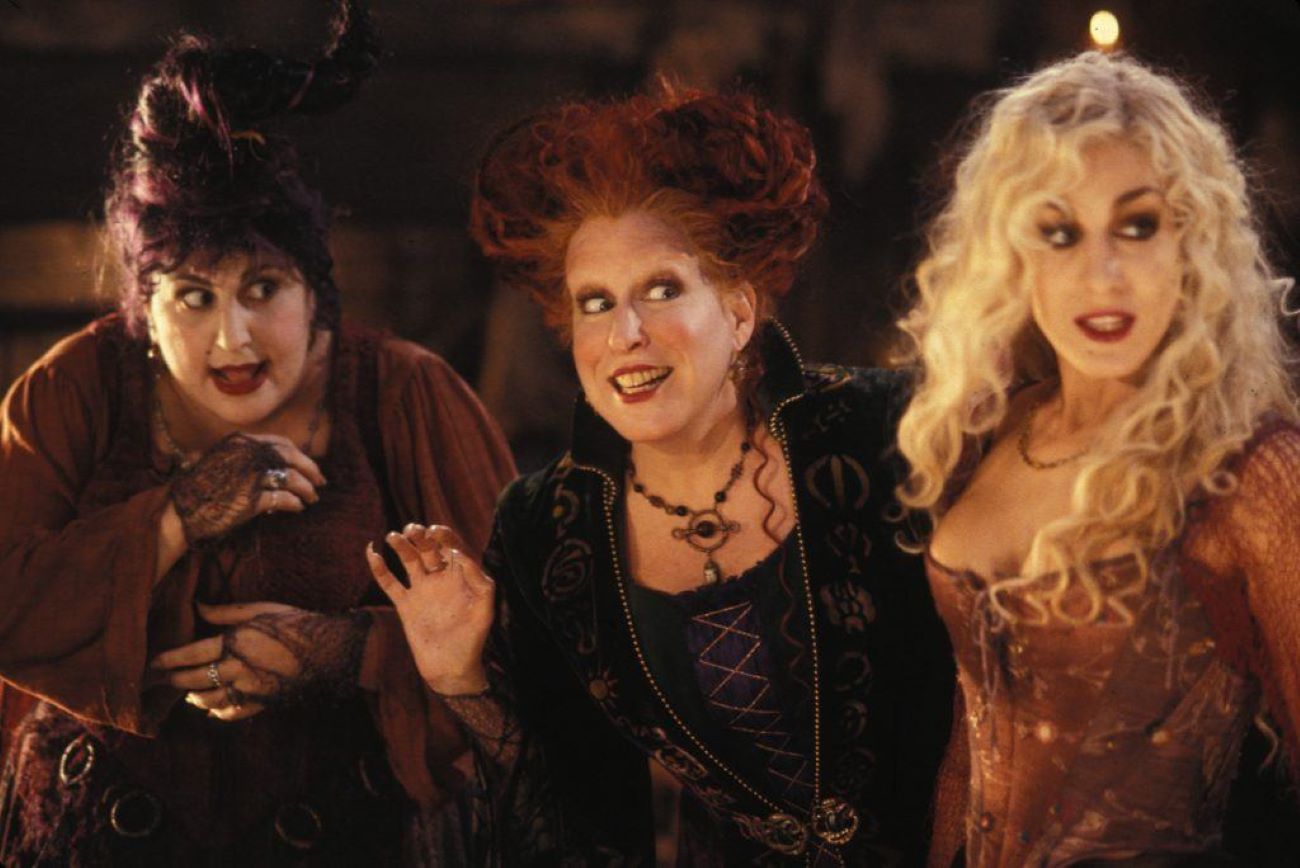 The movie is centered on Max (Omri Katz) and Dani (Thora Birch) Dennison, teen siblings who move to Salem, Massachusetts. While trick-or-treating on Halloween, the kids and their new friend, Allison (Vinessa Shaw), inadvertently unleash a zany, 300-year old trio of witches known as the Sanderson Sisters (Bette Midler, Sarah Jessica Parker, Kathy Najimy).
As the witches seek to suck the souls out of Salem's children in exchange for immortality, the kids seek guidance from a boy-turned-cat named Thackery Binx. With his help, the trio hopes to thwart the Sandersons' plans. But first, they must steal the sisters' book of spells, which proves to be a wickedly challenging task.
Is 'Hocus Pocus' on Netflix?
Netflix is one of the most popular streaming services around. And it carries dozens of popular horror movies and series. 
But, unfortunately, Hocus Pocus is not on Netflix at this time. However, viewers can find other family-friendly Halloween titles on the streamer, including ParaNorman, Monster House, and Nightbooks.
Is 'Hocus Pocus' on Disney Plus?
Hocus Pocus is a Disney film, and luckily, it is available on Disney+. To stream the movie, viewers will need a Disney+ subscription. The ad-free service costs $7.99 per month or $79.99 for the year. Unfortunately, at this time, Disney+ is not offering new subscribers a free trial. 
Is 'Hocus Pocus' on Amazon Prime Video?
Amazon Prime Video carries thousands of Halloween-centric movies, but Hocus Pocus is only available from the streamer as a digital rental or purchase. Viewers can rent the movie for $3.99 or purchase an HD download for $8.99 to $9.99.
Other spooky movies available to rent and purchase on Amazon Prime Video include Beetlejuice, The Goonies, and all the films from the Halloween franchise. 
Is the Halloween classic available on Hulu?
Hocus Pocus is not in Hulu's vast catalog of movies. But subscribers that have a Hulu Live TV account can view the film when it airs live on television. Timings and schedules are available through Hulu's app for those with a Hulu Live TV subscription plan. 
Where else can you watch it?
Most major streaming services carry Hocus Pocus as a digital rental and purchase. The film is available on Google Play Movies, iTunes, Vudu, and Youtube as a $3.99 rental and a $9.99 purchase. 
And as usual, the Halloween favorite is part of Freeform's "31 Nights of Halloween" scheduling. The film will air on the following dates:  
Thursday, Oct. 14 at 8:50 p.m. EST
Saturday, Oct. 16 at 7:15 p.m. EST
Sunday, Oct. 17 at 5:10 p.m. EST
Saturday, Oct. 23 at 6:05 p.m. EST
Sunday, Oct. 24 at 8:45 p.m. EST
Thursday, Oct. 28 at 9:00 p.m. EST
Saturday, Oct. 30 at 8:50 p.m. EST
And twice on Halloween, Sunday, Oct. 31, at 2:35 p.m. EST and 9:20 p.m. EST