Hoda Kotb of the 'Today Show' Says Former Co-Host Kathie Lee Gifford Is Not 'An Open Book'
Whaaat? Former "Today" co-host Kathie Lee Gifford has a serious side? According to pal Hoda Kotb, she sure does!
Kathie Lee Gifford left her seat at the Today Show table last April after 11 years co-hosting with pal Hoda Kotb. Now pursuing her goals of writing and making music in Nashville, Tennessee, the renowned television personality and mom of two is thriving in her new Southern home.
The former Today star is known for her affable nature and down-to-earth personality, yet Kotb has previously commented that there is more to Gifford than meets the eye.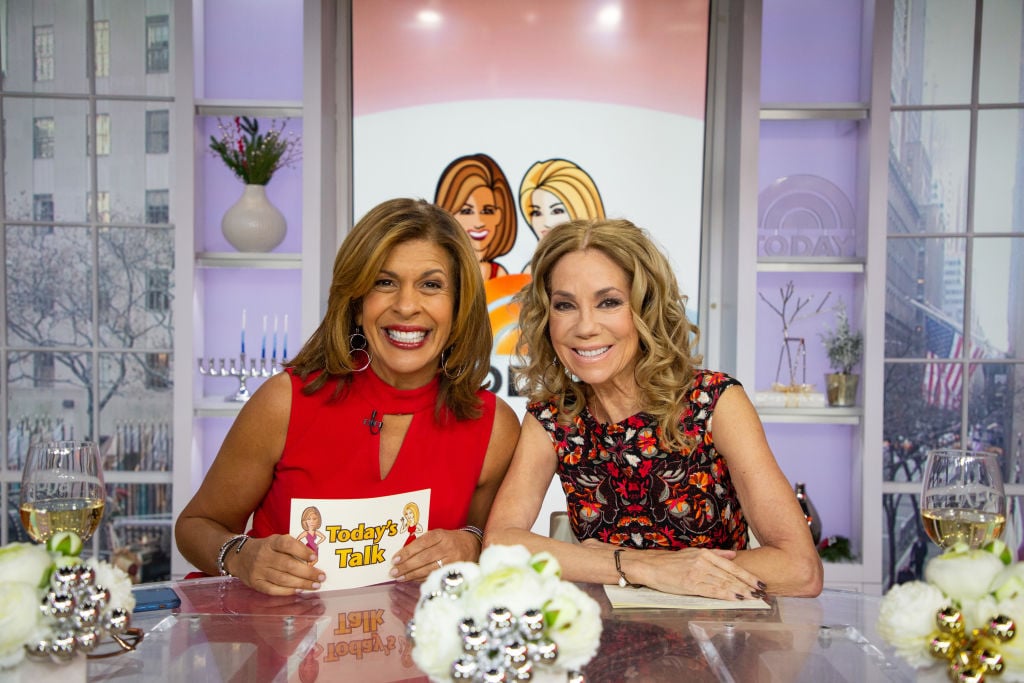 Gifford keeps going
Since her exit from the top NBC morning news program, Gifford hasn't slowed down in her professional endeavors. Just last week, she was presented with the Visionary Award at the Movieguide Awards by her former colleague and longtime friend Regis Philbin, according to Today.com. The awards ceremony honors inspiring movies and TV shows in media.
When Gifford visited Today With Hoda & Jenna in November, she raved about the new roots she was putting down in Tennessee. "There's a different culture down there. It's a culture of kindness in Nashville," she said, according to People. "They are authentically kind. They are joyful, they have so much fun. I wake up and there are church bells ringing all around me. It's just a different attitude."
Now starting a new chapter, Gifford insists she is not "reinventing" herself but rather living the life she's longed to experience. "I did not retire from life," she told D Magazine. "I retired from a certain show. I'd had it with daytime television. I've been living it for 35 years, off and on. I was ready to manage my time completely on my own. I realized that for the first time in my life that I was completely free to do whatever I wanted to do."
Unbreakable bond
Kotb and Gifford's genuine friendship made the ratings during Today's fourth hour soar. Their bond was undeniable, where the two shared their own personal triumphs and trials for the world to see.
"You start sharing life and your friendship shows up on the air," Gifford said, according to E! News in December 2018. "We weren't colleagues for very long. We became friends. And now we're going to be friends for the rest of our lives." 
When Gifford announced her departure in December 2018, Kotb commented on how her co-host had totally disrupted her life for the better. "The minute you stepped into my life with both feet, everything changed," Kotb told Gifford with emotion. "I remember thinking about, 'How does one person step in your life and change it like that?' You did that for me." 
Gifford had previously revealed that when she signed on with the Today Show in 2008, she had only intended to stay for one year. Her connection with Kotb, and eventually the rest of the Today crew, won her over to stay for over a decade.
"I came for a year. I fell in love with my Egyptian goddess," she said, speaking of Kotb, "and then I stayed another year because I was starting to fall in love with the people over there. They're just so amazing. And it's 11 years later. It's literally time. I have so many things that I'm working on."
Whaaaat? Kathie Lee has a serious side?
Gifford has shared that through their friendship, she and Kotb know even the most minute details of each other's lives.
"We have fun and we laugh and we support one another. We know each other's kids' names," Gifford said. "We know when someone's having a colonoscopy. We know everything! And we do life together… And nobody more so than my Hoda." 
Apparently, Kotb knows the real Kathie Lee, who may not be all laughs as she appears on the small screen. "You see only about a tenth of who she is," Kotb told AARP off Gifford in April. "She gives the illusion that we know everything about her, that she is an open book. She is not. There is a very serious person she keeps inside." 
Gifford's former Today colleague also commented on her pal's nonstop creativity, which Kotb considers one of her most treasured qualities. "The thing about Kathie is that at any given moment she has an idea she needs to get out of her system," Kotb said. "She wills things into existence. Kathie wants to put beautiful things into the world, which I think is the secret to happiness."
Kotb's assessment of her good friend is right on point, where Gifford confirms that her serious side dominates her life. "I am evolving as an artist and a human being, and I will be till the day I die," Gifford told AARP. "People who think I'm a silly person do not know me at all. I'm 10 percent silly and 90 percent dead serious in my life."
Fans of Gifford can't wait to see what she's working on next!