'Hollywood': Who Are the Fictional Characters Based on in the Netflix Show?
Ryan Murphy and Janet Mock are back with a new show called Hollywood. It shows different people striving to make it big in the movie industry after World War II.
Some characters were real people like Rock Hudson (Jake Picking.) But there are many fictional characters that are based on real people. Here are the inspirations behind them.
Jack Castello is a 'Jimmy Stewart' type
David Corenswet plays Jack Castello, who wants to be an actor. Murphy claimed the fictional character wants to be the next Marlon Brando or Montgomery Cliff, but is really an everyman like Jimmy Stewart, according to Men's Health.
Many may know Stewart for his roles in Vertigo, The Philadelphia Story, Anatomy of a Murder. He won an Oscar for his role in The Philadelphia Story.
Another inspiration behind the character is Gene Kelly. The musical star was most notably in Singin' in the Rain, An American in Paris, and Inherit the Wind.
Camille is inspired by Dorothy Dandridge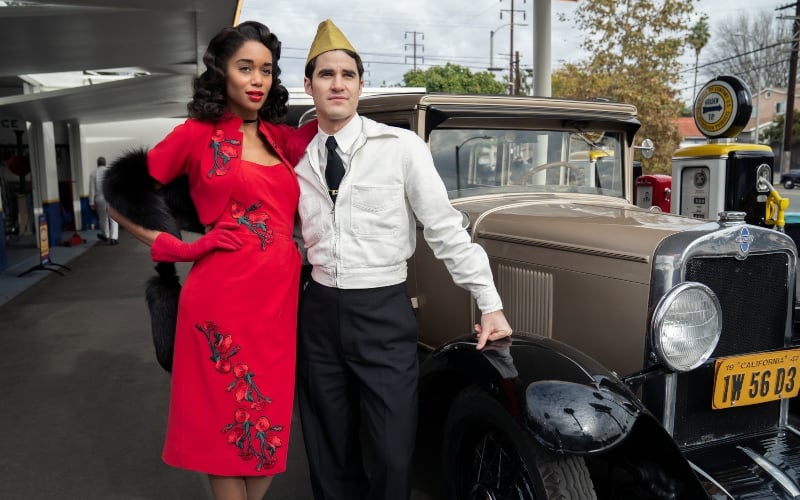 Camille (Laura Harrier) breaks a lot of ground in Hollywood. It only makes sense that the inspiration for the fictional character did the same.
"I drew from [Dorothy Dandridge] and watched interviews with her and watched as many of her films as I could," Harrier told Refinery29. "I wanted to pay homage to her with Camille."
Dandridge won an Oscar for best actress in a leading role in Carmen Jones. She was the first black actress to accomplish this goal in 1955. Camille also makes history in the show. This gives her character an interesting connection to Halle Berry, who was the first Black woman to win an Oscar for best actress.
Raymond Ainsley is based on Steven Spielberg
A modern director is the inspiration behind fictional Raymond Ainsley, played by Darren Criss. The director is half Asian and can pass as white.
"There's plenty of filmmakers from the time, [John] Huston and [Cecil B.] DeMille," Criss told Entertainment Weekly. "But Ryan, early on, was recommending I watch interviews of early [Steven] Spielberg, which obviously wasn't from the '40s, but there's a classicism to him and his resolve and drive and ambition that are pretty similar to all the other great filmmakers of that time."
Avis Amberg is based on Irene Selznick and Sherry Lansing
Patti LuPone plays Avis Amberg, the wife of a studio head. She is based on two real women who were in similar positions of power.
"Patti LuPone['s character] is loosely based on an amalgamation of Irene Selznick and Sherry Lansing," Murphy told Entertainment Weekly. "I'm friends with Sherry. She was the first female studio head and so brilliant, and I was paying tribute to her."
Lansing is the first woman to be head of production at 20th Century Fox, then was the CEO of Paramount. Selznick was married to David O. Selznick and became a theater producer after they separated.
Claire Wood is based on Marilyn Monroe
The blonde actress is inspired by the most famous blonde bombshell. Samara Weaving used Marilyn Monroe's lines from Some Like It Hot for her audition, according to Elite Daily. Her character is in a different position from her inspiration given she is the daughter of a studio head.
Archie Coleman is inspired by James Baldwin
The screenwriter is another fictional character who makes history in the show. Jeremy Pope told Variety, who he turned to for inspiration.
"James Baldwin was a big inspiration for me on his project, being that he was so cultured and ahead of his time," he said. "That felt like, if anything, that's what Archie should be like."
The inspirations for the fictional characters span different periods of Hollywood. It sounds like the actors did a lot of research to create their original characters.