'Home Town Takeover': What Is Ben and Erin Napier's Net Worth?
Ben and Erin Napier have become household names for fans of DIY and home design. The two have been showing off their design chops and their loving relationship on HGTV's Home Town. Ben Napier and Erin Napier restored ailing southern homes in Laurel, Mississippi. Now, the two are appearing on a spinoff entitled Home Town Takeover in which they hope to bring some much needed makeover support to Wetumpka, Alabama. Given their success with HGTV, what is Ben and Erin Napier's net worth?
Ben Napier and Erin Napier prepare to welcome second baby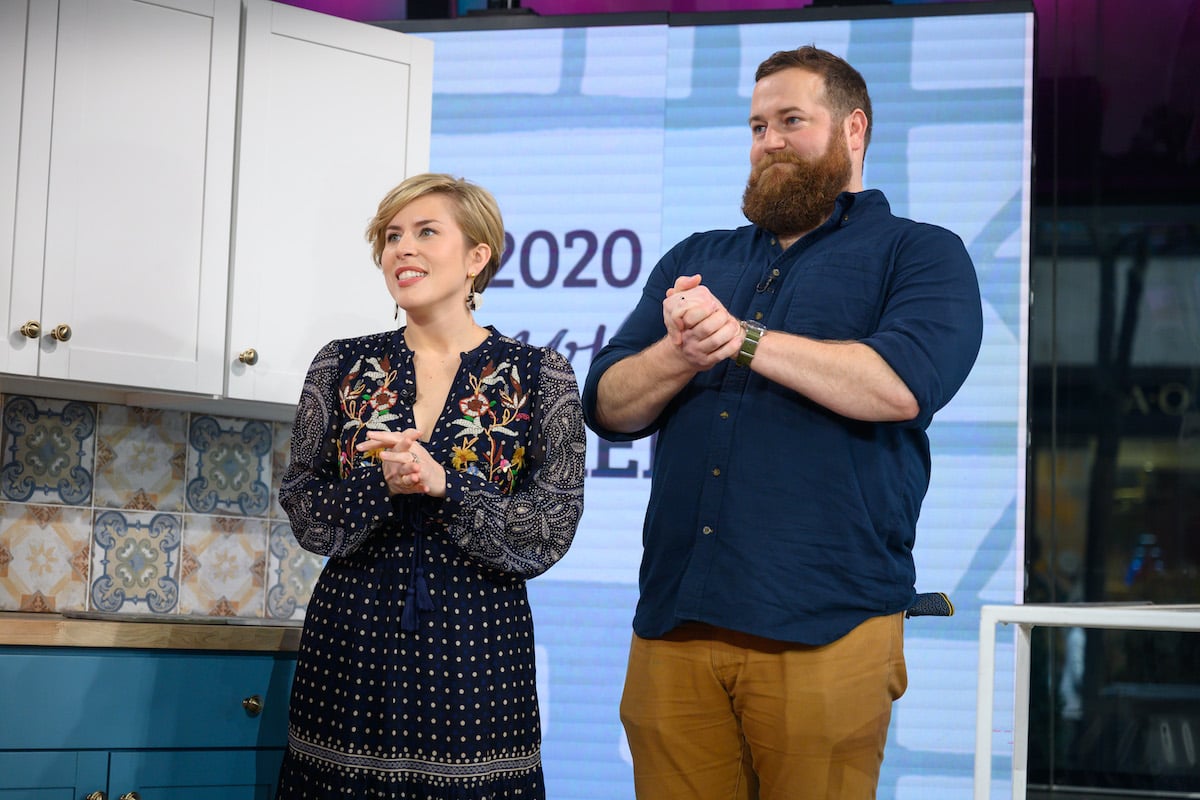 RELATED: No, 'Fixer Upper' Stars Chip and Joanna Gaines Aren't Feuding With 'Home Town' Hosts Ben and Erin Napier
Home Town stars Ben Napier and Erin Napier are expecting another daughter sometime in May. Erin Napier was recently surprised by her friends for a baby shower, and has expressed how grateful she is to have such loving people in her life.
Napier posted a photo of the baby shower her friends threw for her to Instagram, writing a sweet caption about her friends.
"These girls. They surprised me with a weeknight dinners and diaper shower, the tradition in our circle of friends started by @malraz," she wrote.
"Everyone bakes two of their favorite casserole, ready for the freezer. The pregnant girl gets one of each, and everyone else draws a number and takes one home, too. I'm so lucky to be loved by y'all! (photo by Helen)," she added.
Ben Napier uploaded a video to Instagram discussing how thankful he was to have "built-in best friends" in the form of family. The Home Town star mentioned that he's happy knowing his daughter Helen will have a sister who can be the same thing for her.
"It makes me even happier to know that there'll be another Napier baby right around the corner from us. There was a time when @erinapier and I didn't know if we would have kids. I would've been happy with just the 2 of us, or just the 3 of us, but I can't wait to see the 4 of us," Ben Napier wrote.
She's not letting trolls get to her
When it comes to fame and motherhood, things can get nasty. It often seems as if anybody and everybody on social media feels qualified to judge celebrity parenting, and Home Town star Erin Napier was no exception.
However, Napier immediately made it clear that she has no time for anyone trying to put her down over her child.
"[A]fter posting a photo of the back of my daughter's head (why do we never show her face? for her privacy and because of vicious strangers who lurk and comment or could seek her out) there were cruel comments within moments," Napier captioned an Instagram photo.
"And I immediately took it down to be a good steward of my baby's image and protector of my heart. Those comments and the people who make them are not welcome here. Full stop. If you feel you may be a person capable of communicating this way, please see yourself away from my account or I'll be glad to help you do that," the Home Town star added.
What is Ben and Erin Napier's net worth?
Home Town stars Ben and Erin Napier have had major success with HGTV, and even recently filmed a spinoff, Home Town Takeover. The two are good at what they do, and run the Scotsman General Store & Woodshop, earning additional income. So what are Ben and Erin Napier's net worth?
Fans may not be so surprised, then, to learn that Ben and Erin Napier's net worth sits at approximately $5 million, per Distractify. With their recent spinoff and independent success, it seems likely that Ben and Erin Napier's net worth will only grow.