'Homeland' Season 8 Episode 2 Recap: Carrie Deals as Saul Walks the Tightrope
[SPOILERS FOR 'HOMELAND' SEASON 8 EPISODE 2 AND PREVIOUS SEASONS AHEAD]
In the Homeland Season Eight premiere, the writing team did a heck of a job teeing up the storylines of the show's final installment. It began with Carrie Mathison (Claire Danes) regaining her mental and physical strength in a military facility in Germany.
After we saw Saul Berenson (Mandy Patinkin) struggling to make headway with Afghanistan peace talks, Homeland fans knew he'd be calling on Carrie soon. That conversation took place even faster than she'd expected, and — before she could say Yevgeny — she was back in the Middle East.
As we saw at the close of Episode One, Yevgeny (Costa Ronin) himself was also working a Russian angle in Kabul. And, when Carrie saw him, she reacted with a mixture of horror, fear, and confusion.
In "Catch and Release" (Episode Two), it's becoming clearer why Carrie dreads the sight of Yevgeny. In the meantime, however, she's pushing the peace talks forward as Saul works the most dangerous angles possible.
Carrie got the dirt she needed on VP G'ulom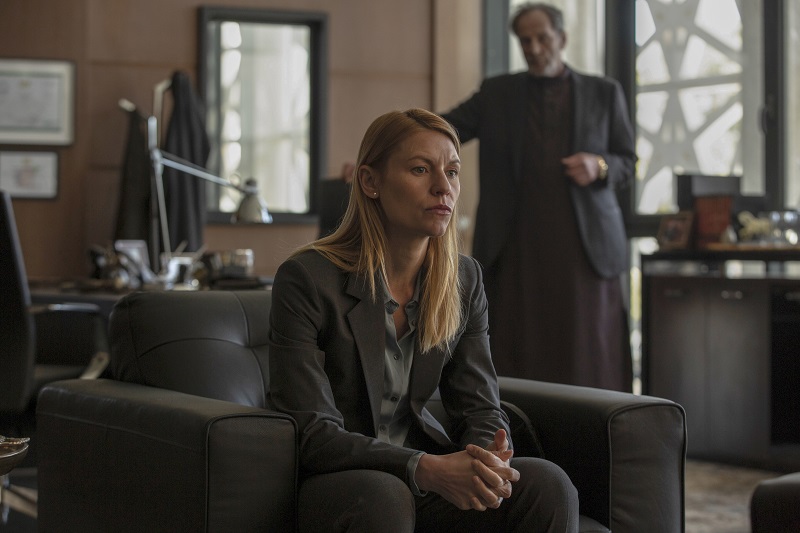 If seeing Yevgeny just before meeting with the Afghan vice president weren't bad enough, Carrie truly feels burned when G'ulom points out (correctly) that she has no leverage. "The Carrie Mathison I knew would never come in here making demands," he tells her. "Not without a gift — or a gun to the head."
So Carrie starts looking for the gun to put to G'ulom's head. It doesn't take long to find. Working on an anonymous tip, she tracks down an anti-corruption crusader the Afghan government once tried to take out. Sure enough, Carrie finds some useful information after searching the woman's house.
Unfortunately, the woman's decoy "job interview" went wrong at the CIA station. When Carrie returns, she has to clean up an amateur's mess before getting the dirt on G'ulom. (He'd stolen tens of millions in war funding.) Upon her second visit to the VP, G'ulom realizes he's cornered.
Within the hour, G'ulom walks back his announcement on Taliban prisoners of war. For Saul, who'd snuck into Pakistan hoping for a secret meeting with Taliban leader/Season Four villain Haqqani, that news couldn't come soon enough. After all, he'd just drugged and buttonholed Haqqani's cousin.
Saul's trip to Pakistan gets off to a bad start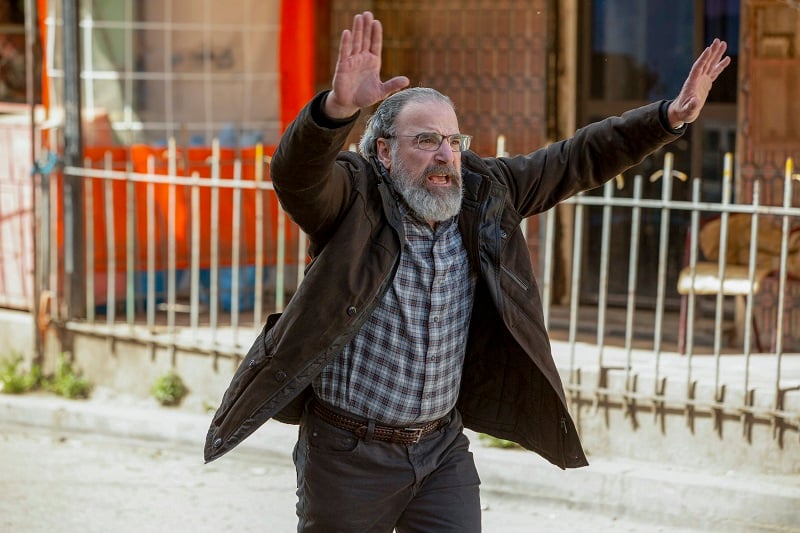 Saul, never one to think inside the box, tries to work some magic in order to move the peace talks closer to a conclusion. His plot starts with intelligence Max (Maury Sterling) gathered in the field. According to intercepts, the Taliban also seems to want peace.
But Saul needs a friendly messenger to bring along his proposal to Haqqani, and he finds him in Haqqani's cousin, whose release kept the Doha talks alive. After awakening from his drug-induced sleep, the freed fighter agrees to deliver Saul's message.
Wanting to keep a low profile, Saul had snuck into Peshawar with just four men. As Haqqani's convoy approaches, Saul realizes what Max meant when he told him Pakistani intelligence (ISI) was congregating in the area. A rocket launcher destroys one of Haqqani's vehicles.
The plot twists keep coming. After seeing Yevgeny in a bar, Carrie realizes she may have gone further with Russian intelligence than her memory allows her to recall. Meanwhile, Saul finds himself kidnapped and, in the final shot, feeling the effects of a rifle slammed into his face by Haqqani.
Also see: Claire Danes: How Much is the 'Homeland' Star Worth?