'Homeland' Season 8 Episode 7 Recap: Carrie Goes on the Hunt While a Weak President Stumbles
As we head into the home stretch of Homeland's final season, viewers find America's national security adviser in rare agreement with the leader of the Taliban and top ISI officials in Pakistan. In brief, the forever enemies collectively want the decades-long war to end.
You couldn't even say that a few episodes back, when an ISI-launched missile just missed taking out Haqqani (Numan Acar) and left NSA Saul Berenson (Mandy Patinkin) holding the bag. But now the three leaders — even the defiant ISI command — realize they have no other choice.
But the matter of two dead presidents complicates things (as is to be expected). And it's unclear whether the belligerent new Afghani leader or the uncertain U.S. commander-in-chief should make everyone worry more.
While these tensions inform every movement of the countries' political leaders, Carrie Mathison (Claire Danes) embarks upon an old-fashioned manhunt in "F*cker Shot Me," the seventh episode of Homeland season 8.
Carrie gets the help she needs from Yevgeny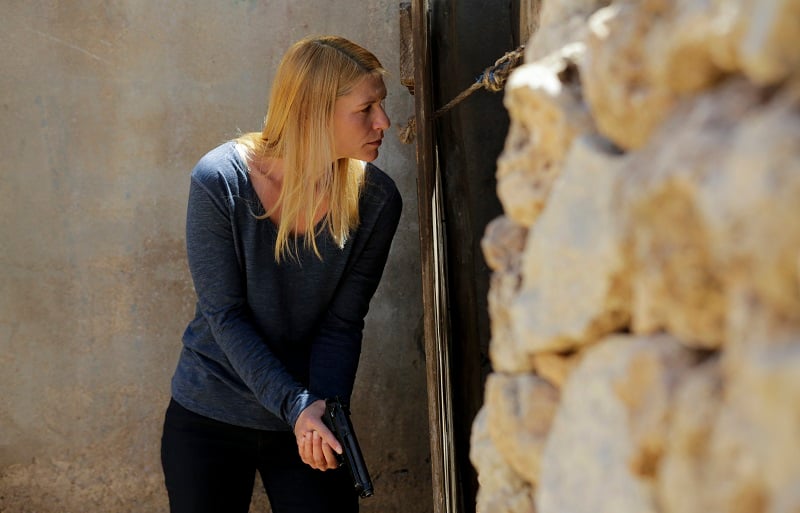 To this point in season 8, the most baffling part of Homeland has been the tendency of Yevgeny (Costa Ronin) to consider Carrie an ally. It defies everything we saw in season 7 (when he imprisoned her and denied Carrie her medication) and continues to defy logic in the show's present.
We've gotten clues, of course. Along with some flashbacks to her imprisonment, Yevgeny has revealed that Carrie shared her most personal secrets with him. (He says he saved her life in Russia.) Meanwhile, U.S. intelligence (Saul included) believe Yevgeny has compromised Carrie.
Nonetheless, Carrie has turned to Yevgeny when she needed help the most. And she's needed plenty trying to track down Max (Maury Sterling). After her daring two-minute gambit in the previous episode, Carrie officially went rogue when she hopped in Yevgeny's car at the airport.
But her instincts proved to be correct. Using his superior contacts in Pakistan's tribal regions, Yevgeny brought Carrie to Max. However, that discovery didn't guarantee Max's safety.
President Hayes seems primed to make matters worse
From his first appearance in Homeland, then-vice president Hayes (Sam Trammell) looked inept, disloyal, or possibly both. After asking his new chief of staff to make a crucial decision for him, President Hayes heads into the home stretch of Homeland looking like a sucker.
Early in "F*cker Shot Me," viewers see COS David Wellington (Linus Roache) and Saul huddling together on a video call without Hayes. They're doing their best to calm the situation in Kabul without involving the president himself.
Yet every time Hayes speaks with G'ulam the situation starts to deteriorate. Saul, pleading with the father-daughter ISI team, frames it in a way everyone can understand. And he starts by noting how "an inexperienced president came to power" following an assassination. And how it could get worse.
"The American people were … demanding action," Saul tells them. "We know what happens next; we've been here before. How does a weak president show he's strong?" The answer is war, of course.
As for Carrie, she appears ready to start one of her own to free Max from Haqqani's son. And in the cliffhanger ending she has her gun drawn and Yevgeny trying to hold her back.
Also see: 'Spy Wars With Damian Lewis' Series Arrives on the Smithsonian Channel