'Hopelessly in Love': Here's Why Lisa 'Left Eye' Lopes Fans Aren't Happy With Andre Rison's Sister
Viewers tuned in to the first episode of Lifetime's new limited docuseries, Hopelessly in Love, on Jan. 4. The series will dig into infamous celebrity couples and their tragic endings through the lens of insider interviews with friends and family. 
The first episode focused on former NFL player Andre Rison's tumultuous relationship with Lisa 'Left-Eye' Lopes, a member of the legendary R&B group TLC. Lopes and Rison's claim to fame was her felony arson charge for burning down his Atlanta mansion (before they swiftly reconciled), but their love story was a lot more complex than a single headline.
Lopes had problems with Rison's family from the beginning of their relationship. On Hopelessly in Love, both Rison's and Lopes' loved ones and family members spoke out about the tensions the couple faced with relatives as they tried to make things work.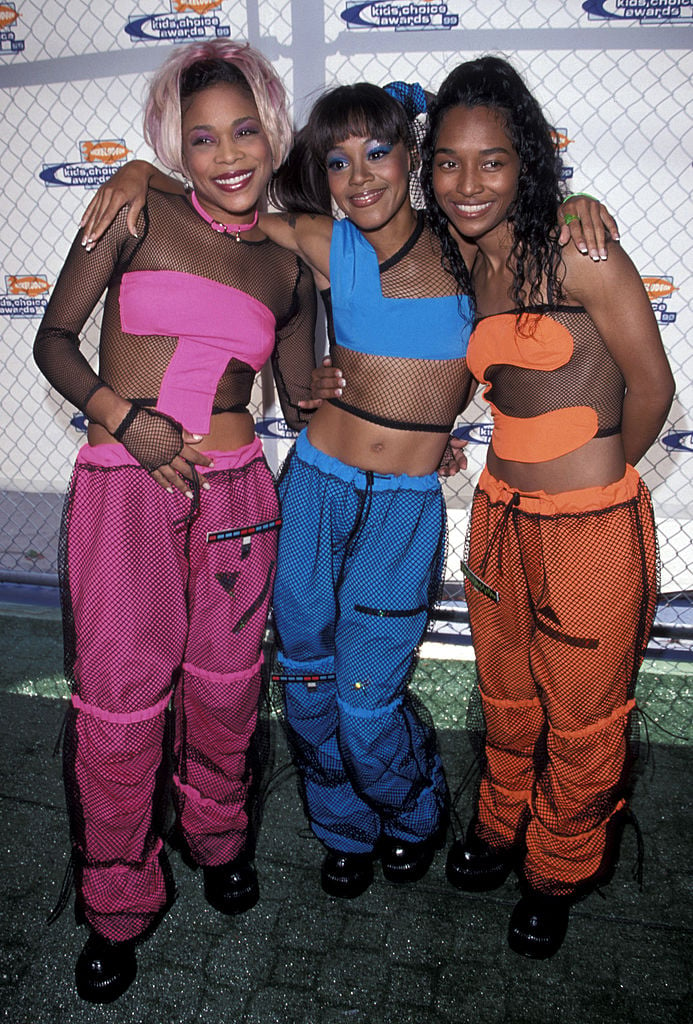 Rison's sister said she felt Lopes was trying to 'chop at' her bond with her brother
It was never a secret that Rison's family was skeptical of Lopes at best. Those who knew Rison well at the time thought the TLC rapper might be a "negative influence" on him. In particular, they worried that the hip-hop world and the demands placed on him by the NFL wouldn't mix and that his career would go downhill. 
But Rison's sister, Raquel Brown, went further. She and Lopes had an all-out war for years, in part because she believed Lopes wanted to undermine her relationship with her brother. Lopes' sister Reigndrop Lopes said Brown had always "hated" the TLC member for reasons she never understood. 
"We had a close-knit family and a bond that you can't break, and me and Andre will always have that bond, and the way I felt is she was trying to chop at it," Brown said on Hopelessly in Love.
Rison claimed the problems were all about jealousy. "You know how a sister is. You come to take her brother, and you taking her brother away…it got nasty," he said on the episode.
Kermit Reeves, Rison's cousin, even admitted, "To be truthful, Raquel wanted to whup Lisa." 
The NFL player's family member accused Lopes of placing a curse on Rison, while Brown allegedly cut up her clothes
Brown's issues with Lopes went far beyond typical rivalry or skepticism between a sister and her brother's girlfriend. On Hopelessly in Love, Rison's sister revealed she even believed Lopes had lured in the football player with a "spell" or "voodoo." 
"I ran into a lady. She told me that Lisa had put a spell on him," Brown claimed. "I was in the kitchen, and I see this bag with an eye on it." When she opened it up, Brown said she found all the proof she needed: "There was my comb that the lady told me about. I don't know why you would take my comb. You got a ponytail." 
"There were rumors out that she had voodoo on me," Rison admitted, but he said he laughed them off and didn't believe them. 
"It's the craziest thing I ever heard. Lisa did not practice voodoo, said Lopes' sister Reigndrop Lopes. 
Meanwhile, Tangi Foreman, Lopes' cousin, claimed Brown had contributed plenty to the drama herself. "This one time I went over to the mansion, and his sister brung his ex there. Lisa was just so hurt, like, 'How can you do that?'" she said. Foreman even said Brown had cut up all of Lopes' clothes at one point after a particularly nasty argument.
Brown admitted to disliking Lopes, but she defended herself against the accusations. "[His ex] did come over to the house 'cause we would have barbeques," she admitted, but intentionally, purposely bringing her there? No." 
And as for the clothes? Brown took accountability…kind of. "Maybe I did. I can't remember," she said. "So I will take full responsibility." 
Viewers weren't impressed with Rison's sister's story
Most Hopelessly in Love viewers didn't view Brown as credible. Many didn't buy the voodoo story and believed Brown was not telling the whole truth when it came to bringing Rison's ex into the picture and destroying Lopes' wardrobe. 
"Andre's sister is a grade A hater. Who even invited her on here?" one Twitter user wrote during the episode. "I can't  believe how mean & nasty his sister treated Lisa, cutting up her clothes & bringing exes over to the house. Smh sis was terrible," another agreed.
Others thought Brown's obvious remaining anger at Lopes was disrespectful, given her tragic death in Honduras nearly two decades ago. "Andre's sister hates Lisa like she hasn't been gone 18 years. That's your brother, not your man," one critic wrote. Another viewer wrote on Twitter, "It's been 17 years and Andre's sister still has an attitude when speaking about Lisa…grow up."