'Horizon Forbidden West': Release Date, Pre-Orders, Crowd System, and Everything We Know
A journey through the Forbidden West is just a few months away. In November, video game developer Guerilla Games unveiled new details about the open world found in Horizon Forbidden West, the upcoming sequel to 2017's Horizon Zero Dawn. The game follows Aloy, a huntress in the Nora tribe, as she continues her adventure through a stunning and vast frontier to find the cause of a deadly plague. Here's everything we know about Horizon Forbidden West, including its release date, pre-order information, mechanics, and more.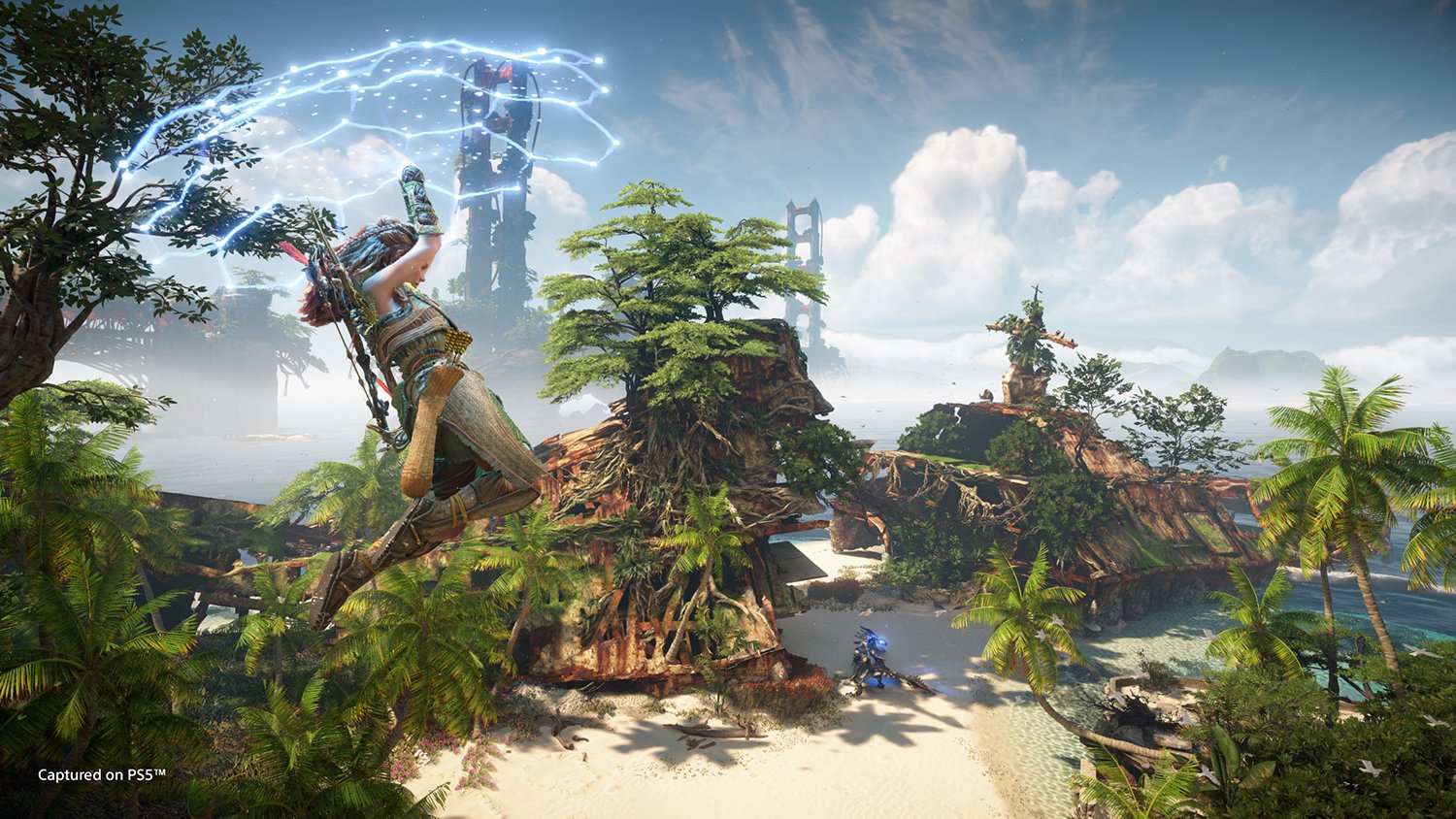 'Horizon Forbidden West' release date
Guerilla first announced Horizon Forbidden West in June 2020 during Sony's PlayStation 5 reveal event. At the time, it was planned for a 2021 release. However, the coronavirus (COVID-19) pandemic caused delays. 
By August 2021, Guerilla revealed a new Horizon Forbidden West release date of Feb. 18, 2022. For now, it looks like the studio is still on track for that date. The game will be released as a PlayStation exclusive. Those who purchase the game for PlayStation 4 will have the option to upgrade to a PlayStation 5 copy for free if they get the newer system. 
Fans can place 'Horizon Forbidden West' pre-orders now
Release day is still several weeks away, but eager fans can already place their pre-orders. As noted on the PlayStation Blog, those who pre-order digitally and via select physical retailers will receive an in-game Nora Legacy Outfit with a Spear. PlayStation offers four Horizon Forbidden West editions, each with special gifts and features for fans. 
First, the Digital Deluxe Edition is available for both PS4 and PS5. In addition to the main game, players get two in-game outfits, two weapons, a resources pack, a Strike Piece, and a Photo Mode pose. There's also a digital artbook, soundtrack, and graphic novel. 
PlayStation's Horizon Forbidden West Special Edition comes with a SteelBook physical PS4 or PS5 disc, as well as the artbook and soundtrack. 
The biggest fans of the franchise will likely want to get their hands on the Collector's Edition. This comes with all of the above, plus a SteelBook display case and two statues. 
Finally, there's the biggest bundle of them all: the Regalla Edition. This pre-order collection comes with in-game outfits and weapons, art prints, the artbook, a canvas map, statues, and replica items from the game. Additionally, it includes everything else from the Digital Deluxe Edition. 
Guerrilla Games created a crowd system to give characters personality
One of the newest reveals about Horizon Forbidden West is its crowd system. Guerilla announced via PlayStation that the studio devoted itself to making the game as authentic as possible — both in its setting and characters. So, every NPC will have a personality and attitude that fits their tribe. The blog post explained: 
We are constantly adding layers of authenticity within the world through animations and behaviors. When members of a tribe are in their settlement, their safe spaces, they can act like themselves. The Oseram are a social and historically patriarchal tribe, so their animations are more about shoulder punches and high fives. The Utaru, on the other hand, are laid back, so they will often sit down together and be a bit more touchy-feely. As the player moves around, these are potential subconscious hints that will help you visualize where in the world you are.
Essentially, players will be able to distinguish between tribes from a distance. Guerilla didn't reveal how the characters' attitudes will affect Aloy, but it could make for some interesting interactions. 
What does the gameplay look like?
Guerilla has offered some generous looks at Horizon Forbidden West's gameplay. In an October blog post about some of the game's mechanics, Guerilla teased that Aloy has new tools and ways of getting around. Players can climb, jump, swim, grapple, and glide through the various biomes. 
Additionally, the new Pullcaster can be used both as a grappling hook and a tool for moving objects. There's also the Shieldwig, which essentially serves as a glider for descending from high points. 
With all the new features, Horizon Forbidden West has become one of the most highly-anticipated games of 2022 (per its 2021 Game Awards nomination). Stay tuned to Showbiz Cheat Sheet for more news ahead of release.