Horror Movies At Redbox: 5 New Releases and 3 TV Series
If you're looking for a good scare, Redbox has you covered. Several brand new horror movies are now available for rent at their kiosks and VOD service, along with some long-running series for weekend binges. Here are some of the horror titles you can choose from for a scary movie night, along with some recommendations directly from Redbox themselves!
'Blumhouse's Fantasy Island' – A horror movie take on a TV classic
The Fantasy Island TV series was a wish fulfillment drama for each week's guest star. The movie shows the darker side of getting everything you ever dreamed of. Lucy Hale, Dax Shepard, Jimmy O. Yang, Portia Doubleday, Maggie Q and Michael Pena star.
RELATED: 'Riverdale' Spin-off 'Katy Keene' Star Lucy Hale Has This Advice For Anyone Struggling
"New to the Box and Redbox On Demand is this gruesome tale of a vacation getaway that's supposed to deliver its visitors' wildest dreams," Redbox says. "But then pretty much the opposite happens."
'Gretel & Hansel' – A horror movie fairy tale
Sophia Lillis stars as Gretel in this edgy take on the classic Grimm fairy tale. Gretel and her brother still find a witch's house in the woods, but there are more scary thrills in the forest along the way, and they spend a lot more time exploring the witch's house before the infamous oven scene. 
RELATED: 'Gretel & Hansel' Movie Review: Sophia Lillis Overcomes It Again
"Now at the Box and Redbox On Demand, this creeptastic take on the old fairy tale about a brother and sister's misadventures in the woods had critics raving about its sleek visuals and stunning cinematography," Redbox says. "Not the kind of praise that is normally heaped onto horror movies!"
'Scary Stories to Tell in the Dark' – Guillermo del Toro's family friendly horror movie
Producer Guillermo del Toro grew up loving monster movies. He wants modern kids to have the same experience, so he produced this movie based on stories from the book. Redbox sees the potential for young horror fans too.
RELATED: A Newbie's Guide to 'Scary Stories to Tell in the Dark' from Director Andre Ovredal
"This adaptation of the bestselling children's book series is something of a 'gateway horror movie' if you've got any tweens or teens in the house who are brave enough to watch it with you or are otherwise really into urban legends and folklore," Redbox said.
'Doctor Sleep' – New Stephen King horror
Stephen King wrote a sequel to his seminal masterpiece The Shining, and Mike Flanagan adapted it into a sequel to Stanley Kubrick's movie. Ewan McGregor plays a grown up Danny Torrance, the kid with the psychic shining. Home video also includes a director's cut that adds 30 minutes back into the film.
RELATED: 'Doctor Sleep' Director's Cut Adds Scenes from Stephen King's 'The Shining' Sequel
"In this adaptation of Stephen King's sequel to The Shining, Ewan McGregor stars as the Big-Wheel-riding Danny Torrance, 40 years later," Redbox said. "Now he must protect a child who has his same powers, or else she'll be killed by a cult."
'Snakes on a Plane' – A slithering, airborne horror movie
When Samuel L. Jackson agreed to star in Snakes on a Plane, it became an internet phenomenon. Then the movie finally came out and fizzled at the box office. It's actually quite a wild high concept movie, and Redbox agrees.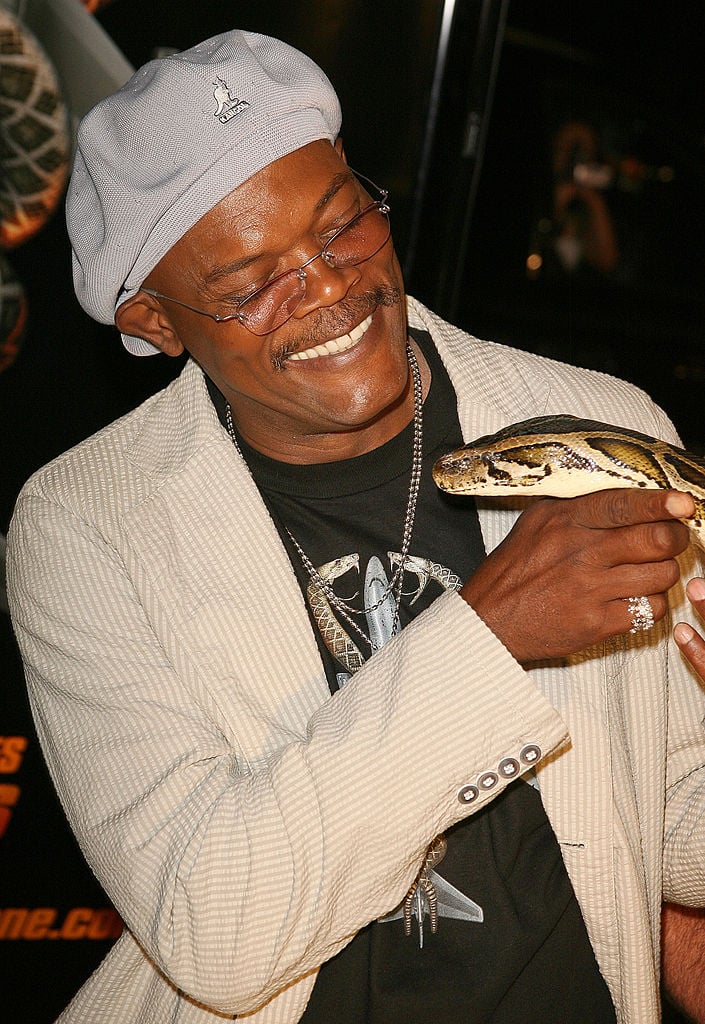 "Still the best movie title ever," Redbox says. "Yes, it's time to lighten the mood with this absolutely ridiculous film — which I LOVED — featuring one of Samuel L. Jackson's all-time greatest lines. (Which is of course unprintable.) If you want some laughs mixed in with your blood and guts, this is the one for you."
Three horror TV series too
Horror has grown on television thanks to cable networks producing horror shows with more explicit content. The Strain is another Guillermo del Toro production, based on the book he cowrote with Chuck Hogan. Ash Vs. Evil Dead is Bruce Campbell's sequel to his movies. The Walking Dead is the long running AMC zombie series based on Robert Kirkman's comics.
"My final 3 recommendations are actually all TV series that deal with viruses or plagues that threaten to overrun humankind," Redbox said. "Totally appropriate for right now! I was a big fan of The Strain when it aired in 2014 because it stars the great Corey Stoll (albeit in an awful wig) and is about vampires. And I love anything about vampires."
Redbox adds that quarantining doesn't seem so bad compared to what Ash (Campbell) endures.
RELATED: 'Ash vs. Evil Dead': How It Compares to the Horror Movies
"Bruce Campbell reprises his role as the unlikely every-man hero Ash Williams, who must still battle the undead even though it's 30 years after the events of the first movie," Redbox says. "Poor guy! And I thought I was tired after homeschooling my kids for a few months."
Redbox encourages fans to start from the beginning of The Walking Dead.
"The first season of this mega-popular series remains my favorite (and yes, I'm still watching it all these years later) because it shows the start of the (fictional — for now) zombie apocalypse in the US and establishes so many of the characters that millions have come to root for," Redbox says. "See (or remind yourself of) how it all began!"