'Hospital Playlist 2': Jo Jung-Suk Looks Back at His Fondest Memories of the K-Drama
Actor Jo Jung-Suk played Lee Ik-Jun in both seasons of Netflix's 'Hospital Playlist' K-drama and thanks fans for their ongoing love and support and his favorite band performance from season 2.
Netflix's Hospital Playlist left a lasting impression on fans, and so did its season 2 finale. None of it could have been possible without the Korean drama's main cast of actors. Jo Jung-Suk, Yoo Yeon-Seok, Jung Kyung-Ho, Yang Seok-Kim Dae-Myung, and Jeon Mi-Do played the lead characters over the drama's three years of filming.
Each actor's character became a fan favorite for their unique traits and storylines. Actor Jo recalls his favorite moments on set and his most memorable episode. He and his '99s friends (nickname for the main cast) developed a bond. Jo has some heartwarming final words for fans.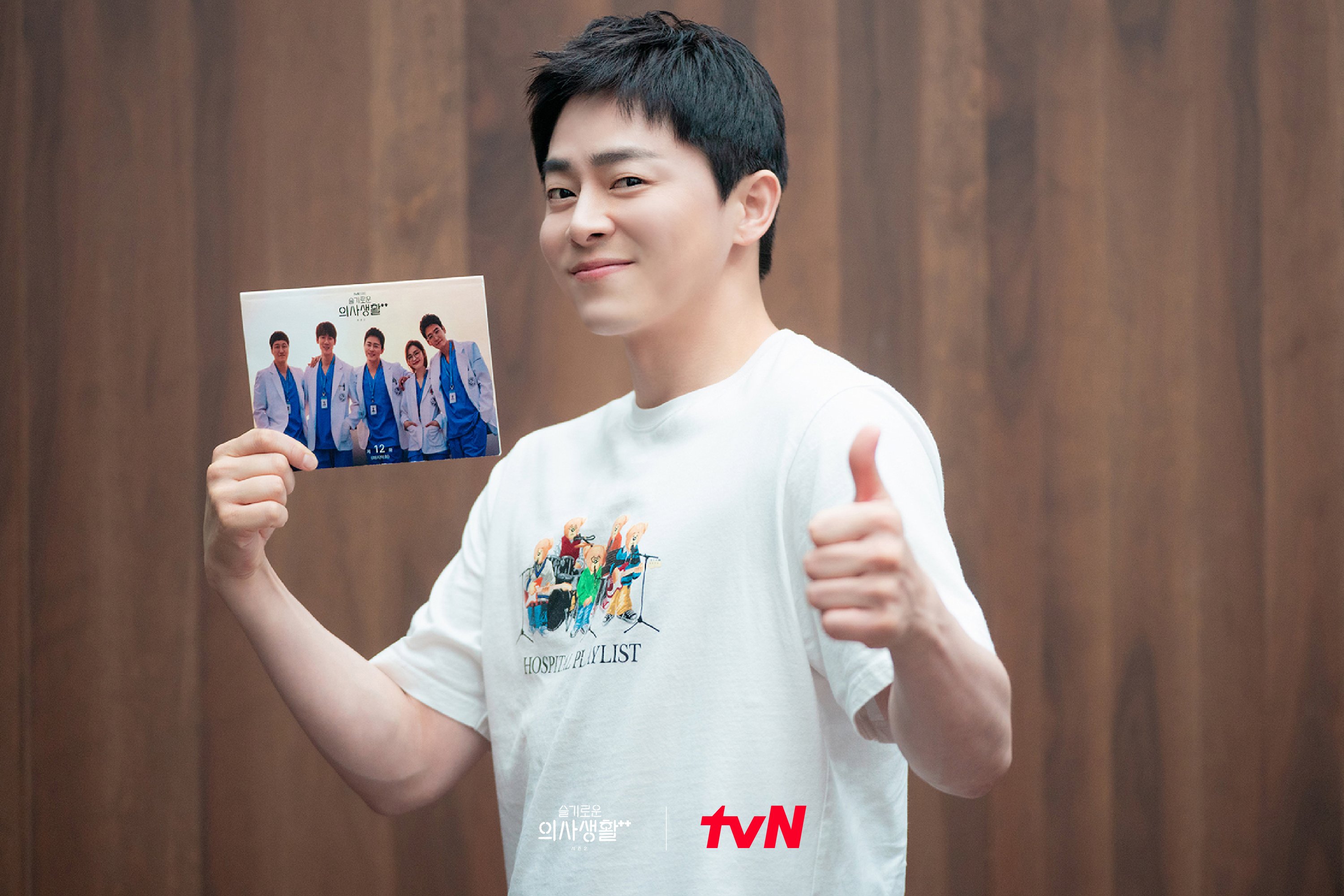 Jo Jung-Suk became close friends with his cast mates filming the medical K-drama
Fans of the K-drama know the main cast have their own nickname, the '99s. The nickname comes from the year their on-screen characters entered medical school. After three years of filming, Jo and his castmates became good friends in real life. The actors spent time on set together, but they practiced in their free time as a band, just like in the K-drama. Jo explains having spent so much time together developed a natural bond, and it feels odd not to see each other now that Hospital Playlist is over.
TvN released many behind-the-scenes videos of Hospital Playlist and its second season. Fans see the main cast joking and having fun on set. "As shown in the making-of videos, the atmosphere on set was comfortable and jovial as if I was with long-time friends. I'm so thankful that I was able to act with such amazing actors in a pleasant environment, and our connection seems to feel more precious with time," said Jo, according to Soompi.
The pleasant environment and friendship between the main cast made Ik-Jun and Song-Hwa's on-screen romance believable. In episode 11 of Hospital Playlist, Ik-Jun and Song-Hwa make the transition from best friends to a romantic relationship. Thanks to the actors already existing bond off-screen, the shift for both characters felt natural.
Episode 4 of 'Hospital Playlist 2' is a personal favorite of Jo Jung-Suk
Hospital Playlist and Hospital Playlist 2 have had many memorable episodes to pick from. Fans can choose between episodes with more medical drama or mark the beginning of pivotal moments for the drama's main couples. For Jo, episode 4 of the second season stood out the most. "All of the stories were great, but I especially really liked the overall story in episode 4. The actors who played Min Chan's and Eun Ji's mothers showcased such outstanding acting that it lasted in my mind for a long time. I'm realizing once again that our drama was able to convey a better story and message thanks to the many actors who created the scenes together," said Jo.
The storyline Jo is referring to is two mothers whose children need heart transplants. Min-Cha's parents are given the good news that their child is responding well to the new heart. Their stress is alleviated while Eun-Ji's mother is still left heartbroken over her child's condition. The doctors learn Eun-Ji has lost motor function, and an emergency transplant and surgery are needed. The mother's sorrow and heartache make fans cry as she even suggests the possibility of giving up. By the end, Eun-Ji gets a transplant and will live a good life.
Episode 4 also has one of Jo's favorite band performances. The on-screen band covers "Let's Forget It" by Yo-Eun. Jo picked the song as Jung Kyung-Ho's voice matched perfectly well with the song and the overall message of the episode. But Jo also admits that Bon Jovi's "It's My Life" is also a favorite because of its vibes, outfits, and being one of their most challenging songs.
'Hospital Playlist' is Jo's first long-term drama and he has a message for fans
K-dramas are known for lasting only one season or 16 episodes. A select few have an even shorter season, break the rules, and are renewed for a new season. After the success of Hospital Playlist, director Shin Won-Ho developed a second season. Jo was happy to learn that many fans gained medical knowledge from the drama and increased organ donors.
Above all, Jo explains the lasting impression the drama has left on him. "My '99s friends that I enjoyed spending time with, the many actors, the director, writer, and staff, all of them will remain in my heart for a long time. This being my first long-term drama with seasons, I think it will be an even more special memory," said Jo.
In Jo's parting words to fans, he thanks them for their ongoing love for Hospital Playlist. He expresses that the fans supported the cast and their on-screen and off-screen performances as Mido and Falasol. It was because of the fans that Hospital Playlist was able to end on a good note. Fans will get to see the cast together one last time in their own variety show to premiere in October.