'Hospital Playlist': Director Shin Won-ho Explains Ik-jun and Song-hwa's Romance: 'The Moment Friends Become Lovers'
Fans watched as Ik-jun and Song-hwa went from lifelong friends to finally admitting their feelings for one another in 'Hospital Playlist.' Director Shin Won-ho needed their pivotal car scene to be palpable and feel real to its viewers.
While Hospital Playlist had many romantic storylines and moments fans enjoyed, the relationship between Lee Ik-jun (Jo Jung-suk) and Chae Seong-hwa (Jeon Mi-do) was astounding to see develop in the Korean drama. The two characters have been best friends since college. In season 1, fans learn Ik-jun has feelings for Song-hwa. But Song-hwa is afraid to ruin what they have.
Season 2 The best-friends-turned-lovers trope is often seen in K-dramas, but Hospital Playlist created a more realistic and heartwarming storyline to watch. Director Shin Won-ho looks back at the romance after the drama's conclusion. He explains the key was having the characters and fans fall in love little by little.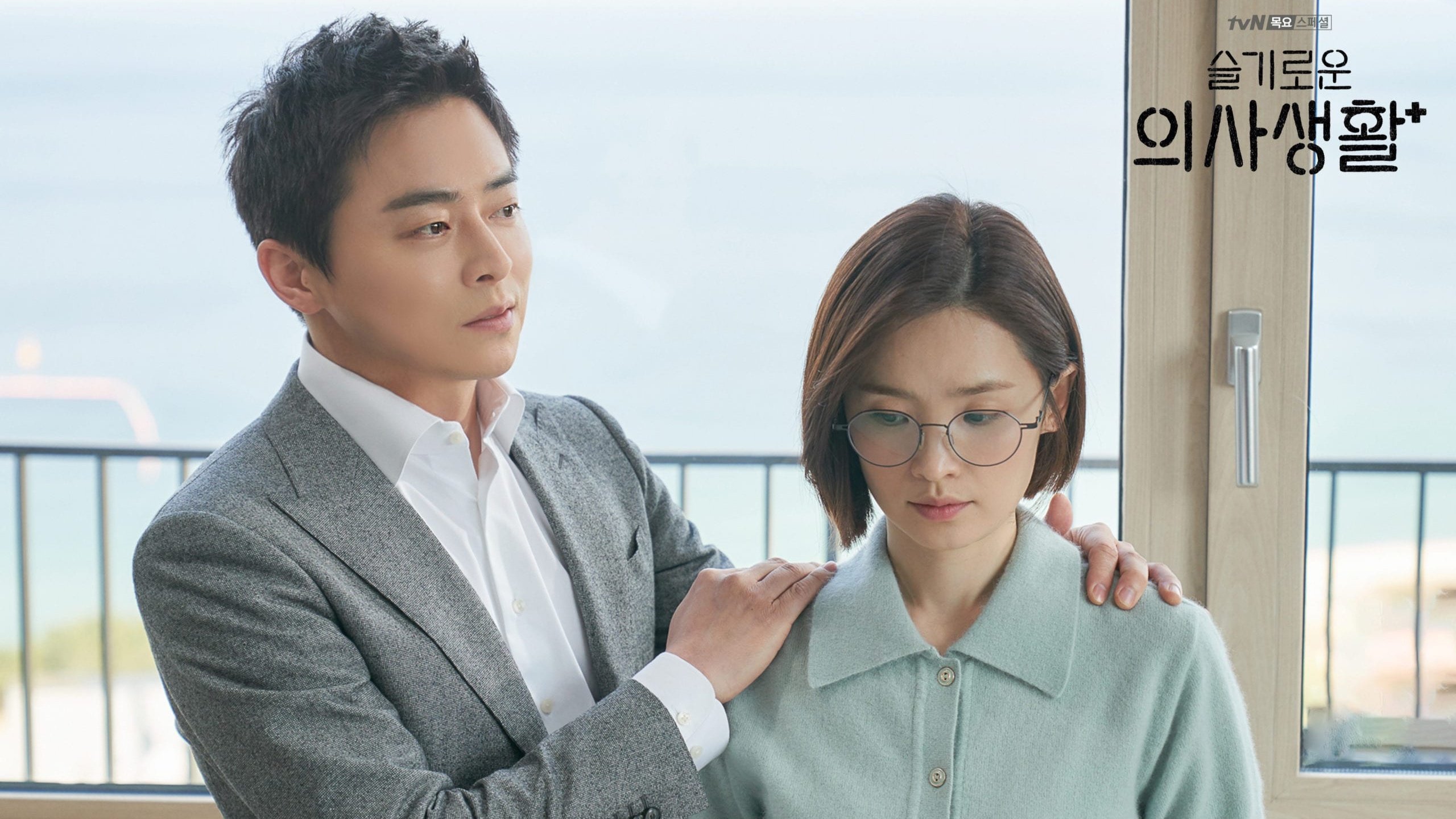 Fans watched Ik-jun and Song-Hwa fall in love in 'Hospital Playlist'
Since season 1 of Hospital Playlist, fans have been more than aware of the main characters' inseparable bond. But, there was always a different dynamic between Ik-jun and Song-hwa. Song-hwa is the only female character in the friend group but always had a mother-like persona. As the season developed, Ik-jun and Song-hwa's storylines start to change.
Ik-jun first admits his romantic feelings toward Song-hwa in season 1 in his kitchen. The scene takes place while it's raining and perfectly set the stage for them. They always had a habit of watching the rain together. But each character always puts their friendship before their feelings, and Ik-jun's admittance stuns Song-hwa. She remains conflicted over his feelings for her but never outright denies them. Instead, she prefers not to ruin their friendship.
Season 2 is when their story takes the most significant turn. After the Hospital Playlist hiatus, episode 11 marked the moment friends become lovers. Ik-jun is the victim of an attack and was taken to Yulje Medical Center. The traumatic events lead Song-hwa to confront her feelings. Days later, Song-hwa confesses to Ik-jun she would like to give in to their feelings and share their first kiss.
Director Shin Won-ho expresses Ik-Jun and Song-hwa's key moment had to be realistic
Best friends who start a relationship happens in everyday life, not just in K-dramas. According to Soompi, Shin elaborated on Ik-jun and Song-hwa's pivotal car scene in the rain. He explains, "The moment friends become lovers, there are definitely emotions that are difficult to overcome." The moment was a big stepping stone for Song-hwa. While entirely aware of Ik-Jun's feelings, it was up to her whether or not to pursue them. The episode also revealed Song-hwa also had feelings for Ik-jun since college.
Song-hwa takes the plunge to tell Ik-jun the truth and even refuses to look him in the eye. There was a reason for this. According to Shin, the moment had to be convincing, hence why it is a two-minute-long scene. "In the process of these two going from friends to lovers, there had to be that long pause so that viewers would also feel that suffocating air and atmosphere and be convinced to think, 'That's right, I think it must feel like that," said Shin.
Shin further explained the scene was essential as two people who have been friends for 20 years becoming a couple could not be glossed over in a short moment. The scene was palpable as it was the perfect scenario that described the couple. They sit in the rain drinking coffee, and Song-hwa tells Ik-jun not to look at her as she confesses. Ik-jun tries to hold in his smile until giving her his answer and sealing it with a kiss.
'Hospital Playlist's' other main couples had a deep and relatable meaning
Ik-jun and Song-hwa's relationship was not the only focal couple in the K-drama. Gyeo-ul (Shin Hyun-been) and Jeong-won (Yoo Yeon-seok) got together in the last episode of season 1 and were the central romance. Shin shifted their story to be more profound in season 2 with key moments. "I think I wanted to show a lot of how good they are for each other and how warm and beautiful they are when they lean on one another," explained Shin.
One of the most heartbreaking romances to watch on screen was between Ik-sun (Kwak Sun-young) and Jun-wan (Jung Kyung-ho). Their romance was tantalizing since Ik-sun is Ik-jun's younger sister. But the couple was also the most realistic when it came to love.
Jun-wan is hopelessly in love while Ik-sun lived abroad. But his heart is broken when she breaks up with him. Season 2 fleshed out their pent-up feelings for each other and the real reason why Ik-sun lied in their breakup. She thought she was a burden on his already stressful life.
"I hoped that the realistic conflict in their relationship, the relatable worries arising from long-distance relationships, the confusion and misunderstandings that inevitably arise from career-related situations, breaking up, but their desperation to move forward despite all that," explained Shin.