Hot Ones' Host Sean Evans Earns Millions Feeding Celebrities Hot Wings
When your job is to sit across from a celebrity at a table and ask them offbeat interview questions while they try to consume a range of ever-hotter wings and sauce, it's likely you're a pretty interesting guy yourself.
YouTube Hot Ones host Sean Evans has earned millions of dollars with his scheme of feeding the famous wings while asking them interesting questions. From Seth Rogan to Kristen Bell, Aubrey Plaza to Stone Cold Steve Austin, and even the kids from Stranger Things, Hot Ones definitely draws A-list names to its challenge.
Sean Evans started out as just a regular guy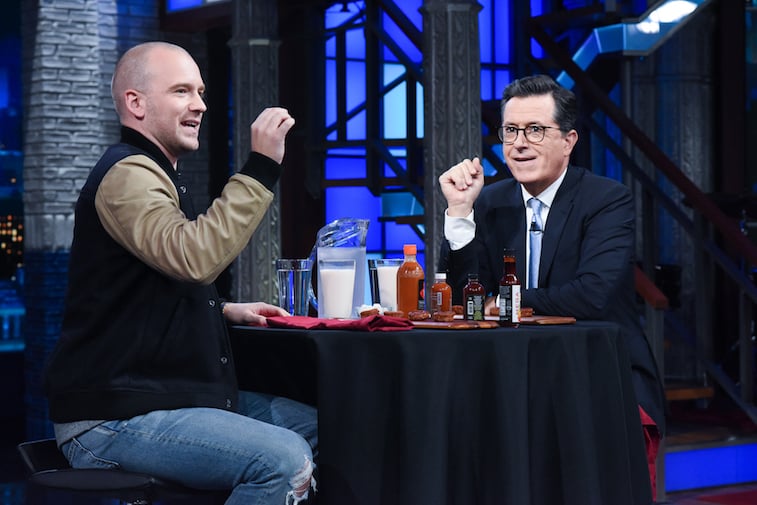 Evans grew up in Chicago and had a job writing for the Chicago tourism board. He remembers always wanting to be able to make people laugh the way Letterman did, as he binge-watched Letterman's shows on Saturdays with his dad.
That's probably what led to his crazy idea of hosting off-beat interviews himself. He remembers wanting to make his dad laugh. From those humble beginnings, he now shares meals with Hollywood's top celebrities.
Evans makes millions just asking pointed questions while stars eat
Depending on the celebrity, Evans is able to attract millions of viewers to an episode of his weekly web series Hot Ones. His episode with Gordon Ramsey, for instance, has had over 43 million views.
The premise is simple, Evans asks stars questions while they eat 10 wings. The wings gain in spiciness intensity, as do the questions.
After a guest eats each wing, Sean will then ask his guest a pointed interview question. As the wings get hotter, the show becomes more about watching the celebrity struggle than how they actually are answering Evans' questions. Each episode is about twenty minutes long and, if the celebrity makes it all the way to the end, they win a few moments where they can promote themselves and their upcoming projects.
The wings are hot too
This isn't just run-of-the-mill pub food Evans is feeding to his celebrity guests. The wings are generously sauced with a variety of small-batch sauces that climb the Scoville Heat Unit (SHU) scale to astonishing levels. (Scoville Heat Units (SHUs) are how experts gauge the hotness of peppers).
Most of the celebrities need to consume vast amounts of the provided water or milk just to make it through the first few wings. Very few of the guests actually make it through all ten wings successfully, which, of course, is part of the fun.
Watching the stars' reactions to the wings is part of the show's allure. If they need to take a few laps around the studio or utter a long string of expletives is a unique reaction for each guest, but no matter what their reaction Evans will be ready with another string of pointed questions to keep them on their toes.
Evans has a net worth of over $40 million
Since he is one of the most popular YouTube personalities, it's no surprise that the platform and his role on Hot Ones is earning him some serious cash. His salary is undisclosed, but his net worth has been estimated to be more than $40 million.
His cash flow largely depends on sponsorships outside of YouTube and also the success of his YouTube series. Earnings are calculated based on user interaction and viewership. The amount Hot Ones makes depends on how many people watch, subscribe, click, comment and like episodes, all of which impact how much money the show brings in.
The more notable the celebrity, the more views his show receives. This season he's gone viral with episodes starring Halle Berry, Idris Elba and the Jonas Brothers. Fans eagerly await who is challenged next.