'Hotel Transylvania 4': Why Adam Sandler Didn't Voice Dracula in the New Movie
Adam Sandler isn't reprising his role as Drac in 'Hotel Transylvania 4.'
Sony Animation is sending Hotel Transylvania 4: Transformania to Amazon Prime Video. The only question is, when? Fans hope the animation will stream in October 2021. But they've also noticed one cast member isn't returning in Hotel Transylvania 4: Adam Sandler. The comedian voiced Drac (Dracula) for the first three movies.
So why isn't Sandler coming back for round four? Here are the details behind his exit.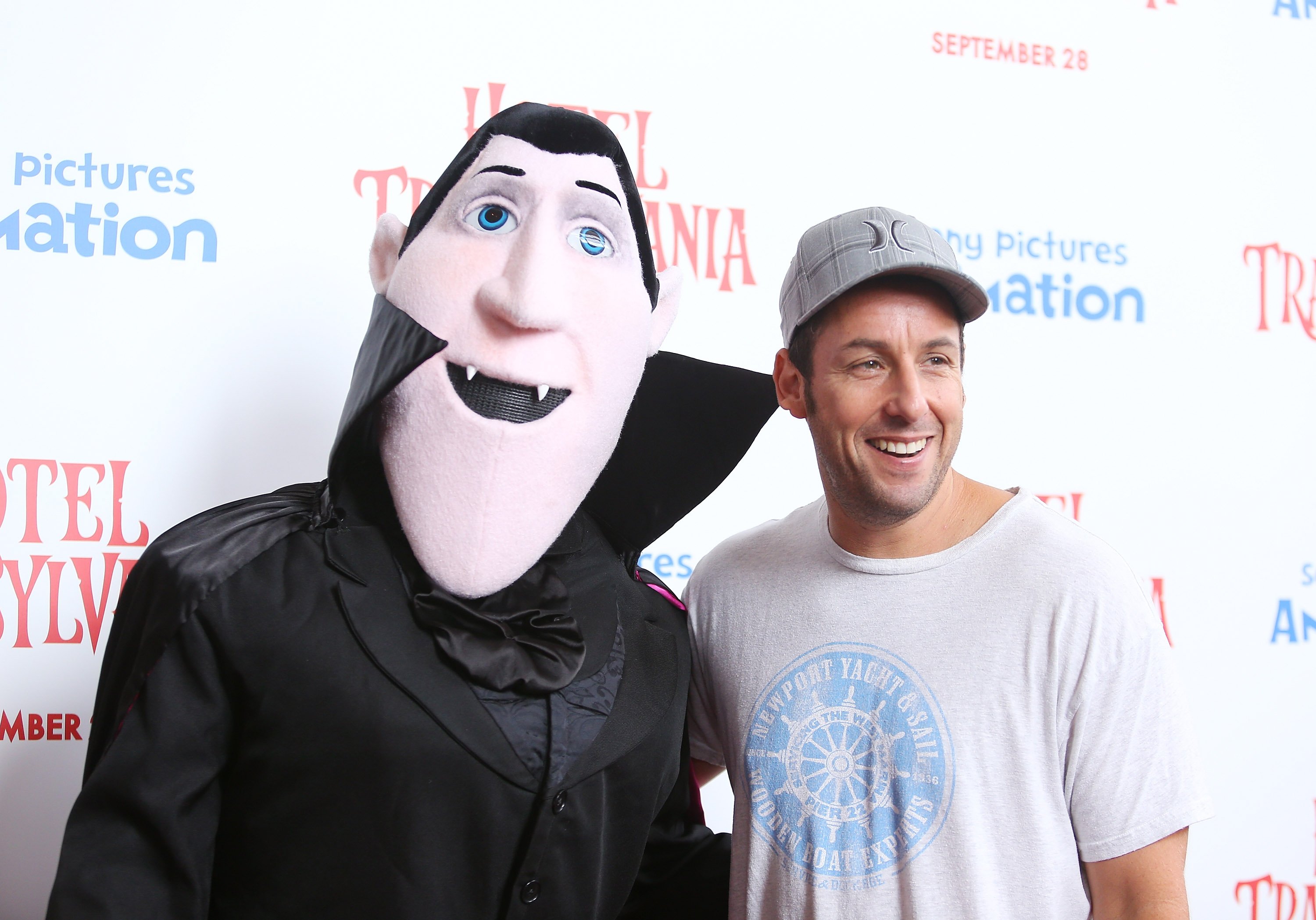 Adam Sandler produced the last 3 movies
Adam Sandler has produced a couple of movies in his career, including Hotel Transylvania. He brought a comedic approach to Drac as his daughter Mavis (Selena Gomez) falls in love with a human.
Drac built his Hotel Transylvania as a getaway for monsters. Some of those creatures include Frank, aka Frankenstein, Wayne and Wanda Werewolf, and Murray the Mummy. They are free to roam around the property without the pressure of humans. This is generally because Drac hates humans because of his wife's death.
The subsequent films focus on new adventures between Mavis and Johny and Drac's hotel. Sandler, Gomez, and the cast reprised their roles. So what happened with Sandler and Hotel Transylvania 4?
Why didn't Sandler return for 'Hotel Transylvania 4'?
Without Adam Sandler in Hotel Transylvania 4, fans want to know who will voice Drac.
YouTuber Brian Hull (a voice actor and impressionist) is taking over the role. He officially started voicing Drac for the short film Monster Pets. Hull isn't a famous Hollywood star like many audiences can recall their favorite Adam Sandler movies off the bat. But viewers recognize Hull for his Disney character impersonations of Mickey Mouse, Winnie the Pooh, and Goofy. So he isn't a newcomer to playing theatrical characters.
Sandler has not formally commented on his departure. However, certain signs point to the reason. According to CBR, directors Jennifer Kluska and Derek Drymon discussed a new path for Drac—turning into a human. They found it best to find a new actor for the role. Apparently, the human version of Drac has a different voice. Therefore, Drymon and Kluska said they needed to reshape the character. Yet, they did not mention Sandler.
On the other hand, Screen Rant noted potential damage in Sandler's relationship with Sony. The actor has switched to the Netflix side and created movies for that platform. Perhaps this was the reason behind Drac's recast, but neither Sony nor Sandler might confirm it.
The actor's upcoming movies include Hustle and Spaceman. Hustle is a new sports drama about a basketball scout who tries to make a comeback by recruiting an overseas player to the NBA; Spaceman is a Netflix sci-fi.