'House': Hugh Laurie Got a Raise to $336K Per Episode
For eight years, House was one of the most heavily-watched medical dramas on a network TV schedule loaded with them. While many medical shows focus on an ensemble of doctors, nurses, patients, and medical advisors, House was the story of one loose cannon who played by his own rules. With Hugh Laurie behind the character, he became one of the most famous figures on television. Laurie was paid quite handsomely for this, too.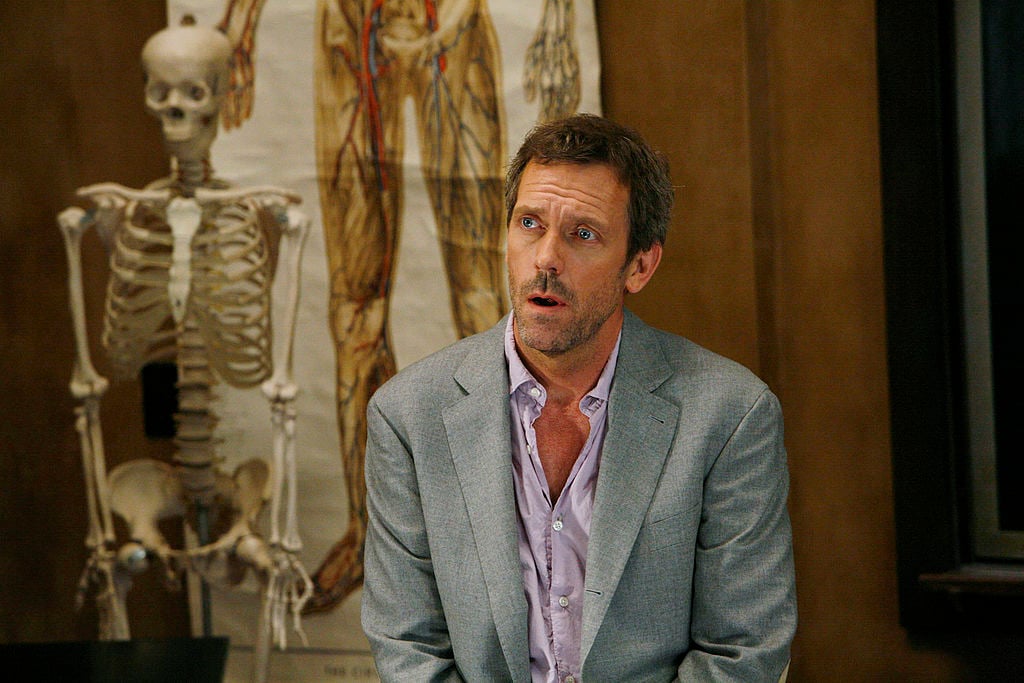 Who is Hugh Laurie? 
Laurie was a staple on British television for years before he found success in America. A comedic actor by trade, he got his start playing several roles on the British There's Nothing to Worry About! His career was never the same thereafter. Laurie began to headline more and more series. Between all this work and Blackadder the Third to its ensuing sequels, Laurie showed he had the chops to play a wide variety of characters. 
His most significant break came in 1990 when he paired with frequent collaborator Stephen Fry on the hit series Jeeves and Wooster. The series was a reunion for the two actors, who headlined several sketch series before that. However, Jeeves and Wooster began to get Laurie noticed overseas, as well. He began appearing on the big screen in films like Sense and Sensibility and the 1996 remake of 101 Dalmatians, according to IMDb.
By 2004, Laurie was a recognizable face in America, albeit not a star. All of this changed in House, where Laurie shared his talents from 2004-2012. He remains a staple on television, from a recurring role on Veep to his latest HBO series, Avenue S. Now, Laurie is a household name with several iconic American projects under his belt. However, to much of the country, he's still Dr. Gregory House. 
On the House
On paper, one might assume that House was a typical medical drama filled with attractive doctors veering in between real-life medical drama and the soap opera antics behind the scene. However, where House set itself apart was in the way that it handled the profession. Dr. House was not a well-put-together doctor with impeccable bedside manner and a penchant for occasional flaws. In many ways, he was a trainwreck.
House always operated like a loose cannon. He had a Vicodin addiction, he rarely played by the rules, and the hospital even had to set aside a fund for the trend of legal woes he cost the hospital. However, despite a lack of polish and couth, House was also good at his job. He specialized in strange cases, and while many people tried to play by the rule book to make people happy, House only cared about finding the problem and getting it fixed. 
This meant bending the rules. His sardonic humor, self-destructive nature, and penchant for turning the people around him off made him a perfect anti-hero in a genre filled with two-dimensional stereotypes. It garnered Laurie a steady stream of acclaim, too. Throughout its run, Laurie went from another British character actor to a multi-time SNL host, an award-winner, and one of the most sought after names in entertainment. He got paid handsomely to do so, as well. 
How much did Hugh Laurie make?
When House premiered, it benefited from having a little-known leading man in the states. However, as the show grew in both viewership and acclaim, the price to keep him around grew steep. At its peak, Laurie made $336,000 an episode on the program, according to Elle. This was a nice raise compared to his five-figure incomes during the early seasons. 
Laurie showed that the medical genre didn't always have to be a formulaic revolving door of several doctors. What this show needed was a unique take, plenty of intrigues, and a leading man who could paint its complicated namesake in a light that both perpetuated his flaws and made him more believable in the process.