'House of Gucci' Star Salma Hayek Hilariously Describes Her 'Horrific' Mud Bath Scene with Lady Gaga: 'Then There's the Boobs Going…But I Can't Sink'
We're hearing a lot about Lady Gaga and her Italian accent in House of Gucci. But Salma Hayek has a 'dirty' story to share that involves a mud bath. The two appear alongside each other in the movie. Hayek co-stars as Pina Auriemma, a close friend to Patrizia Reggiani (Lady Gaga). She marries into the famed Gucci family. Patrizia subsequently runs into a lot of trouble, even hiring a hitman. 
In the mud bath scene, the two characters visit a spa. During a recent on-air interview about House of Gucci, Hayek revealed what it was like to film the scene alongside Lady Gaga. 
Salma Hayek admits she never had a mud bath before filming 'House of Gucci'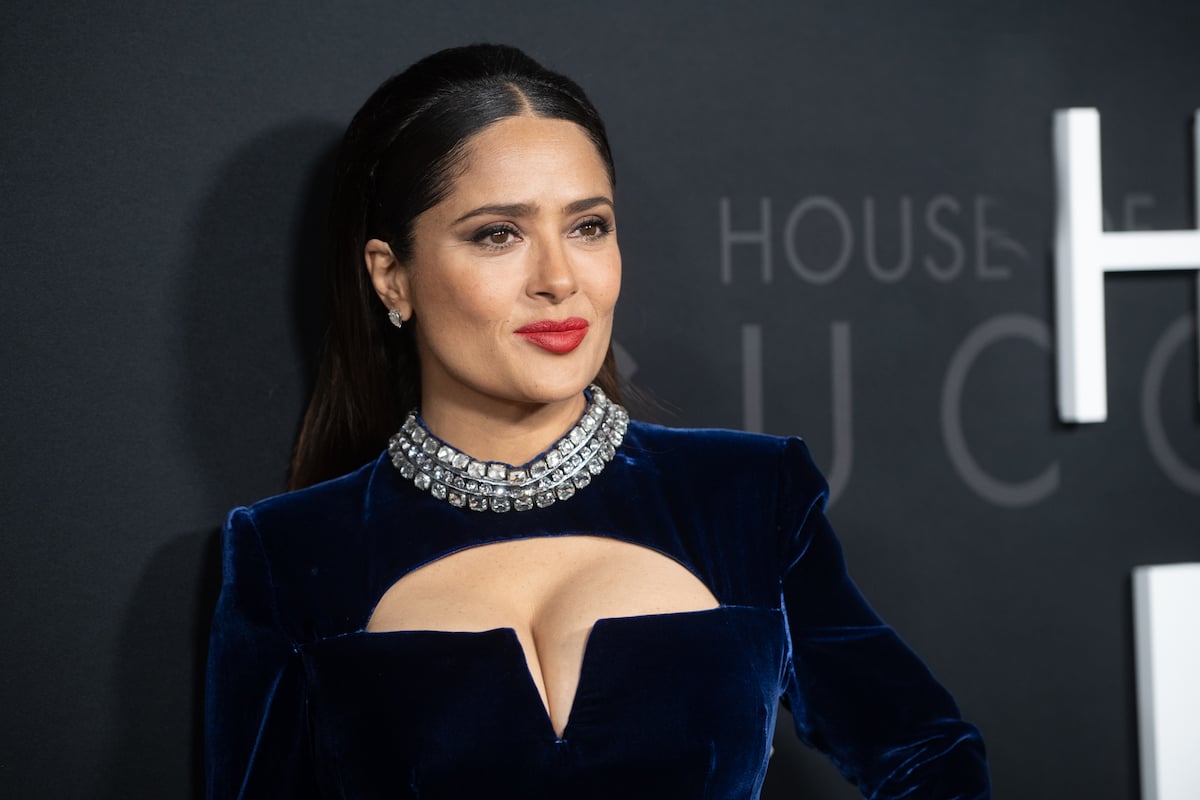 Per Fox News, during an interview on the Late Late Show With James Corden, the Frida star shared how she approached her mud bath scene with A Star is Born's Lady Gaga. It's something that, despite all her experience in film, Hayek seemed to have a bit of trepidation about. Moreover, Gaga couldn't believe the Oscar-nominated actor had never taken one. 
"Most of your scenes are with Lady Gaga," began Corden during the interview. "And I hear that you really bonded during a spa scene." 
Hayek responded, admitting that she was nude from the waist up while filming. She additionally revealed that she had fears of sinking. 
"I've never done a mud bath – which, by the way, she couldn't believe it, that I had never done a mud bath – we have a little bit of dialogue before we go in," Hayek told Corden. "And once you're in, you're naked – well not completely, we had something underneath but nothing on top – and the thing is that, in my head, I was going to sink."
The actor compares Lady Gaga to 'an Egyptian queen' 
While sitting next to Late Late Show guest Keith Urban, Hayek then describes how Lady Gaga entered the mud bath with sheer confidence. "Gaga just goes in, like an Egyptian queen," Hayek explains, miming her gestures. "Sits down, and she starts descending." 
Hayek subsequently compares her own awkward descent into the mud. 
"Me, with my extra kilos, I sit on the mud and I'm not sinking," Hayek continues. "And I'm trying to [move the mud away from] my huge butt to make some weight [shift]."  Urban and Corden laughed, along with the studio audience, as Hayek shared the encounter. 
Furthermore, Hayek's description included huge, flailing reenactments of her "mortifying" incident on the House of Gucci set. 
"And then it starts moving me around, and then there's the boobs going [back and forth], you know," she said. "It's a very dramatic scene and she's trying to stay focused and … I'm mortified."
Salma Hayek described the 'House of Gucci' scene with Lady Gaga as her 'most challenging' ever
The audience continued to laugh at Hayek's exuberant, highly physical performance. And the actor subsequently shared that filming the scene was a landmark in her long and admirable career. 
"It was horrific," she exclaimed. "Most challenging scene I've ever done."
Hayek and Gaga aren't the only screen icons who appear in the movie. Other prominent cast members include Adam Driver, Jeremy Irons, Al Pacino, and Jared Leto.  House of Gucci hits theaters on November 24, 2021.