'House of Gucci': Who Is Pina Auriemma, Salma Hayek's 'Psychic' Character?
The Gucci family takes center stage in House of Gucci, a tale about betrayal, power, and murder. Lady Gaga stars as Patrizia Reggiani, wife to Adam Driver's Maurizio Gucci. Salma Hayek — who's celebrating her run as Ajak in Eternals — has a small role in the film as Giuseppina "Pina" Auriemma.
Auriemma's friendship with Reggiani resulted in a sordid, tragic story of murder-for-hire, and both women went to prison. But who exactly is Pina Auriemma?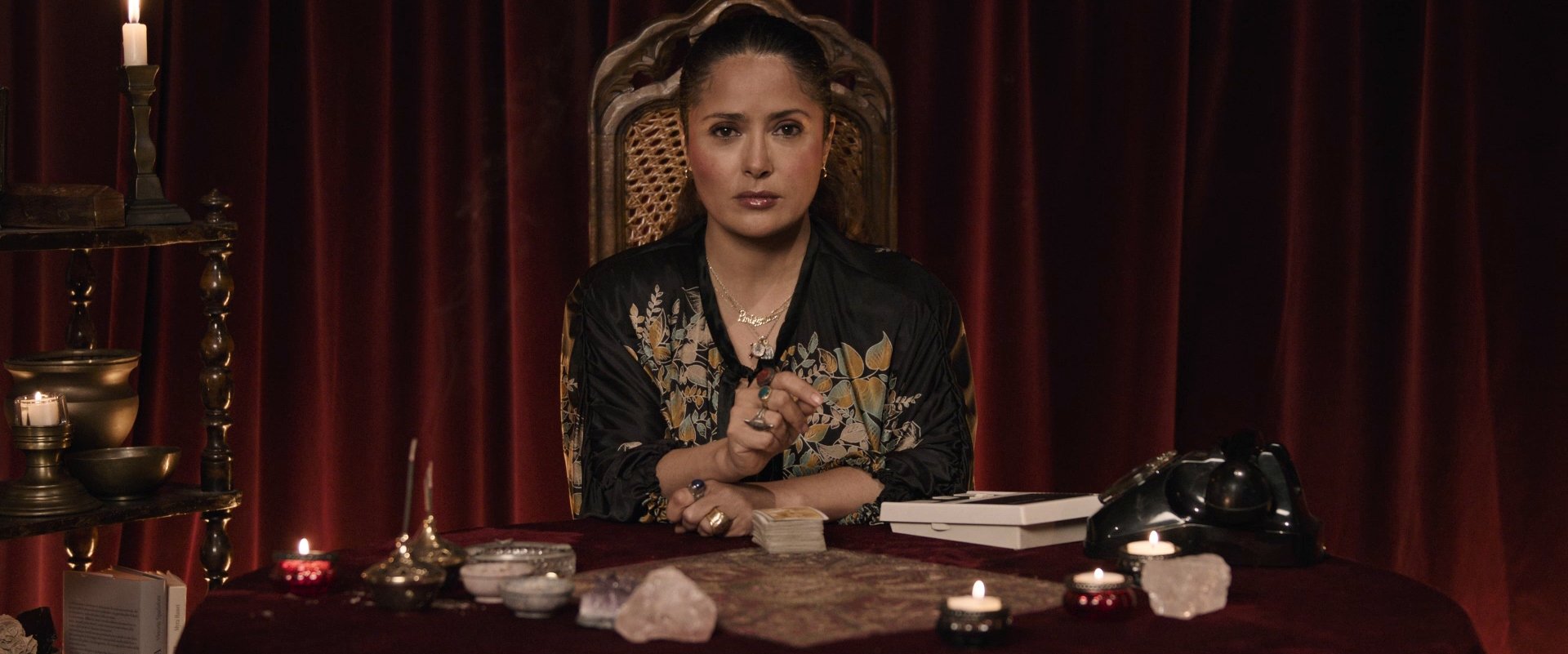 'House of Gucci' casts spotlight on Pina Auriemma
Known for her psychic dial-in television show, Auriemma had roots in Naples, Italy. She met Patrizia and Maurizio Gucci at a spa on an Italian island that had mud baths and hot springs. She and Reggiani struck up a friendship and hung out regularly. As for Auriemma's background, her family was in the food business.
According to Sara Gay Forden's book, The House of Gucci: A Sensational Story of Murder, Madness, Glamour, and Greed, the two women spent summers in Capri and Reggiani loved Auriemma's tarot card readings. They even traveled together. They became so close that at one point, Auriemma went into business with Gucci.
"Patrizia persuaded Maurizio to let Pina open a Gucci franchise in Naples that she operated for several years before turning it over to an associate," wrote Forden. "Pina was by Patrizia's bedside when Allegra was born in 1981. After Maurizio left home, Patrizia turned to Pina for consolation. When Patrizia became distraught enough to contemplate suicide, Pina talked her out of it."
Auriemma is also the person who helped Reggiani orchestrate Maurizio's murder. She spoke to an old friend — Ivano Savioni — and he arranged a meeting with the would-be shooter. After police starting piecing things together with an informant's help, they learned Reggiani stiffed Auriemma and the hired killers on their payment. Their plot began to unravel when money became an issue. Eventually, they all were arrested.
Reggiani was sentenced to 29 years in prison, while Auriemma received a 25-year sentence for her role. She served 13 years.
Auriemma appeared in a 2021 interview
Because House of Gucci has garnered so much attention, it's stirred up interest in Auriemma. She appeared in a discovery+ documentary about the case, but in March 2021, she spoke on Barbara D'Urso's talk show in Italy.
Auriemma expressed regret for her crime and admitted she has not spoken with Reggiani since their arrests. They did not speak in prison, and she stated she never wants to see Reggiani again.
Salma Hayek landed the role through Ridley Scott's wife
Hayek praised Lady Gaga's work ethic on and off screen and has described her as a genius. When it came to playing Auriemma, the actor said she nabbed the part through her friend, Giannina Scott. Scott, who's married to acclaimed director Ridley Scott, is a producer.
"I've been watching her fight for this movie and I've been by her side," Hayek told Variety, noting that she wound up marrying the new owner of Gucci. "And obviously my husband and Giannina's husband are friends, so it's a very incestuous, strange, symbolic thing."
Hayek believes that Auriemma really does possess clairvoyant powers and she was extremely close to Reggiani. "I believe she had a gift and she loved her friend and was authentic," she said.