How Aaron Carter Surprised Fans in His Latest Instagram Post
Aaron Carter is known to share posts with his followers that get people talking, and this latest one is no different. Read on to learn more about what fans are saying about this image upload.
Aaron Carter shares a revealing image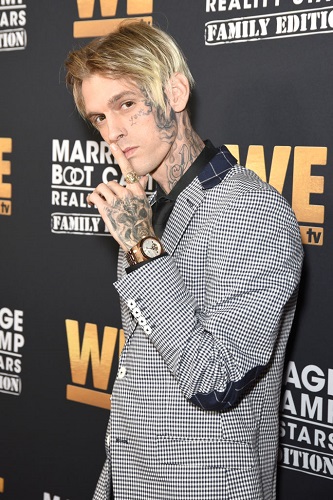 Carter is known to take photos of himself shirtless, but this one is unique in that it includes his girlfriend, Melanie Martin. They appear to be lounging in bed.
"Only for our fans…… #onlyfans coming soon ……..," Carter captioned the post.
Fans can't stop responding to this latest post and caption
Fans have a lot of feelings about the image Carter has posted. His hash tag specifically has fans questioning his meaning behind the post.
OnlyFans is a social media service that people are known to use to make money. People subscribe to profiles for a fee. These profiles can feature a number of things, as you can probably imagine. Just do a quick Google search for it and you'll see what we mean.
Fans can't help but ask Carter if he's being serious or not. "Wait… Seriously?" an Instagram user wrote.
"Lmao really Aaron come on now," another user said.
Someone else had a question in regards to the type of women he likes. "Didn't you say awhile back on here that you like natural looking girls? 🧐," an Instagram user asked.
A number of responses have us laughing out loud. "Yoooooo," someone said.
"Sign me up," another eager fan expressed.
"Oh Lordy here we go," said another.
"Quit playing games with my heart 😱," someone else hilariously said.
People are speculating
Fans have a lot of questions about what this latest upload could mean. "When you have no money you have no money," someone said.
"Short on $$$??" another asked.
Someone else isn't sure if it's a joke or not. "With you it's not really possible to know if this is a joke," another user wrote.
"Is this what I think it is?" someone else needed to know.
Another fan just had to let Carter know what they aren't trying to see. "Your fans don't want to see her lol," the user said.
One fan wants to give Carter some advice they hope he takes. "Really Aaron…. Your better than only fans! Once that's out there your career is over," someone else suggested.
Aaron Carter's girlfriend shares the same image
Carter's girlfriend Martin decided to upload the same image for her fans to see on Instagram. "Getting closer, one step at a time 💕," she captioned the post.
Fans were quick to weigh in on the image on her Instagram just as much as on her boyfriend's. People were a little more encouraging on Martin's end, however.
"Soooo happy for you two. Thank you for making him so happy 🥰🦁," an Instagram user wrote.
"That's what it's all about," someone else chimed in.
"Hope you enjoy your time together! 💙💙💙," another said.
Hopefully fans will get some answers in regards to what Aaron Carter meant soon.