How Does Adam Levine Sing Such High Notes?
Adam Levine's ability to hit the high notes doesn't lie solely in autotune — learn more about the artist's vocal range.
Since Maroon 5 burst onto the music scene with "Songs About Jane" in 2002, the band, along with lead singer Adam Levine, has rarely failed to appear on Billboard and other music rating charts. Levine's higher-than-average voice is natural but sometimes sounds as if it's been auto-tuned. How does he sing such high notes? Here's what we know.
Is Adam Levine a tenor?
According to Critic of Music, Levine is indeed a tenor. In fact, they refer to the singer with a four-octave voice as a lyric tenor with a tessitura, or comfortable vocal range that reaches from a low E2 to an almost glass-shattering E6.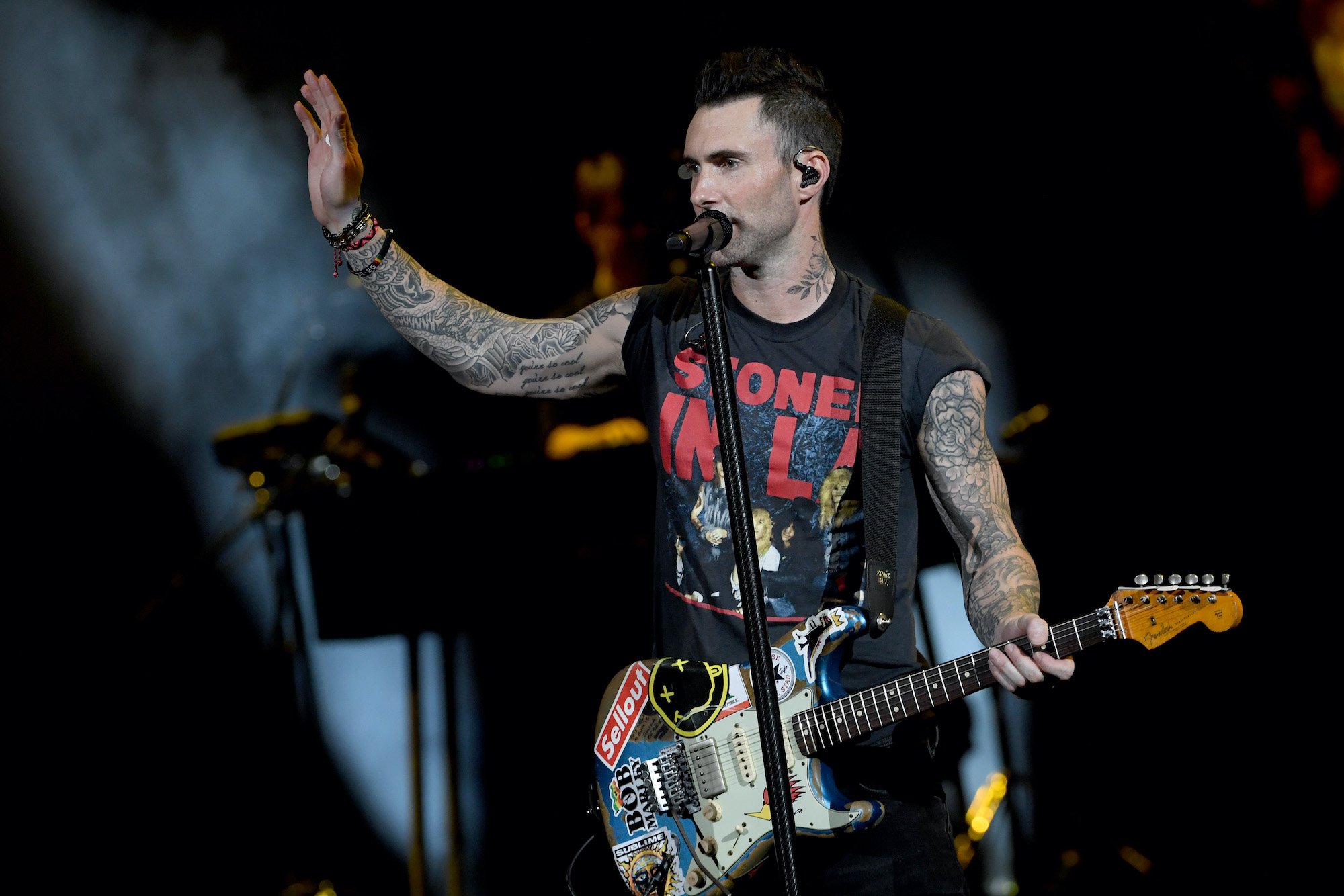 Critic of Music also says that Levine's instantly-identifiable androgynous voice moves effortlessly between his tenor chest voice and head-based falsetto and that he can hold his high notes for a remarkable amount of time without fatigue.
The high notes Levine hits in songs such as "Maps," "Moves Like Jagger," and "Don't Go Home Without You" are well above the natural tenor range. When a man attains those higher than average notes, the effect is called "falsetto" which some people confuse with autotune.
Vocal range is determined by the lowest and highest notes a person can comfortably sing. Excluding falsetto, male voices are characterized from low bass to countertenor with high, middle, and low baritone in-between, explains Become Singers. Female voices tend to be higher than male voices and include contralto, alto, mezzo-soprano, and soprano, says Yale University.
Does Levine use autotune?
Like spellcheckers and PhotoShop, autotune corrects mistakes. In the case of singers, the software fixes pitch problems and wavering voices without the need for practice-makes-perfect rehearsals and re-recording.
Originally developed as a Pro Tools plugin, autotune was pioneered by Cher with her 1998 song, "Believe."
As Antares Audio Technologies VP of marketing Mark Alpert told LiveScience in 2010, the pitch-altering effect of autotune "happens on almost all vocal performances you hear on the radio" while explaining that autotune is able to save a once-in-a-lifetime performance without going back for take after take.
The same year, says Popdirt, Levine took to Twitter to tell his fans:
"Dear auto tune. Go away. You are infecting music and wounding my soul. We don't need you. And anyone who does shouldn't be singing anyway."
Commentary from Popdirt readers was revealing. One comment called it "ironic" that such an autotune-dissing tweet would come from someone who "can't sing without autotune."
Another noted that "Moves Like Jagger" is "almost drowned in autotune." In 2012, the Popdirt story still had traction, with yet another reader adding that the Maroon 5 album, Overexposed is "autotuned to death."
Knowing that a preponderance of singers now using autotune, Indie Panda published a list of singers who don't use the pitch-fixing program. The list included singers such as Pink, Celine Dion, Bruno Mars, Adam Lambert, and Alicia Keys. Adam Levine is nowhere on the list.
Other male singers who achieve Levine's vocal range
Critic of Music classifies Adam Levine as a C-rated singer with barely acceptable technical proficiency, inconsistent performances, and tolerable to intolerable intonation accuracy. Included in this C list are Justin Bieber, Conor Maynard, and Harry Styles.
The number of male tenors in pop music is considerable. Here is a sampling of tenors who can achieve high-register falsetto vocals comparable to Adam Levine, according to music blogger, DJ Rob:
Russell Thompkins of the Stylistics
Barry Gibb of the Bee Gees
Phillip Bailey of Earth Wind and Fire
Del Shannon of "Runaway" fame
Lou Christie of "Lightning Strikes" fame
Carl and Brian Wilson of the Beach Boys
ListCaboodle's compilation of the best falsetto songs of all time does not include a single Maroon 5 song, but does pay tribute to the high-singing men who delivered classics such as Frankie Valli and the Four Seasons' "Sherry," "Tracks of My Tears" by Smokey Robinson, "The Lion Sleeps Tonight" by The Tokens, and "Goodbye Stranger" by Supertramp.
The ListCaboodle playlist also includes a novelty singer whose "Tiptoe Through the Tulips" ranks highly among falsetto singers who released hit songs. If Tiny Tim were alive today, he'd easily give Adam Levine a run for the falsetto money, and he'd do it without autotune.