How Adrienne Bailon Feels About Tamera Mowry-Housley's Exit From 'The Real'
Tamera Mowry-Housley's exit from The Real is still shocking to the show's fans, including some of her former co-hosts. Her exit comes just months after Amanda Seales with Mowry Housley taking time to focus on her family and acting opportunities. Adrienne Bailon is sad to see Mowry-Housley go.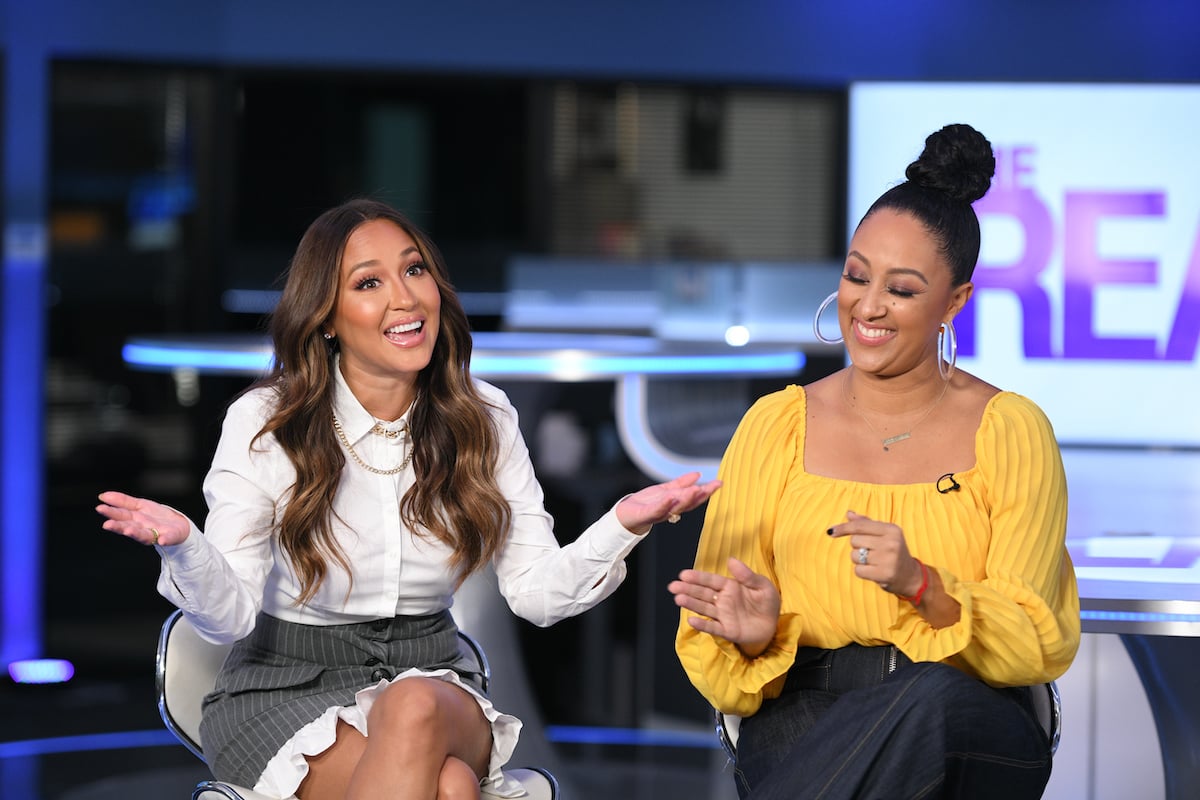 Tamera Mowry-Housley exits 'The Real'
Mowry-Housely has been a host on The Real since its test run season. After seven years on the series, she announced her decision to leave to her millions of Instagram followers, explaining that she is leaving to pursue other career opportunities.
Speculation about show executives offering her less money to return led to her departure. But Mowry-Housley says it's not true. In an Instagram live video, she elaborated on why she left and insists it has nothing to do with her pay.
"I'm going to say this once. I've explained it. I've been on "The Real" for six/seven years," she said. "I'm just ready to just try new opportunities and spend more time with my family, that's it. I am doing a Hallmark film. There's new opportunities kind of just popping up out of nowhere and I'm just grateful, grateful, grateful."
Adrienne Bailon supports Tamera Mowry-Housley's decision to leave 'The Real'
Though Bailon says she will miss Mowry-Housley, she's happy for her friend and former co-host's future. 
"We know that being with her children, being in Napa with her husband and running their business there, and all the other opportunities and the dreams that she still wants to fulfill – as a friend, we're all like, 'Girl yes, you got this'" Bailon tells Entertainment Tonight in a recent interview. 
Bailon continues: "We're like, 'Damn, we gon' [sic] miss you, Tam,'" she jokes. "But, we're also just so proud of her and so happy for her in real life."
As Bailon mentioned, Mowry-Housley also owns a winery and event space in Napa with her husband. She recently began selling her Rosé online. Mowry-Housley also has her own YouTube channel, The Housley Life.
The hosts of 'The Real' all have new jobs outside of the show
While Mowry-Housley is focusing on acting and family, her former co-hosts are multitasking with their jobs on their daytime talk show and other new gigs.
Loni Love's newest memoir is available for purchase and she's also the new host of We TV's reboot of Bridezillas.
Jeannie Mai is a contestant on the upcoming season of Dancing with The Stars. She's the second host of the daytime talk show to participate in the reality competition series. Tamar Braxton competed in 2013 before her firing from The Real.
Bailon and Mai hosts their own lifestyle shows on their respective YouTube channels. Bailon is also a judge on the reality competition series I Can See You.
The Real also has a new host, actor and star of RHOBH, Garcelle Beauvais. Bailon says she's happy with the addition of Beauvais, noting that there's a lot the public will get to know about Beauvais as she opens up as a co-host of the show.