How Alec Baldwin Really Feels About Ending His Donald Trump Impersonation on 'Saturday Night Live'
Did Alec Baldwin play Donald Trump for the last time ever on Saturday Night Live's Nov. 7 show? With Joe Biden named as president-elect, SNL's cold open naturally had to capture Trump's reaction to the news. Baldwin may have hung up his Trump wig forever following that appearance.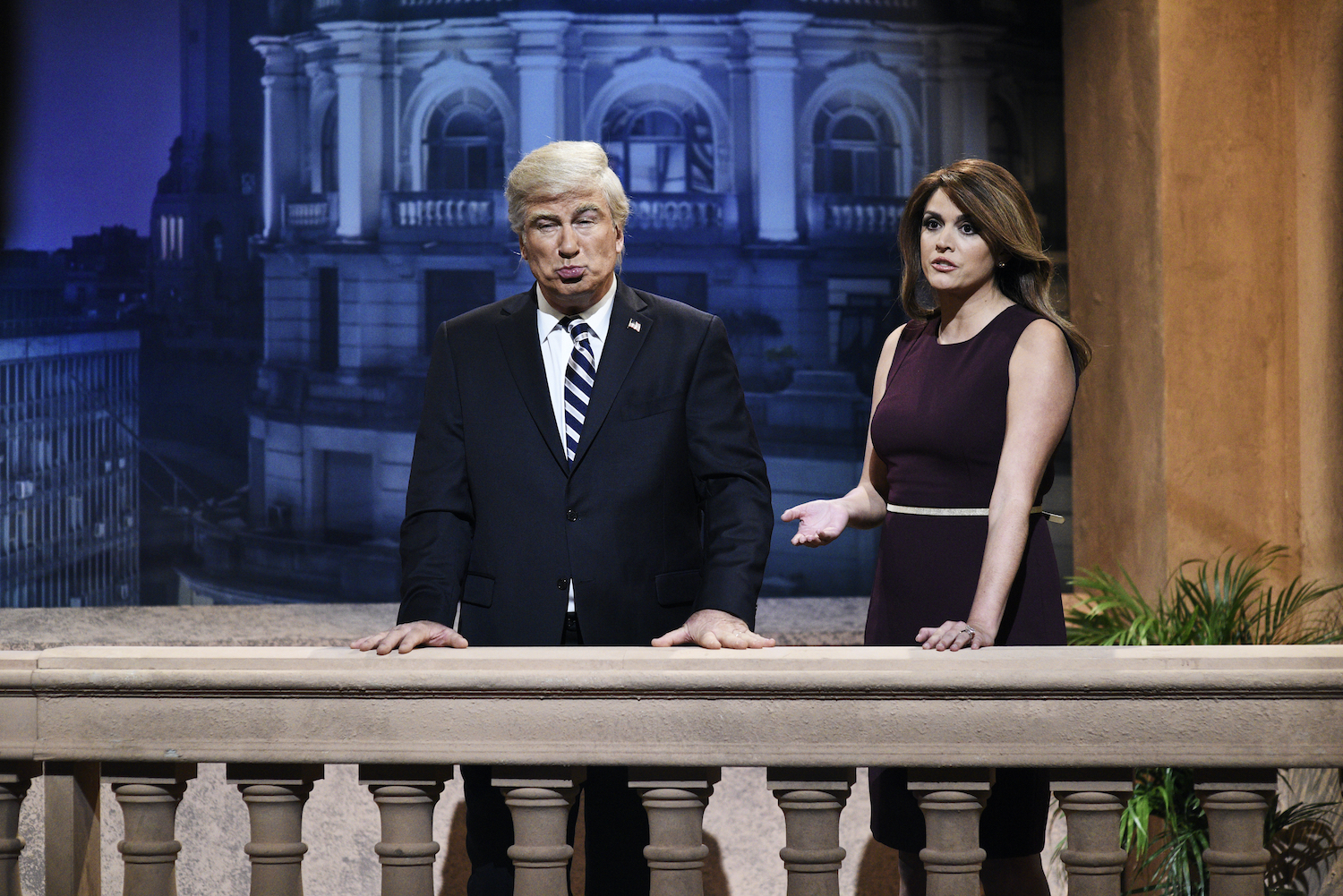 Alec Baldwin played Donald Trump yet again
Baldwin has hinted at ending his run of playing Trump on SNL before, but it looks like he might finally be out of the game given the election results.
In the SNL cold open, viewers got to see the Biden/Harris victory speeches play out hilariously with Jim Carrey's Biden calling Trump a "loser," a la his Ace Ventura character.
Baldwin, as Trump, shared his thoughts on not giving up on the election results and fighting voter fraud, while sitting at the piano to deliver a sad version of the song "Macho Man."
"Thank you for coming to watch my victory speech tonight," Baldwin said as Trump. "As anyone who died halfway through Tuesday knows, I was re-elected president of the United States."
Baldwin's Trump then addressed the concern over his election being stolen from him. "Let's hear it. Stop the count! Stop the count!," adding, "What's that? I'm behind … Count all the votes!"
"This isn't goodbye, America," he said. "Im just gonna say, see you in court!"
Alec Baldwin said he's 'overjoyed' to stop playing Trump
Baldwin has been playing the Trump character for years on SNL and there's never been a shortage of presidential material for the actor to sink his teeth into on the show.
The actor took to Twitter to share his thoughts on potentially losing the gig now that Biden has been elected president. It turns out that Baldwin isn't the least bit upset to put the impersonation behind him.
Baldwin shared on Twitter, "I don't believe I've ever been this overjoyed to lose a job before! … It will be comforting when we have a President who doesn't Tweet twice as much as I do … They're gonna need an enormous shipment of tissues sent to Mar-a-Lago…"
He continued, "On to my next wish. That everyone who voted in this election maintains that commitment and votes in the 2022 midterm elections. Let's keep this going!!!"
Baldwin wanted to quit his Trump gig long ago
In 2019, Baldwin told IndieWire why he had been doing less SNL appearances as Trump. "We did it like, once a month this season. Last season, I did it a bunch, and the season before that — the first season — I did it almost every show," he explained.
Baldwin added, "I think I did it every show. And I think people are, uh, they want a little bit less of that. And whether I do it much longer remains to be seen … Interestingly enough, the same thing applies there, as everywhere else: if the writing is good."
Baldwin was also asked during a 2019 appearance on The Tonight Show Starring Jimmy Fallon about how much longer he planned on doing the impersonation. "I don't know. I just don't know. I am doing it now. We do it about once a month," Baldwin said. "You get sucked in. They keep pulling me back in,"