How Beyoncé Really Felt About Destiny's Child Losing Members and Becoming a Trio
Destiny's Child originally consisted of Beyoncé, Kelly Rowland, LaTavia Roberson, and LeToya Luckett. Michelle Williams and Farrah Franklin replaced the latter two, with Franklin quitting less than six months later.
Beyoncé will always be known as the breakout star of Destiny's Child. But at one time, she was lauded as a diva and one who hogged the spotlight, causing tension between her group members. Those rumors have been long gone and proven to be untrue, but it did hurt the singer to lose two of her closest friends who started the group with her. After several group member changes, Beyoncé publicly spoke about being content with Destiny's Child being a trio.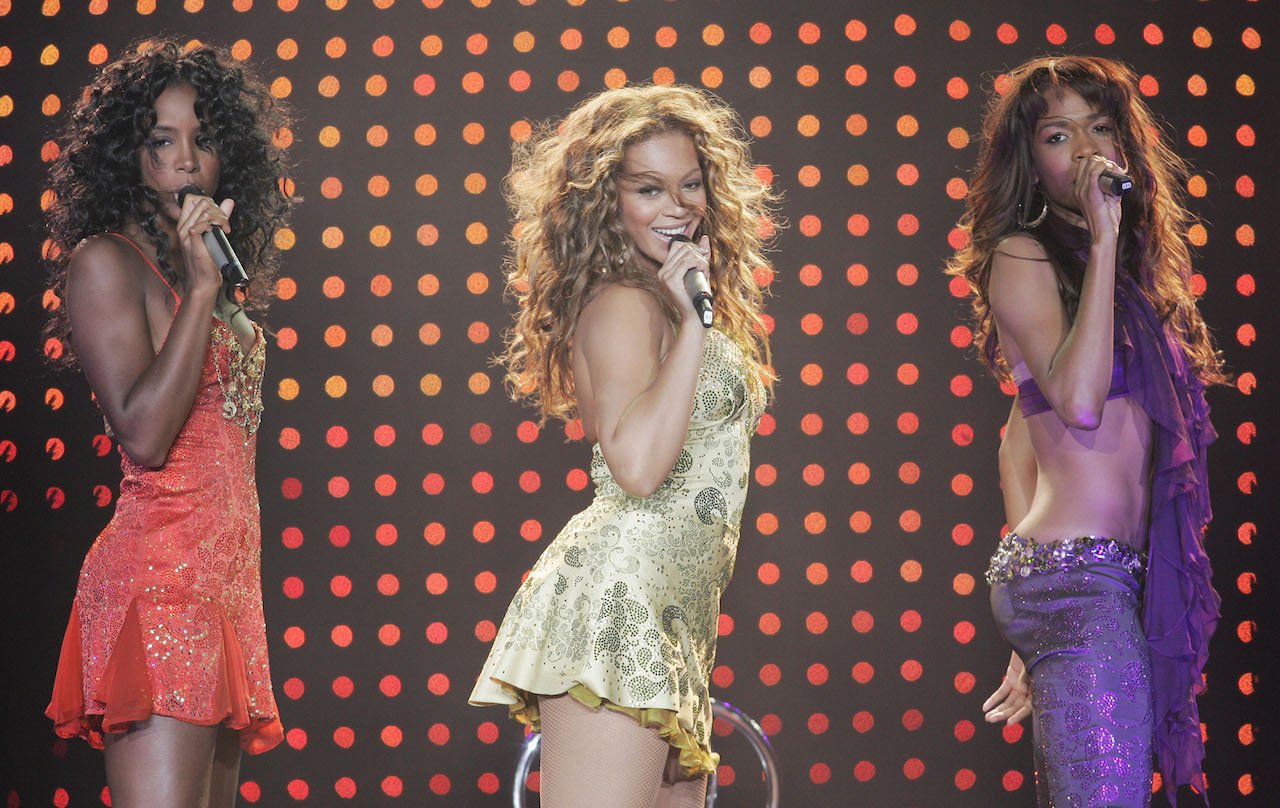 Destiny's Child became a trio following the exit of Farrah Franklin
Fans of the group will never forget when LaTavia Roberson and LeToya Luckett, the two original members of Destiny's Child, alleged they were fired and replaced by Michelle Williams and Farrah Franklin after they complained about management and money. They eventually sued Beyoncé and Kelly Rowland, as well as their former manager Matthew Knowles. The suit was settled out of court.
Losing her group members was difficult, but for Beyoncé, it was more than just about the music. She grew up with both Roberson and Luckett and went through a depression amid the media drama and lawsuit. "We knew each other for so many years, we grew up together, we were all sisters, we completed each other and it wasn't losing a business partner or a group member, it was losing a best friend," she explained in an interview once. "Two best friends, and it hurt very, very, very, bad…it's so sad and so unfortunate that all of those years and it happened like that."
More trouble and bad press would follow when Franklin was kicked out of the group for missing performances and promotional events. The group remained a trio with Williams and promised it would be DC3 going forward. Franklin denied being fired and maintained she quit due to problems with management.
"Destiny's Child has definitely been through a lot as far as our members. But, we are survivors, and the group is now at its best. There's no need to add another member, we're Charlie's Angels now," she joked to Entertainment Tonight in reference to the group having the lead single from the Charlie's Angels soundtrack.
"Independent Women" was the trio's first single together
"Independent Women" was the group's first single and first hit as a trip. They lavished in it, coining themselves as the singing version of Charlie's Angels. The song was written and co-produced by Beyoncé and is an anthem of women's empowerment and independence. 
Released in Aug. 2000, it marked the first No. 1 single for Destiny's Child as a trio. "Independent Women" held the No. 1 spot on the US Billboard Hot 100 chart for 11 consecutive weeks. Prior to the song's official release, the group were already touring with Christina Aguilera to sold-out arenas around the country. The tour aided in the promotion of the single. 
Billboard eventually listed the song at No. 77 on their list "100 Greatest Girl Group Songs of All Time. The song was nominated for Best Song Written for a Motion Picture, Television or Other Visual Media at the 2001 Grammy Awards. Though they didn't win in that respective category, they did take home the award for their single "Say My Name," which was recorded by the four original members of the group. 
As a trio, Destiny's Child released three full-length studio albums
The group's strategy to remain a trio worked. They released three additional albums together: Survivor, 8 Days of Christmas, and Destiny Fulfilled. The group also released a compilation record of their biggest hits, which included a charity song "Stand Up For Love."
Since the group's official disbandment in 2006, they have reunited several times, including at the 2013 Super Bowl halftime show and the 2018 Coachella festival. There are constant reports of a reunion tour, but nothing has been confirmed.