How Cancer and a Drug Bust Made Erin Andrews and Jarret Stoll Closer Than Ever
Depending on who is asked, Erin Andrews is either known mostly as the host of Dancing With the Stars or a sideline reporter for several different sports. Andrews' husband, Jaret Stoll, was a household name in his own right, spending several seasons in the NHL before calling it quits.
The couple's relationship has been less than normal from the get-go, and a series of pitfalls, both major and minor, have tested it from the very beginning.
How did Jarret Stoll and Erin Andrews meet?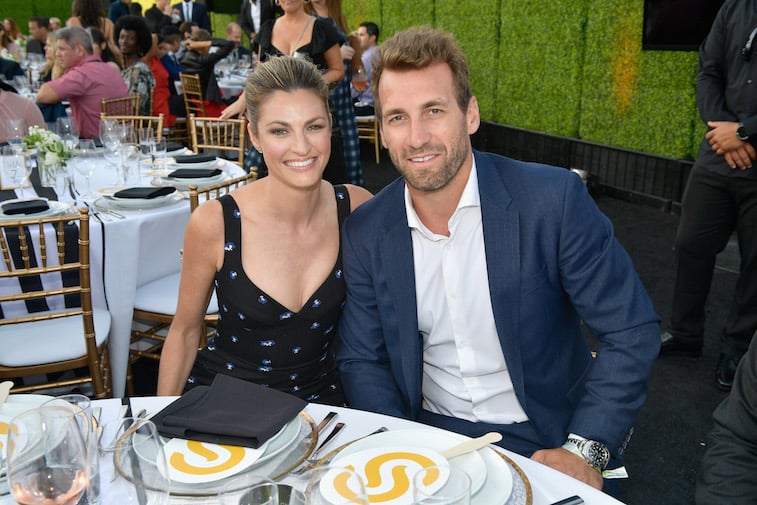 According to Sporting News, Stoll took an unusual step to secure a date with Andrews. Enlisting a high profile friend, Michael Strahan, Stoll asked the former NFL player if he could help him secure a dinner date with the sports reporter.
Andrews was working the 2012 World Series, however, and declined due to the busy schedule that came with her work.
Rather than take no for an answer, however, Stoll decided that he would simply ask her in person. In a game at San Francisco, Stoll evaded security and walked over to Andrews in person, who was impressed by his willingness to go the extra mile as a way to meet her. Stoll got his date with Andrews, and the two have been an item ever since.
A magical engagement
After going through such an elaborate means of meeting Andrews, one would be right to expect that Stoll's eventual engagement to the television personality was equally so. In 2016, while the pair were visiting Disneyland during Christmas, Stoll and Andrews was at the exclusive Club 33 restaurant inside the park.
Stoll hid an engagement ring inside of his shirt, but after Andrews wanted to go on a few rides. As the two went through the twists and turns that come with the park's rides, Stoll recalled that Andrews grabbed for his jacket several times and came within inches of discovering the ring.
However, Stoll narrowly avoided being found out, and after anxiously awaiting the right moment, he finally popped the question.
Bumps in the road
Stoll and Andrews had their relationship tested almost right away. Andrews was the victim of a high-profile stalking case that predated their meeting. The case, which included the unlawful filming of Andrews in her hotel room, was a national story.
During the trial, Andrew was candid about the toll it was taking on the pair, too. Fortunately, they got through it.
That wasn't the only hurdle in the road for them, however. Stoll was arrested in Las Vegas in 2015 for cocaine possession. Andrews took to Dancing with the Stars to throw some jabs in the direction of Stoll.
The two worked through it, however, and still remained together in the aftermath.
The biggest test for the couple, however, came in 2016, when Andrews was diagnosed with cervical cancer. Although Andrews initially decided to fight her battle privately, she eventually opened up and became a spokesperson for those who battle the condition, and she was candid with the struggles that came with it.
Andrews spoke glowingly about Stoll's role in helping her fight it.
What are they up to now?
In June of 2017, Andrews and Stoll got married at a mountainside resort overlooking Yellowstone National Park. The wedding was a star-studded affair, with would-be matchmaker Strahan in attendance alongside Joe Buck and a slew of other familiar names.
Despite some rocks in the road, the couple appears to be happy, too.
Andrews and Stoll might live a lavish lifestyle that puts their actions under scrutiny, but they are also human beings deep down inside who have to learn to cope with their struggles that often hit the news cycle.
Andrews is still busy with her television gigs, while Stoll is enjoying life in retirement. The two are happy, and thanks to all of the hurdles they have leaped over, they have found what was most important in their love for each other.