How Carrie Underwood Met Her Husband, Mike Fisher
Country music songbird Carrie Underwood and retired NHL star Mike Fisher are one of the most popular celebrity couples in the world. They've been married since 2010 and welcomed their first son, Isaiah, five years later but their love story didn't have an easy start and a meeting between the two almost didn't happen because Underwood had reservations. So how did this superstar pair end up getting together?
Here's more on how that plus some of the other difficulties the couple has faced over the years.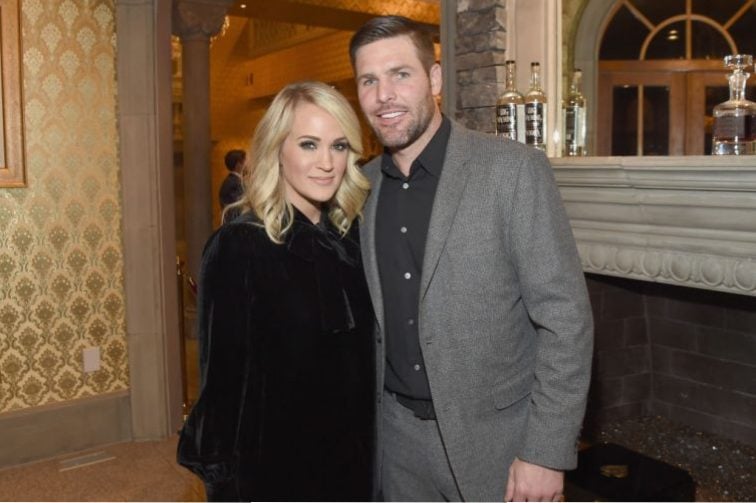 Underwood refused to go on a date with Fisher
In 2008, Underwood's bassist, Mark Childers, wanted to set the singer up on a blind date with the professional hockey player. But Underwood turned down the offer because she wasn't interested in going on a date with someone who lived so far away from her (at the time he lived in Canada and she was in Tennessee).
"I mean, can I make dating more difficult?" Underwood recalled on VH1's Behind the Music. "Let's get a hockey guy who lives in another country. Awesome."
Underwood though did agree to do a casual meet-and-greet with him backstage at one of her concerts and she was glad she did because the attraction was instant. She immediately texted Childers to let him know that she thought Fisher was "hot, hot, hot." The athlete meanwhile was equally impressed and said that Underwood "was more beautiful in person than on TV."
They had a long-distance relationship
Following their initial meeting, the two didn't see each other again for another three months as they were both busy with their careers and lived more than 1,000 miles apart. However, they were able to make their long-distance relationship work even for several months after they tied the knot.
Then as luck would have it, Fisher was traded from the Ottawa Senators to the Nashville Predators, which was where Underwood's residence was.
They've had to fight off nasty rumors
Fisher and Underwood are no different than many other celebrity couples who have had to battle several nasty rumors throughout their marriage.
After one tabloid reported that the two were living separate lives and on the verge of filing divorce, Fisher responded to fans on social media who speculated about the supposed split. The hockey shut down the rumor by telling their fans that he and his wife have "never been better."
Underwood revealed that she suffered three miscarriages
In September 2018, Underwood revealed during an interview with CBS Sunday Morning that she had previously suffered three miscarriages.
"I'd kind of planned that 2017 was, you know, going to be the year that I work on new music, and I have a baby," she said. "We got pregnant early 2017, and didn't work out. And I got pregnant again in the spring, and it didn't work out. Got pregnant again, early 2018. Didn't work out. So, at that point, it was just kind of like, 'Okay, like, what's the deal? What is all of this?'"
Underwood explained that she turned to her faith to get through the difficult times. And, despite those past fertility struggles, Underwood and Fisher are now expecting their second child.
The country star posted about the happy news in a three-part Instagram video. "Mike and Isaiah and I are absolutely over the moon and excited to be adding another little fish to our pond," she gushed. "We're just so excited and glad you guys can share in this and be a part of this with us."
Read more: Did Carrie Underwood Have To Get Plastic Surgery After Her Accident?
Check out The Cheat Sheet on Facebook!