How Chadwick Boseman Continues to Impact the Marvel Cinematic Universe 1 Year After His Death
Chadwick Boseman passed away on August 28, 2020, at the age of 43 after a lengthy battle with colon cancer. One year after his death, the Black Panther star still continues to impact the Marvel Cinematic Universe. Boseman's final MCU performance — the second episode of Marvel's What If…? — was recently released on Disney+. And it has audiences thinking about what might have been if T'Challa's reach wasn't limited to Earth.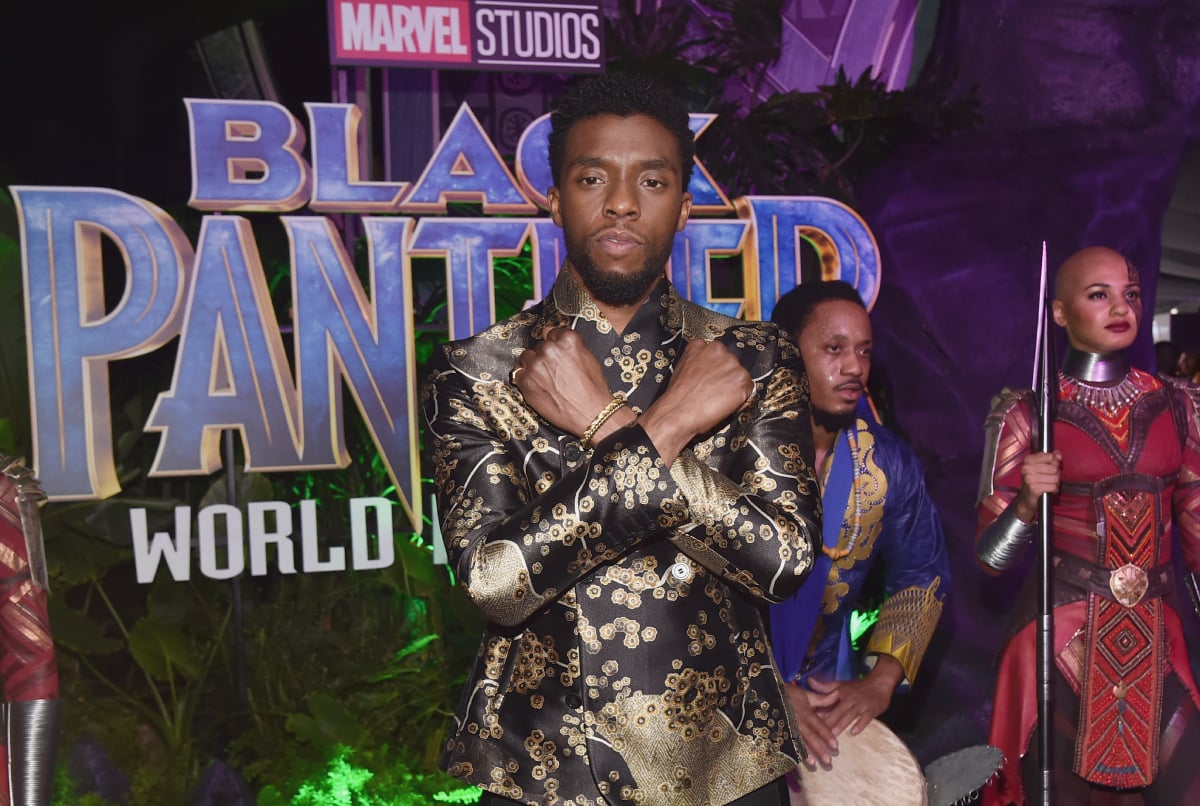 Chadwick Boseman's final MCU performance asked 'What If…T'Challa Became a Star-Lord?'
Marvel's new animated series What If….? is an anthology based on the popular Marvel comic book of the same name. It explores how the MCU would be altered if certain events had occurred differently, and fans get to meet the different superheroes inside these branched realities of the multiverse.
All of the Marvel actors fans know from the big screen are voicing their characters in the animated series. In Boseman's episode, the series asks "What If…T'Challa Became A Star-Lord?" It proceeded to wonder what would change if the Ravagers from Guardians of the Galaxy had taken T'Challa instead of Peter Quill.
RELATED: 'Black Panther' Star Chadwick Boseman Was Still Helping Other Cancer Patients While Losing His Battle
According to Esquire, Boseman recorded his lines just weeks before his death. The recordings happened across four different sessions, alongside Michael Rooker who reprised his role of Yondu.
The 'Black Panther' star kept his health battle private
Director Bryan Andrews says that there are a few more times in the series when Boseman will "pop up briefly" in other episodes. Those were the last lines Boseman recorded with Marvel, and it happened after the pandemic started. So, they recorded his lines over Zoom calls.
RELATED: Chadwick Boseman On What Making 'Black Panther' Meant to Him
"In the last record, when we were done, I, selfishly, was able to tell him how much I personally thought of him… He touched his heart and he was very thankful, but we had no idea he was going through what he was going through," Andrews told The Hollywood Reporter.
Chadwick Boseman continues to impact the MCU
Andrews notes that Boseman "really enjoyed the idea of being able to play this slightly different version of T'Challa." He acknowledges that the events of the episode are "so extremely different" from what happened in Guardians of the Galaxy. However, "the galaxy doesn't change T'Challa." Instead, "T'Challa changes the galaxy."
Writer AC Bradley says that he had the "sad honor" of writing some of Boseman's last lines in the MCU. But he "obviously didn't know" it at the time. He says the late actor understood the importance of Black Panther, and what a big deal it was for young people to see a black man "standing shoulder to shoulder with Captain America and Thor Odinson."
RELATED: 'Black Panther' Chadwick Boseman Originally Auditioned For a Different Role in the Marvel Cinematic Universe
"He came in to record, and I joked that he didn't bring his A-game; he brought every damn sport there is. He made sure that this was going to be the episode that shined, but we did not realize why. And the world is a little sadder for it," Bradley said.
T'Challa Star-Lord became a modern day Robin Hood
Boseman's episode asked the question "is your destiny determined by your nature, or the nature of your world?" As an adult, T'Challa Star-Lord becomes a famous Robin Hood-style outlaw who has convinced the Ravagers to give up their criminal ways. Now they steal from the rich and give to the poor.
RELATED: Marvel Boss Kevin Feige on Chadwick Boseman's Final Performance in the MCU — 'In Hindsight, It's Very Moving'
Instead of giving the Infinity Stone to the highest bidder, it goes to a proper place. As T'Challa Star-Lord explains "You know as well as I no treasure is worth as much as the good that can be done with it."
The new version of Chadwick Boseman's character stopped Thanos all by himself
The big surprise of the episode is that thanks to T'Challa Star-Lord, Thanos is not trying to wipe out half of all sentient life in the universe. He actually stops the mad titan from carrying out his insane plan simply by talking him out of it.
"Sometimes the best weapon in your arsenal is just a good argument," he says.
RELATED: Chadwick Boseman's 'Heroism' Is Captured in Marvel's 'What If…?' Says Jeffrey Wright
Yes, the episode was dripping in unapologetic idealism. And it did get a bit overly sentimental at times. But, Boseman's final turn as T'Challa definitely has made an impact. Even though the episode creators didn't know it at the time, this was Boseman's sendoff in the MCU. And it's a pretty great legacy to leave behind.
New episodes of Marvel's What If…? premiere Wednesday on Disney+.
Rest in Power King.