How Christian Singer Lauren Daigle Accidentally Became a Grammy-Winning Pop Sensation
Lauren Daigle started her climb to fame early, trying out for American Idol when she was just 17. A rejection there seemed like a sign that things would be more difficult than she may have guessed, and the music star turned her attention to growing her fan base within her niche of Christian music. That plan seemed to be working very well as Daigle saw increasing success within the genre. 
The jump into mainstream charts was an accidental crossover after finding success in the Christian music scene, and it has put Daigle squarely in the spotlight she tried to gain all those years ago. 
Lauren Daigle found a passion for singing early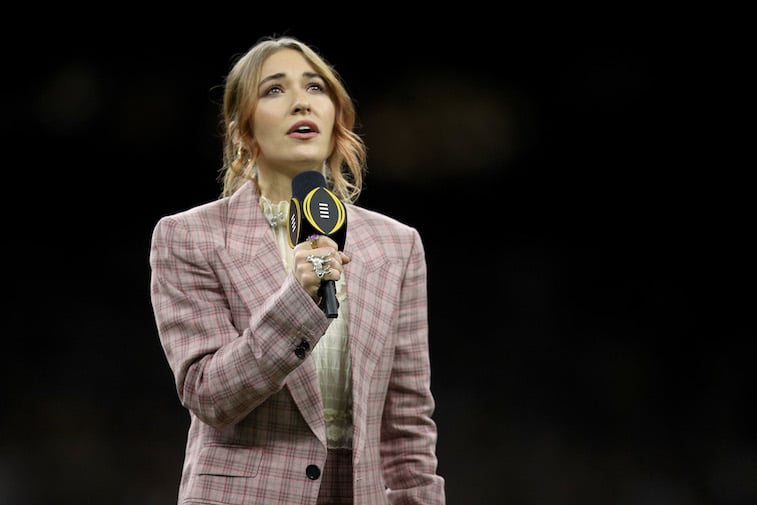 Daigle grew up in Louisiana and was influenced by the Cajun and blues culture in her home state.
According to Cosmopolitan, she found her voice for singing early, and her mother used to affectionately refer to her as "the music box."
When Daigle's dad convinced her to try out for American Idol, the 17-year-old was thrilled to make it through nine rounds of the competition before ultimately getting a resounding "no" from the judges before actually appearing on the show. 
The trip wasn't useless, however. Before they headed back home from Los Angeles, Daigle and her mom stopped by a nail salon. They just happened to find themselves seated next to Miley Cyrus, and the established singer connected Daigle to her mother — who also serves as her manager. Ultimately, that brush with success also fell through, leaving Daigle with plenty of dreams and near misses but no clear path to success . . . at least not yet. 
Lauren Daigle climbed the Christian music charts
Daigle released the single "Light of the World," three years after her 2010 rejection from American Idol. The song would end up gaining enough traction to secure her a full-length album of Christian music.
That album, How Can It Be, was released in 2015 and climbed its way to number 16 in the Billboard charts for all music genres. It also gave her a smash hit single — the album's title track — that gained top spots on the Christian iTunes single chart. 
It seemed that after struggling to find her foothold in the mainstream pop music world, Daigle had found a different path forward. The Christian music scene welcomed her enthusiastically and gave her the chance to put her talented vocal range to work. She continued to gain fans and praise for her impressive performances. 
A mainstream crossover launched Lauren Daigle's fame
In 2018, Daigle released another Christian music album. Look Up Child was a roaring success, and it even earned Daigle a Grammy! She won Best Contemporary Christian Music Album in 2019. Daigle credits the success with the album's wide appeal saying that: "It's a record you can sit with, one you can fall asleep to, and one that welcomes the inner dancer in all of us onto the scene." 
The album also earned her some fans in high places. Selena Gomez gushed about the singer, providing her an even bigger audience for her work. When Daigle's single "You Say" started to climb its way up the charts, it was clear that the appeal had crossed over from the Christian music genre to the mainstream world. 
Daigle is now drawing attention for her unique and refined vocal quality. With comparisons to emotionally raw performers like Adele and Amy Winehouse, it's clear that Daigle has the talent to draw a crowd's attention.
It may have taken her some time to get the breakthrough hit that she was hoping for since childhood, but her winding path to fame is paying off in a big way.