How Did Aaron Carter and Complicated Ex-Girlfriend Melanie Martin Meet?
Aaron Carter's name has been in headlines for the first time in a long time. Unfortunately, a lot of them have been full of dramatic speculation about the state of his relationship with Melanie Martin. Once upon a time, Carter was a teen heartthrob who was getting much more positive press for his successful music career. These days, Carter is still making music, but his personal life has been overshadowing his professional one.
What is going on with Carter and Martin and just how did this pair meet in the first place?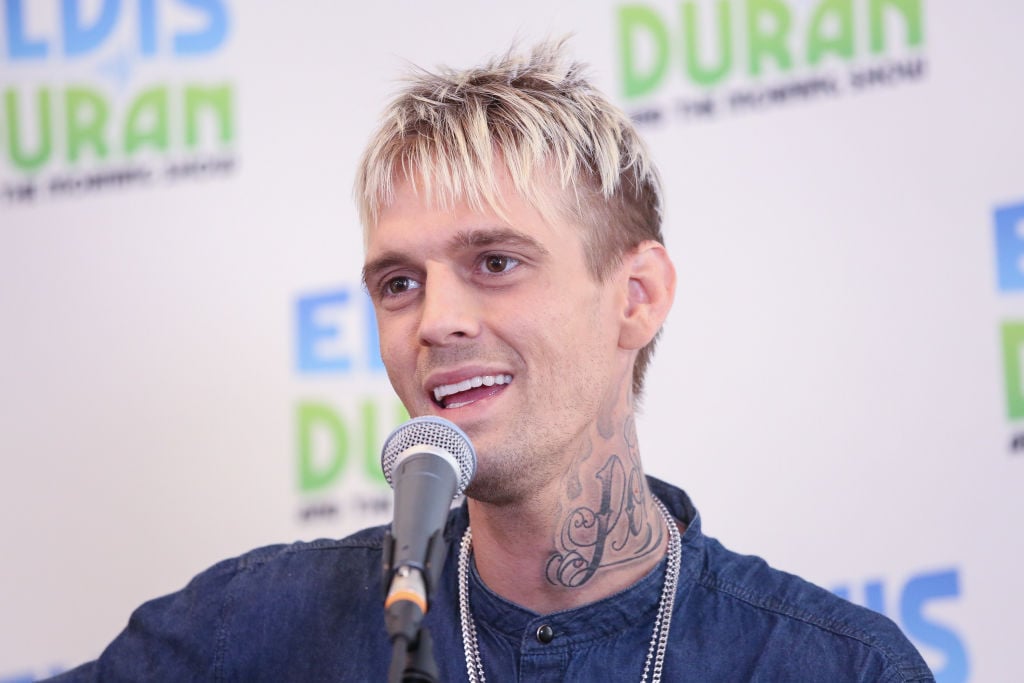 Aaron Carter has fallen from the spotlight
Back in the late 1990s and early 2000s, Carter was one of the many famous fresh-faced teens gracing the pop music scene. He was riding the coattails of his older brother, Nick Carter, who was a member of the immensely popular Backstreet Boys. The younger Carter went on to have a successful music career in his own right. He had several soundtrack contributions as well as appearances on the hit kids' show Lizzie Maguire, which starred his then-girlfriend Hilary Duff.
The fall from music superstar to tabloid headline started early. Carter was in a very public and ugly lawsuit with his former manager, and that story got most of the attention — and it would appear most of Carter's time. New music was practically non-existent, and his touring schedule was sporadic. It wasn't until 2013 that Carter attempted to launch a full-fledged comeback with a tour. He followed it up with a new album in 2015. By then, he was no longer a cute kid singing pop songs but a grown man sporting face tattoos with a mature R&B sound. 
Melanie Martin and Aaron Carter have a tumultuous relationship
Much of the news about Carter these days involves his relationship with Melanie Martin. They went public with their relationship in January 2020, and fans were quick to jump in with assumptions about the authenticity of their love for one another. Many fans insulted Martin for her looks by calling her "fake" and a "blow-up doll." Others suggested that she was using Carter for fame and didn't genuinely care about him. 
Things got very ugly between the pair in a hurry. In March, Martin was arrested at Carter's home and charged with felony domestic violence. Carter later took to social media to share photos of scratches he said Martin left on him in the fight. After the legal troubles, the pair appeared to split. They no longer followed each other on social media, and Martin took down all of the photos of herself with Carter.
Later, however, they appeared to have patched things up. The joint pictures reappeared, and they were once again connected on Instagram.
Melanie Martin seems to be pregnant
If the quick switch from an arrest and break up to apparent domestic bliss seems jarring, be prepared. There's even more to this story. Now it seems as if Martin is pregnant with Carter's child. Carter posted a picture of himself with a positive pregnancy test and bragged about what a great father he was going to be — even as fans took to his page to voice their concerns about the state of his relationship and his own parenting potential.
In an interview with People, Carter suggested the pregnancy was "planned" and that the pair had been trying for a baby. As for those pesky domestic violence charges, Carter has explained they've been dropped. The reason? "We just realized that we love each other," Carter stated.
While Carter and Martin have been very open about their relationship (posting both the ups and down to social media), it isn't immediately clear where the pair met or when their relationship officially began. Now it seems that things have once again ended between the two, despite the recent pregnancy announcement. Just days after Carter's Instagram post telling the world he was going to be a father, both Carter and Martin posted pictures to Instagram that seem to indicate the couple had broken up again. Is this the end of a complicated relationship? Only time will tell.