How did Beyoncé meet Selena Quintanilla?
Selena Quintanilla was a Tejano artist whose career began to take off in the 1990s. The singer had fans from all over the country who wanted to emulate her style and on-stage persona. At the height of her success, Quintanilla died after being shot by her former friend, Yolanda Saldivar. Saldivar was also Quintanilla's fan club president.
After Quintanilla died, many artists shared how her music impacted them in their formative years. One of the performers Quintanilla inspired was Beyoncé. In an interview, Beyoncé opened up about her experience meeting Quintanilla.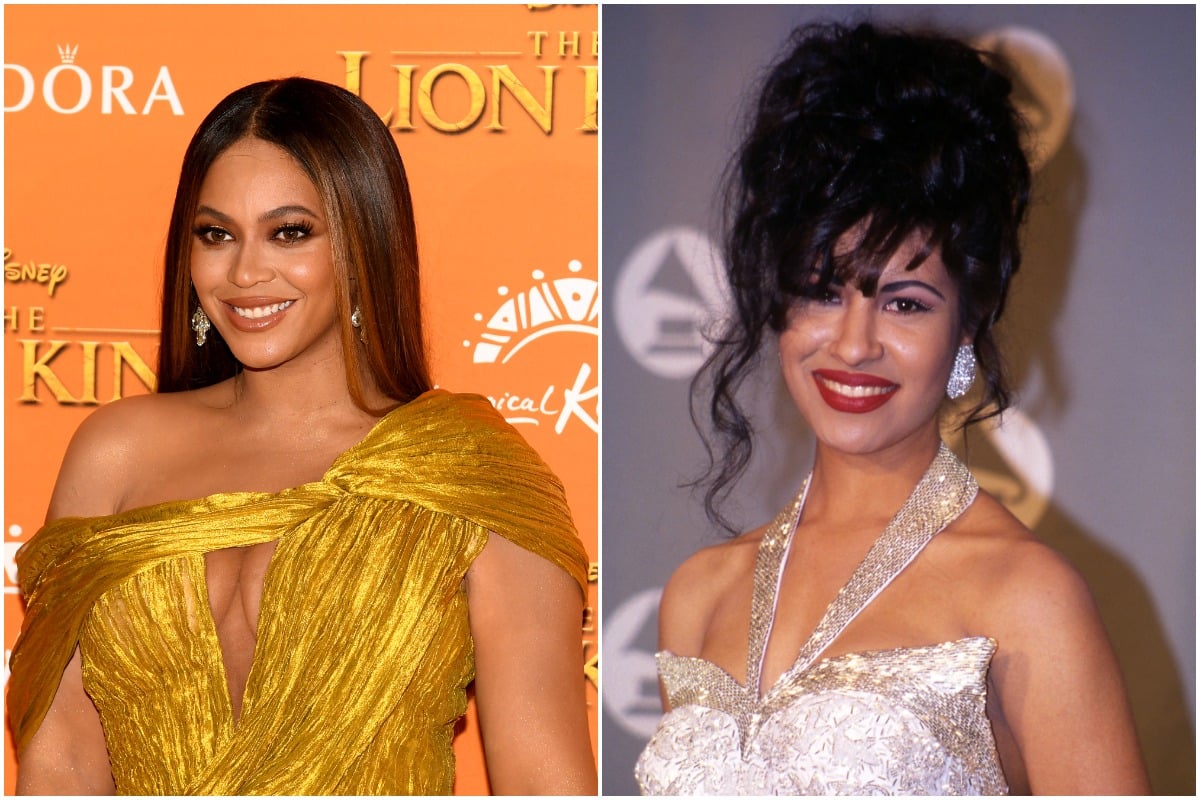 Beyoncé and Selena Quintanilla are both from Texas
Beyoncé and Quintanilla have several similarities that connect them. Both singers started performing in front of an audience as children. Their fathers, Matthew Knowles and Abraham Quintanilla, respectively, also managed their careers. Additionally, Quintanilla and Beyoncé had secret love affairs. In April 1992, Quintanilla married her guitarist, Chris Perez, against her father's wishes. At the time, Quintanilla's fans didn't know they were dating. Beyoncé also kept her relationship with Jay-Z under wraps for several years. The "Rocket" singer opened up about their romance more after Beyoncé and Jay-Z married in April 2008.
RELATED: Did Selena Quintanilla's Husband, Chris Perez, Remarry After She Died?
In addition to having the same career path and similar love lives, Beyoncé and Quintanilla were born and raised in Texas. Quintanilla lived in Corpus Christi with Perez and her family before she died. Beyoncé's humble beginnings took place in Houston. 
"I grew up in a very nice house in Houston, went to private school all my life, and I've never even been to the 'hood,' Beyoncé told Interview Magazine about life in Texas. "Not that there's anything wrong with the 'hood."
Beyoncé met Selena Quintanilla at Houston's Galleria Mall
Growing up in Houston, Beyoncé witnessed Quintanilla's bustling career firsthand. In an interview with MTV Tr3s, Beyoncé said Quintanilla was an icon in Texas, and many people supported the "Como La Flor" singer.
RELATED: How the Beyhive Reacted To Wendy Williams Saying Beyoncé Speaks Like She Has a 'Fifth-Grade Education'
While Quintanilla worked on making a name for herself, Beyoncé was in Houston living everyday life. Beyoncé told MTV Tr3s that she didn't initiate a conversation with Quintanilla when she saw her. Beyoncé noted that she wasn't famous at the time of the meeting. 
"I just saw her and said hello and kept it moving," Beyoncé said of the brief encounter with Quintanilla. "Definitely growing up in Texas, I heard her on the radio. I think she is a legend. I admire her. She was so talented."
Beyoncé and Selena Quintanilla's meeting will reportedly take place on 'Selena: The Series'
In December 2020, Netflix released Selena: The Series. The series follows the early years of Quintanilla and her family, from their humble beginnings in Texas. Selena: The Series aired nine episodes and will release the second part of the series next year. According to The Hashtag Show, the casting directors on Selena: The Series plan to find a young Beyoncé to reenact her meeting with Quintanilla.
RELATED: Selena Quintanilla's Husband, Chris Perez Shared His Thoughts on 'Selena: The Series'
The casting call also shared that directors are searching for an actor to play Beyoncé's mother, Tina Knowles Lawson. They included this as an example:
[ BEYONCE KNOWLES AT 11] BLACK, FEMALE. BEYONCE, an 11 y.o. Sweet girl full of dreams, who also happens to sing, and one day will become the Beyoncé we know.
At the time of publishing, neither Beyoncé nor her team has confirmed any involvement with the series.