Over the years, Hollywood has been home to some of the most iconic and legendary comedic actors. Jim Carrey, Adam Sandler, Eddie Murphy, and Ben Stiller are just a few to name. While many of these well-known and renowned names are still active in the entertainment industry, many of the most famous acting legends have died. Leslie Nielsen died in 2010 and Robin Williams' unexpected death took place just a few years later. Bob Hope is another incredible actor who sadly died in 2003. Find out how it all began and ended for Hope who was well-known for both his comedy and craft.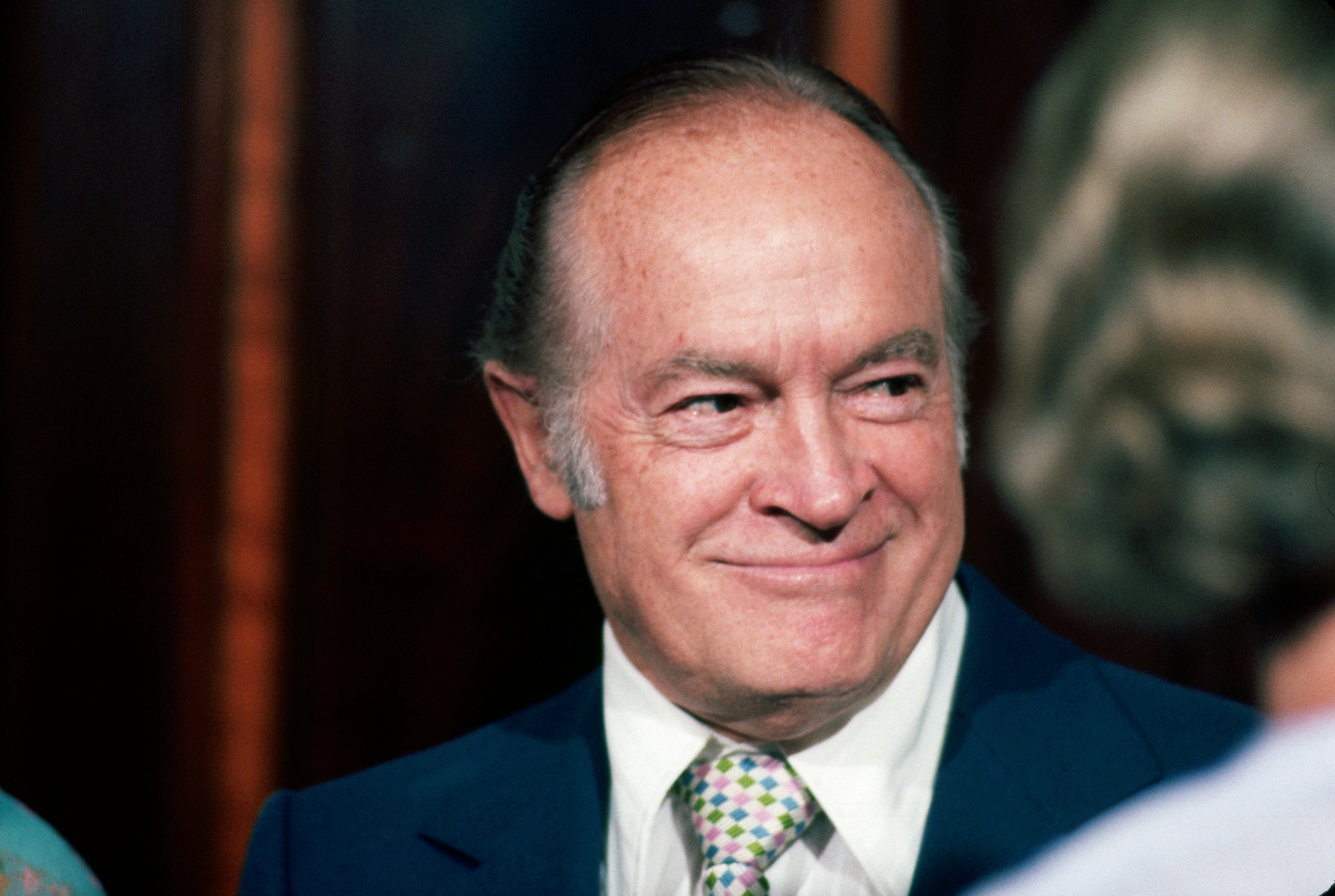 A look back at Bob Hope's upbringing
RELATED: Why Johnny Carson 'Resented' Bob Hope, His Frequent Guest on 'The Tonight Show'
Biography reports that it wasn't until the 1930s that Hope would start accepting casting roles, but his journey began much before that. Some of Hope's fans might be surprised the star was actually born under the name "Leslie Townes Hope." In 1903 Hope was born in England where he spent the former years of his childhood. Hope's father worked as a stonemason, and his mother had a reputation as an aspiring singer. Ultimately, this is what led Hope to the stage and pursuing theatre. 
Bob Hope's career in the spotlight
RELATED: This Comedy Legend Was Johnny Carson's Absolute Least Favorite Guest on 'The Tonight Show'
As a teenager, he began taking dancing lessons and eventually began performing on Broadway. Hope's appearance in Roberta showcased his comedic tendencies and skills. A few years later Hope began to appear in feature films. The Broadcast of 1938 is considered to be one of the actor's first big breaks in the film industry. The film showcased the star's impressive singing abilities, and he became well-known for his duo with Shirley Ross. Soon after Hope appeared as Wally Campbell in The Cat and the Canary. The Road to Singapore marks the actor's memorable performance alongside Bing Crosby. Hope and Crosby would end up making many more films together.
During the 1950s Hope began exploring roles in the television industry. The actor even appeared on an episode of I Love Lucy in 1956. No matter what Hope was working on, his comedic roots and presence was always a part of it. This remained true all the way into the 1990s when he did a voice feature on The Simpsons. In 1997 Bob Hope made the decision to retire, but his last official on-screen performance took place in 1994 with That Little Monster.
A glance into Bob Hope's personal life
RELATED: Sirius XM to Introduce 'Bob Hope Radio' and 2 Other Hot Stocks to Watch
Many people knew Hope as "the king of American comedy," but there was much more to the talented actor. While Hope was still involved in the musical theater scene during the 1930s he met a fellow singer named Dolores Reade. Reade and Hope began dating and officially married in 1934. Throughout their marriage, the couple had four children together. Hope and his family spent much of their time giving back to the community and working with troops in need. During the First Gulf War Hope even traveled to Saudi Arabia to perform comedic routines in effort to cheer up the soldiers and give them morale. Overall, in addition to his career, Hope seemed to have a very fulfilling personal life. 
How did Bob Hope die?
RELATED: The 5 Best Oscar Hosts of All Time
The summer of 2003 marked Hope's final days. Believe it or not, the celebrity celebrated his 100th birthday in May, but things took a turn shortly after. Hope was diagnosed with pneumonia and on July 27, 2003, the comedic legend died as a result of the illness, but Hope's legend most definitely lives on.