Brian Austin Green and Sharna Burgess Met In an Old-School Way
Brian Austin Green has certainly had more than his fair share of headline-grabbing relationship drama in the past few years, but it seems as if the dust may have settled. Following a whirlwind of cheating accusations involving Green's ex Megan Fox (later confirmed to have happened during an official "break" for the couple), Green has found himself getting cozy with Dancing with the Stars pro Sharna Burgess.  
As fans tried to figure out whether this was a short-lived fling to deal with the sting of his long-term relationship with Fox falling apart, the question became clear. Burgess is now expecting the couple's first child, and it seems like the pair are headed for a quite serious relationship indeed! So how did it all get started? 
Brian Austin Green and Sharna Burgess bonded during the lockdown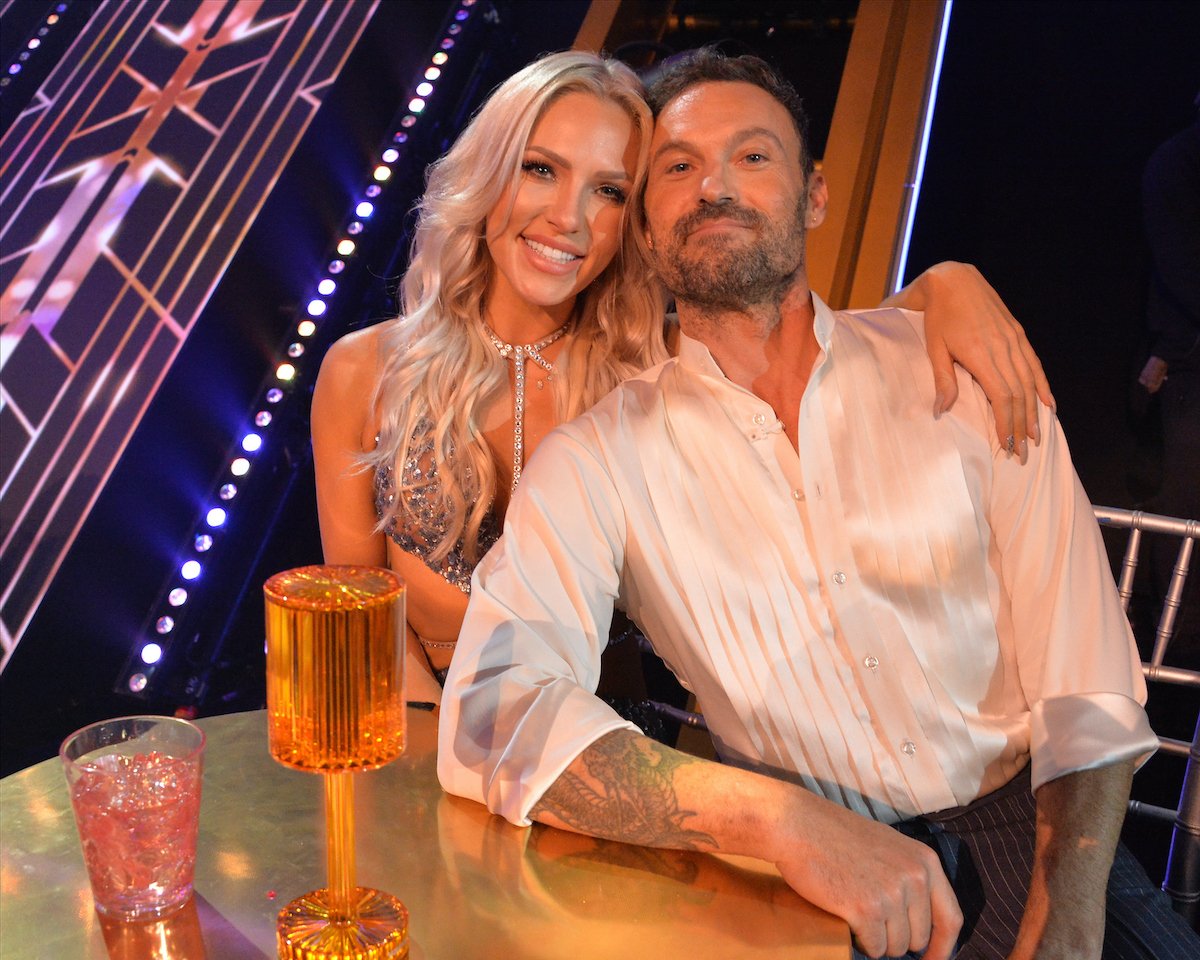 We've already heard plenty of tales of romance — sparking and fizzling out — during the confines of the pandemic lockdown. For many couples, the forced time together either hastened the bonding that may have taken years to achieve otherwise or demonstrated the cracks in a relationship that was doomed to fall apart. 
Green and Burgess found themselves suddenly spending a lot of time together early in their relationship. As Green told People, that time together put their relationship on the fast track: "I was grateful for that because it allowed us to really take our time and it was really awesome." 
Coming out of such a public and devastating breakup, Green needed some time to figure out what the new relationship meant, but once he did, it was full speed ahead: "I wasn't sure what that meant until the first time we kissed and then it was the attraction and a whole bunch more. It was really cool. And we really have the same moral compass."
Brian Austin Green and Sharna Burgess initially met in a coffee shop
While both Green and Burgess have high-profile careers, they met in a conventional (and pretty adorable way): at a coffee shop! 
As Cosmopolitan reports, Burgess teased a new love back in early December 2020, but it wasn't until the pair started posting Instagram pictures from their joint vacation over the New Year holiday that fans started to really connect the dots. By May of 2021, the couple was looking like much more than a fling as Burgess had met Green's children and seemed to be settling into his life in a foundational way. 
There were some dust-ups of internet drama between Green, Burgess, and Fox as they each found their footing in their new roles. By July 2021, Green assured fans that he and Fox were in a healthy spot and working to be good co-parents: "Neither of us are sending petty digs to each other. We both work really hard to get along and coparent well for our kids."
Brian Austin Green and Sharna Burgess are expecting a baby
When Green and Burgess took the stage as DWTS partners, their relationship was kicked into overdrive — at least for fans watching along from home. The duo's real-life romance made the pairing all the more fun (and made Burgess eat her words since she had previously said she would never date a DWTS partner). Though the couple performed well, they were shockingly eliminated, breaking fans' hearts but also taking some of the public pressure off of their relationship. 
It seems that things have only got more serious from there. As Us Weekly reports, Burgess is now pregnant with her first child (Green's fifth). The couple has been incredibly open and sharing with their fans during their relationship journey and has revealed not only baby bump pics but also the news that they're expecting a little boy sometime in early July!