How Did Cardi B and Offset Come Up With Kulture's Name?
Cardi B and Offset are expecting their second child, but they've already taken plenty of opportunities to dote on their first child, their daughter Kulture. She recently turned three years old. While the two have had something of a rocky past together, all indications seem to be that they're thriving when it comes to raising their daughter and are looking forward to raising a second child as well.
Some fans of the pair may be wondering where they got the inspiration for Kulture's name. Read on to find out how they decided to name her and the story behind their second child as well.
Offset and Cardi B had their first child together in 2018
According to The BBC, the pair announced the birth of their first child in June 2018. Both artists first shared the news via Instagram. Their relationship had been somewhat rocky before that, as they had split before reuniting. The couple decided to strengthen their union by getting married in secret. Cardi said that it was a symbol of their love for each other: 
"Our relationship was so new breaking up and making up and we had a lot of growing up to do but we was so in love we didn't want to lose each other, was one morning in September we woke up and decided to get married."
Now it seems as the two couldn't be happier, with one child as well as a second on the way. When they had Kulture, there was some speculation as to how they came up with her beautiful and unique name. To hear her mom tell it, credit goes to her dad.
How Cardi B and Offset came up with Kulture's name
According to BuzzFeed, Cardi B told Ellen DeGeneres on her talk show that Offset picked the name for their daughter due to the significance of the world to his rap group, Migos. They have an album named Culture and another called Culture II. 
The child's full name is Kulture Kiari Cephus – her middle name is Offset's actual first name. Cardi told Ellen that when it came to the name, Offset picked it, but she liked it after hearing it.
"Yeah, my dude named the baby. I really like the name,"
She also said the name is "almost tricky, but when it comes out it's like, AHHHH!"
Cardi B and Offset are expecting a second baby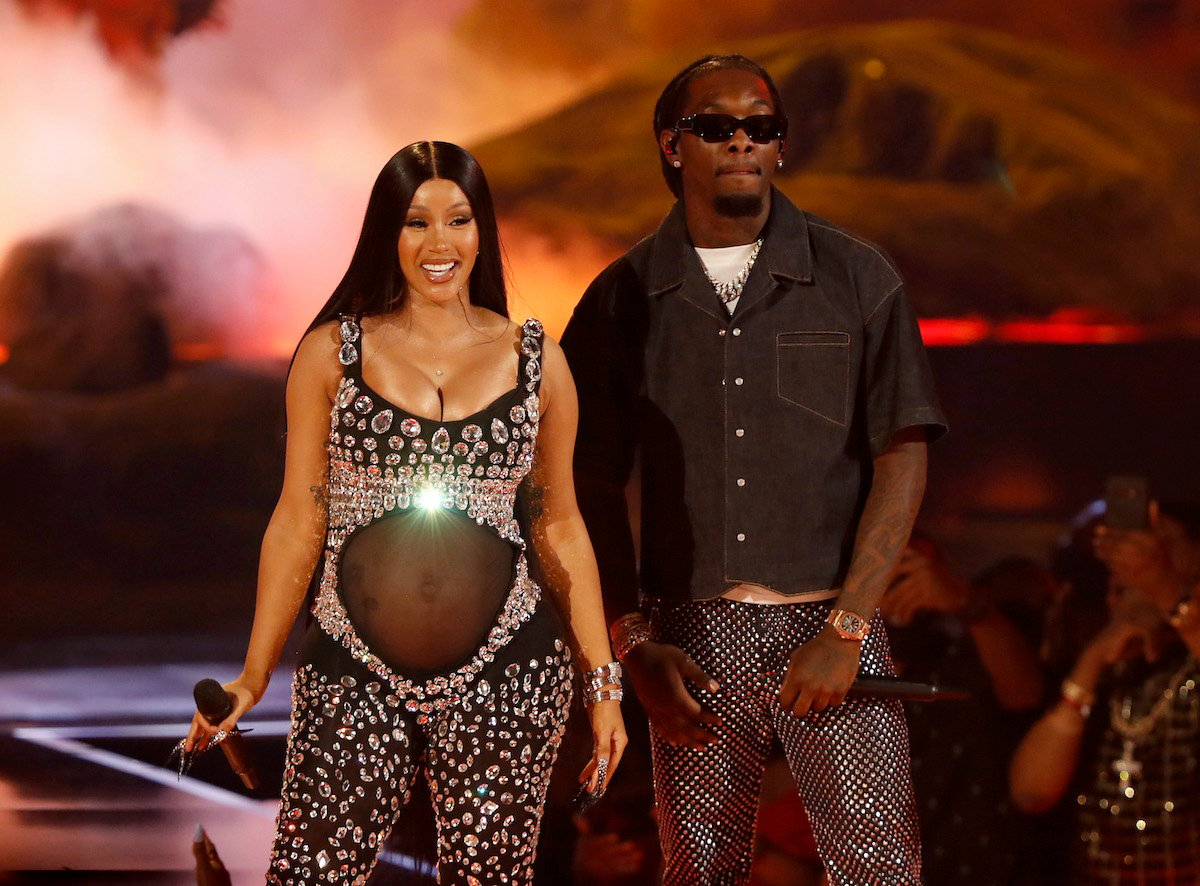 Kulture won't be the only member of the family, however. Cardi and Offset's ever-expanding clan is set to get even bigger with the arrival of their next baby, according to People Magazine. Cardi also said that she won't be putting on a baby shower this time around due to the proximity to young Kulture's third birthday party. 
"I'm not having a baby shower. That's why I did Kulture's birthday really, really big…I just get overwhelmed when I do these big birthdays and I just feel like the baby shower with Kulture's birthday is just too close. Just to see the same people over again, and it's like, not doing it."
After sparing no expense for Kulture's birthday, this should come as no surprise. Held on her first birthday, July 10, it had a fairy tale theme. The party also included bowling, a ball pit, Disney princesses, and a petting zoo.
Cardi hasn't said when she's due yet, but she did reveal the news in style: performing at the BET Awards in June alongside Offset, she wore a Dolce & Gabbana bodysuit that showed off her baby bump.
RELATED: Cardi B's Daughter Kulture Just Rocked a $5K Designer Bag