How Did Catherine Zeta-Jones and Michael Douglas Meet?
In Hollywood, it's sort of a well-known fact that if you hit the 5-year mark in a marriage, you're among the elite. It's sad, but true, Hollywood marriages don't have a good track record. But somehow, Catherine Zeta-Jones and Michael Douglas have defied the odds. 
The two megastars have had their ups and downs, but through it all, they have remained together. There's no doubt that they are one of the couples everyone in Tinseltown aspires to be.
So how did they get here? How do they make it work, how long have they been married, and just how did they meet?
A Hollywood power couple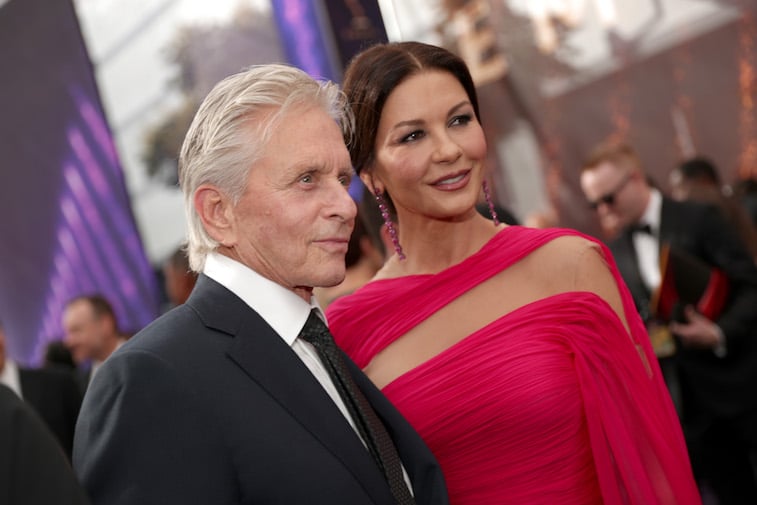 Michael Douglas and Catherine Zeta-Jones are two of the most well-known names in Hollywood. Douglas is the son of Hollywood legend, Kirk Douglas. Michael Douglas got his start in 1966 when he landed an uncredited role in the movie Cast a Giant Shadow. Since then, his star has only continued to grow.
Douglas has starred in such movies as Fatal Attraction, Basic Instinct, The Game, and The Sentinel. Most recently, Douglas played Hank Pym in Ant-Man and Avengers: Endgame.
Zeta-Jones started in a film called Les 1001 nuits, which was released in 1990. She has since appeared in The Mask of Zorro, Traffic, Chicago, and No Reservations. Currently, the actress can be seen in the TV series Queen America.
Between the two of them, the pair has three Oscars. Douglas has two – one for Best Actor in a Leading Role for Wall Street and one for Best Picture for One Flew Over the Cuckoo's Nest. Zeta-Jones received her Oscar in 2003 for best supporting actress in Chicago.
How did Catherine Zeta-Jones and Michael Douglas meet?
The two actors might seem like an unlikely couple. After all, Douglas started acting before his wife was even born. When the actor won his first Oscar, his wife was just seven years old. But age doesn't matter for the couple.
The two met at a film festival in 1996. Zeta-Jones was 27-years-old, with a limited resume under her belt. Douglas was well-known in Hollywood and still married to film producer Diandra Luker.
During a 2001 interview with Larry King, the actress told the host that they met at the Deauville Film Festival. She recalled being told that Douglas wanted to meet her.
But while they first saw each other at the festival, it wasn't until mutual friends Antonio Banderas and Melanie Griffith introduced them at dinner later that night, that they officially met.
The two began dating and married November 18, 2000, 3 months after their son Dylan was born, and 5 months after Douglas finalized his divorce from Luker. 
The pair has made it through the tough times together
It hasn't always been easy for Zeta-Jones and Douglas. In 2010, Douglas' son with his first wife, Cameron, was sentenced to five years in prison for heroin possession. He received two more years when he was caught smuggling drugs into prison. Cameron was released in 2016 after serving nearly six years in jail.
During that same time, Michael Douglas shared that he had been diagnosed with throat cancer (he later revealed it was actually tongue cancer). Douglas later said that getting the diagnosis was one of the scariest experiences of his life. Through it all, his wife was by his side.
The couple recently celebrated two major birthdays. The two share the same birthday, September 25. She turned 50 and he turned 75. Douglas' father is approaching his 103rd birthday, so if genetics have anything to say about it, the couple has many more birthday celebrations to come.