How Did Dave Chappelle and His Wife Elaine Meet?
Comedian Dave Chappelle shares a lot of his life with his fans — but not his wife. The controversial star is an open book on so many different fronts — from his fan interactions to career highlights. But when it comes to his marriage, he's not as forthcoming.
Chappelle stays guarded about his marriage to Elaine Chappelle, his partner of over 20 years. However, over time, he's shared a few details. Here's what to know about this celebrity relationship — from the way they met to their life together now.
Here's how Dave Chappelle met his wife, Elaine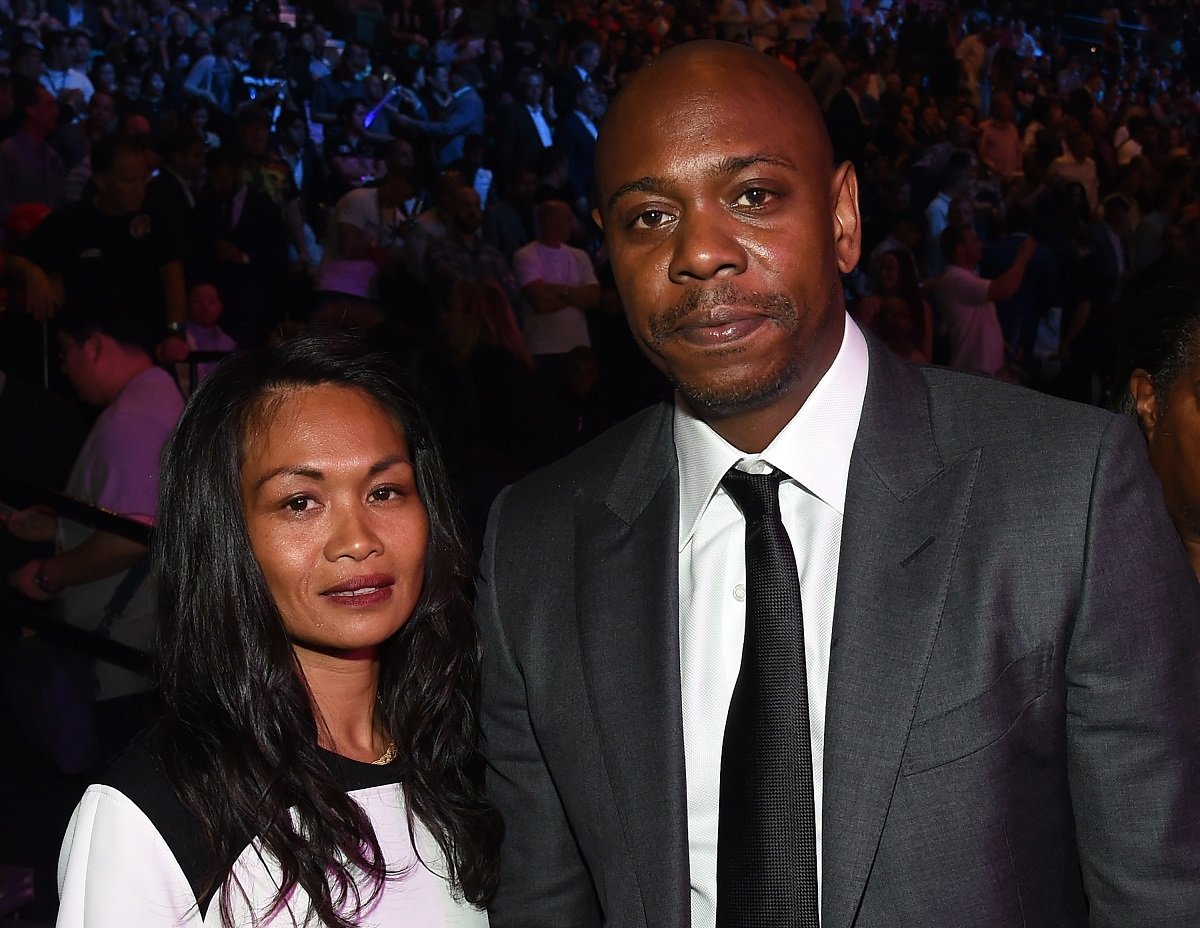 Speaking to Howard Stern before they tied the knot, Chappelle said he met Elaine Chappelle in her native Brooklyn, New York. Stern asked about her race, which the Chappelle's Show star played off
Originally from Washington D.C., Chappelle had moved there after his high school graduation in 1991 to pursue his career in comedy, per Biography. He was still a "struggling" artist when he and Elaine met, he told Stern. But he did not get into the specifics of their first encounter.
Chappelle's relationship with Elaine continued as he forged a career in comedy
Chappelle would eventually get his first taste of fame in the early '90s when he appeared on Russell Simmons's Def Comedy Jam.
His set was met with praise from viewers and gave Chappelle the publicity needed to secure other jobs, including his first movie role in 1993's Men and Tights. From there, he started to pick up more and more movie gigs — from 1996's The Nutty Professor to 1998's Half Baked.
As his career soared, the You've Got Mail star also decided to take his relationship with Elaine to the next level. The pair married in a low-key ceremony in 2001 and have since welcomed three children: Suleyman, Ibrahim, and Sanaa, according to The Sun.
What Dave Chappelle's home life is like
At some point, Dave Chappelle, his wife, and kids, moved into a home in Yellow Springs, Ohio, where he spent some time as a child. He spoke about the move in 2006. The A Star Is Born actor appreciates having more affordable housing options and living in a relaxed place.
"Turns out you don't need $50 million to live around these parts, just a nice smile and a kind way about you. You guys are the best neighbors ever. … That's why I came back and that's why I'm staying," he said (via USA Today).
In 2014, Chappelle made headlines when he began performing more regularly, following years out of the spotlight. His family was part of the reason he kept a low profile for a while. "That kind of attention wouldn't have been conducive to raising a family," he told People of his decision to give up a lucrative TV deal.
Dave Chappelle generally keeps his comments on his family and their life to a minimum. But he and Elaine sometimes go out together. Elaine Chappelle was even front-and-center in 2019 when Chappelle won the Mark Twain Prize for American Humor, cheering him on from the audience.