How Did Donald Trump and Melania Trump Meet?
Donald and Melania Trump have been married since 2005. It's safe to say that Melania probably wasn't expecting to become First Lady one day, but she has stuck by her husband's side through his presidency. Though Melania and Donald have quite different personalities, something has been working for them for more than two decades. But how did they actually meet?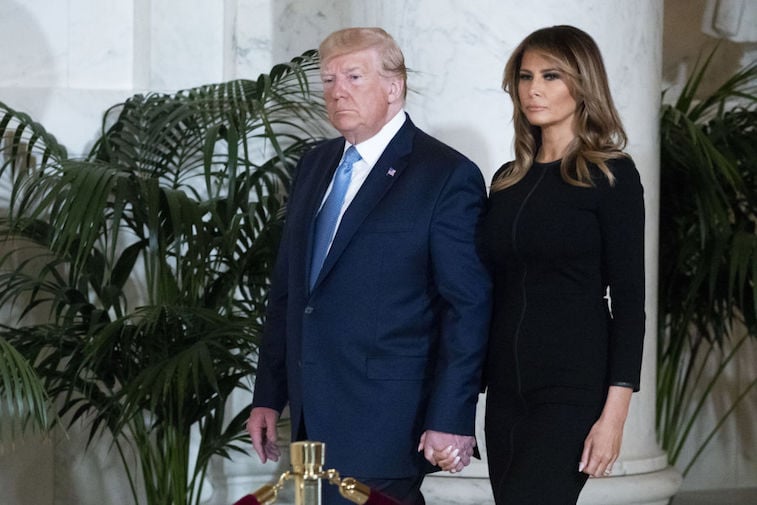 Donald and Melania have been married since 2005
Melania and Donald have been married for 14 years, and their wedding was the social event of the year at the time. The couple had 350 guests to Donald Trump's Mar-a-Lago Resort, including Bill and Hillary Clinton, plus plenty of other celebrities, such as Billy Joel and Barbara Walters. Donald had proposed to Melania with a $1.5 million ring back in 2004, and they spared no expense at their wedding. (Donald has been married twice before, but he is Melania's first husband.) The two tied the knot in January, and Melania wore a $100,000 Christian Dior dress fitted with 1,500 crystals.
It wasn't love at first sight for Melania when they met
Donald and Melania met at a party back in 1998, but it wasn't love at first sight for Melania. Melania, a model who had moved to the United States two years prior, was attending a party during New York Fashion Week that Donald happened to attend as well. Donald was originally meeting someone else, but when Melania caught his eye, he couldn't stop staring. When he asked for Melania's number, she didn't give it to him. She asked him to give her his number, and she would decide whether she wanted to call him. She said he gave her four phone numbers, and she knew he was serious about dating. From there, the two started a relationship, and the rest is history.
The two appear to have very different personalities
Some might question how Donald and Melania are compatible, considering it's been made clear that they have two very different personalities. Donald loves the spotlight while Melania has always been fairly quiet. But there were reportedly a few breakups while they dated, and it mostly had to do with Donald living a life where the spotlight meant everything — that life wasn't for Melania. Even today, as First Lady, Melania remains soft spoken compared to prior women who have been in her shoes. There were rumors that Melania was in tears when she realized Donald was about to become the president.
Melania said she would support Donald if he were elected for a second term
When Melania visited children at a school in North Carolina a while back, she said that she would support her husband if he decided to run for a second term. Fast forward, and Donald has in fact decided to seek reelection. Melania has recently come under fire for not speaking out against her husband's attacks on members of Congress suggesting they "go back" to their home countries. (Melania is an immigrant herself.) She has been one of the quietest First Ladies the country has seen and almost has an air of mystery about her, which is very contrary to Donald. However, the two continue to make their marriage work despite running the country.