How Did Heidi Klum and Tom Kaulitz Meet?
Nothing captures our interest quite like a top-secret Hollywood wedding. When celebrities keep their "I dos" a private affair, we are left piecing together the mystery with snippets of information and contraband cell phone snaps. But, it's not just Justin Bieber who has been able to pull off some secret vows in the last year. It's become a celebrity trend. (We're looking at you, Sophie Turner.)
Model Heidi Klum also secretly wed her fiance Tom Kaulitz in February. As such, fans are left wishing for more information about their whirlwind romance.
How did Heidi Klum and Tom Kaulitz meet?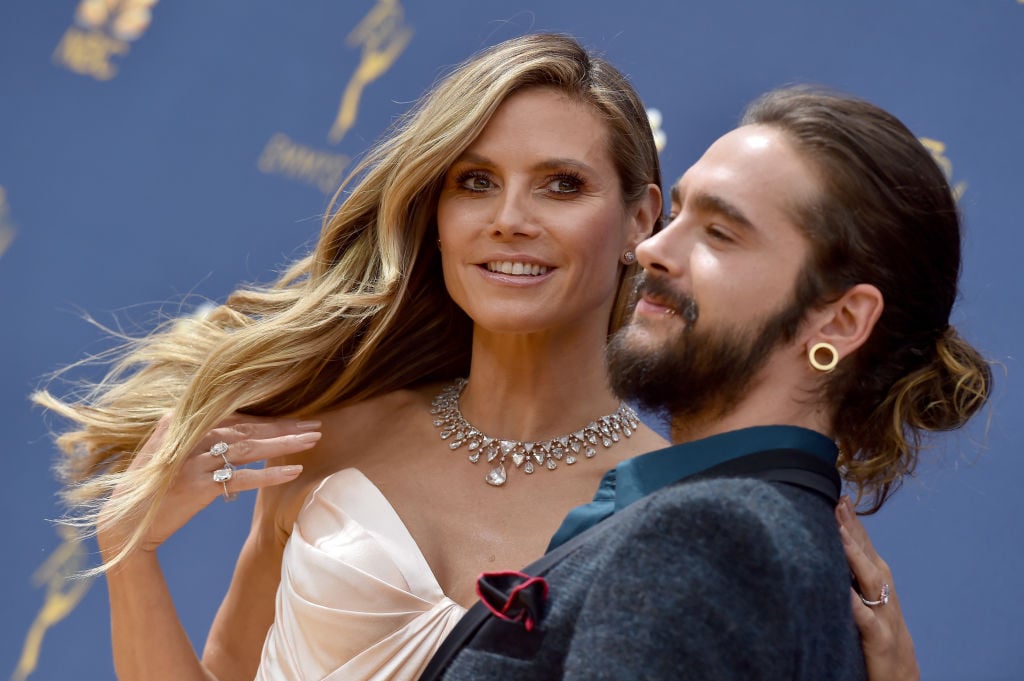 While Klum was working with Germany's Next Top Model she had a friend who was also involved with working on the show. This friend also happened to be a friend of Kaulitz's. Since Klum and Kaulitz were both recently divorced and were both German, it seemed they had enough in common that they just might hit it off. So, their mutual friend introduced them to one another. The rest is history.
A source close to the couple told US Weekly that Klum fell "hard and fast" for Kaulitz. "Heidi and Tom met through Germany's Next Top Model. There was some connection through the show," the insider revealed. "He's German [too], so it's been fun and easy for Heidi. Tom is a breath of fresh air for her. They fell into an easy rhythm really quickly."
It seems it was a perfect match.
Heidi Klum and Tom Kaulitz's quick engagement
According to sources, the couple started dating in March 2018. Soon after, followers of Klum would begin to notice some shots of Kaulitz making appearances on her social media accounts. The coupled were then seen kissing and cuddling in late March on the set of America's Got Talent. By April the two were already inseparable and headed off on a romantic vacation to Cabo San Lucas.
On Christmas Eve, Klum posted a black and white photo of her sparkling engagement ring and giddy smile with the caption: "I said yes".
Heidi Klum and Tom Kaulitz had a secret ceremony
Klum's third marriage came as a surprise to media outlets but it is possible that she let the cat out of the bag earlier than she anticipated. She had referred to him before Valentine's day as her "husband" although the two were supposedly yet unmarried.
However, sometime in February the two actually became legally married PEOPLE reported. Public records indicate that the pair received a confidential marriage certificate in California on February 2019, just two show months after Kaulitz proposed. Although the timeline is unclear, the two definitely tied the knot.
A bigger ceremony is in the works
Klum is prepared to share her love story with the world. She's told reporters that she definitely wants a destination wedding where she can involve her four children in the ceremony. So, hopefully, we'll be able to live vicariously through some photo and video of the big event after all.
In the meantime, we can be satisfied knowing that Klum is totally in love, and the "happiest she's ever been."
"He is the kindest, sweetest, most caring, loving person. I feel so lucky," she gushes about Kaulitz.
"I don't know the last time I was this happy in my life," she told PEOPLE. "He is absolutely wonderful. Maybe it is because he is German and we understand each other in a different way. But so far so good."
Sources reveal that there are plans for a wedding in August, which will include friends and family. Kaulitz's twin brother Bill confirmed on Instagram that there is a big wedding on the way.