How Did Kevin Hart's Wife Discover He Was Unfaithful?
Kevin Hart has shared his life with ultimate transparency and his new Netflix docuseries, Don't F**k This Up, is no different. The six-part series follows the comedian and CEO over a year span and takes viewers on an inside look into the behind the scenes moments of his hectic tour and film schedule – and his life as a husband and a father. The show also chronicles the fallout from two of the biggest scandals of his career.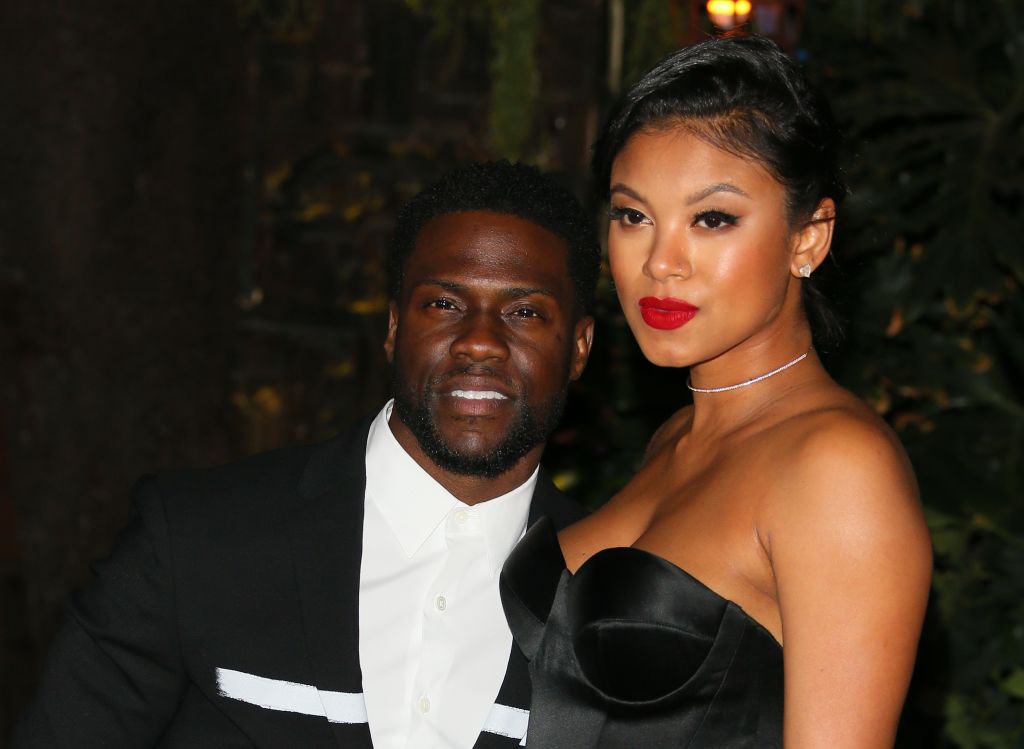 One of the scandals documented is the media frenzy that ensued when the tabloids reported he cheated on his very pregnant wife, Eniko Hart. Eniko painfully recalled the moment she experienced the unimaginable heartbreak and how she was able to ultimately forgive her husband. 
Kevin Hart marries Eniko Hart
Kevin and Eniko met in 2009 at a nightclub in D.C. She spoke about their first meeting in the Netflix special and beamed when she detailed how Kevin serenaded her on stage. The attraction between the two was instant, with Eniko recalling how she fell in love with the comedian because of his ability to make her laugh.
Kevin took Eniko with him on the road as he toured as a stand up comic. After getting the approval of his friends, Eniko passed the ultimate test after she met his two children from his previous marriage. Eniko's ability to ignore the noise surrounding when and how the began dating – as he wasn't officially divorced when they met – was an indicator to Kevin that she was the one.
Kevin proposed to Eniko on her 30th birthday. They married in a lavish ceremony in August 2016.
Reports surface that Kevin Hart cheated on his wife 
Things with Kevin and Eniko seemed to be going well and the couple announced they were expecting their first child together on Mother's Day 2017.
Rumors swirled that Kevin was unfaithful for months before it was confirmed that he'd stepped out on his wife. A few weeks prior to the public finding, a secret video of Kevin in a vehicle with a woman who was not his wife surfaced. Though it wasn't clear that anything was taking place, Kevin was caught in a compromising position.
Several weeks later, he posted a video to his social media hinting that he'd done something wrong outside of his marriage. He also warned that more details were to come and he'd explain when the time was right. Kevin ended the video by apologizing to his wife and kids. 
It was later confirmed that Kevin was intimate with a woman named Montia Sabbag and it was all caught on video. After a wild night in Vegas, Kevin said that he screwed up majorly but cheating on Eniko. He later revealed that a close friend tried to extort him and was the culprit behind releasing the tape. Sabbag later sued him and his former friend for $60 million. 
Eniko Hart reveals how she found out Kevin Hart was unfaithful 
Eniko didn't find out about Kevin's infidelity from him directly. Instead, she received a notification on social media. She recalled the discovery in part three of the docuseries. 
"How I found out was a DM," Eniko began. "I don't know who it was, sent me an edited video of Kevin and another woman….I opened my phone and immediately I just lost it. I called him crying, I'm like pissed. Right then and there I kept saying, 'How the f–k did you let that happen?'"
She says that she was humiliated and the commentary on social media didn't help. Kevin's poor choice led to daily arguments for the couple and she threatened to leave if he didn't clean up his act. 
Being so close to giving birth to her first child, Eniko believes she was able to get through the rough experience because of their unborn son. She focused on having a healthy remainder of her pregnancy. 
Kevin says that the immediate aftermath of the scandal and having difficult conversations with Eniko about his indiscretion was the hardest part of the experience. Knowing how badly he hurt her, he says it made him want to do better and never put himself or his family in the same predicament.
Ultimately, Eniko's desire to raise their son in a two-parent household and keep her family together is what drove her to forgive Kevin. Their son Kenzo was born shortly after the hiccup and Eniko says the experience made Kevin a better man.