How Did Khloe Kardashian and Tristan Thompson Meet?
For a little more than two years, Khloe Kardashian and Tristan Thompson, have been in a relationship.
During that time, they've experienced cheating allegations, — the most recent involving Kylie Jenner's best friend, Jordyn Woods — meeting the family, and biggest of all, having a baby together. But how did they meet? Learn exactly how below.

When did they start dating?

Relationship rumors were sparked when the two were seen leaving Bootsy Bellows, an L.A. nightclub, around the same time in August 2016, according to Us Weekly.
The next month the two were photographed on riding jet skis on vacation together in Mexico. It's likely the two met (discover exactly how they met below) in early summer 2016.  
Kardashian on Thompson: He'd make 'an impeccable father'

Kardashian knew she wanted a family someday and that Tristan could very well be the person she started one with according to an interview she gave with ES Magazine in April 2017.

"I would love to have a family. We've talked about it…I know for a fact that he would be an impeccable father," Kardashian said. "I definitely want to be a mom. But I don't put the pressure on it. It's not like, 'The clock is ticking.' I feel in my soul it will happen."

The month before Kardashian gave this interview, she introduced her family to Thompson at a Kanye West (her brother-in-law) concert.

Kardashian basically moved to Ohio

"I live here, but I'm [in Cleveland] very often," she told Jimmy Kimmel on an episode of Jimmy Kimmel Live! in November 2016.

"I actually really do [like being in Cleveland]. I actually really like it. I like just having my routine and being a little more under the radar. It's nice."

Kardashian shares a house with Thompson in Cleveland. She also delivered their baby, True Thompson, at a Cleveland hospital and was known to make trips to Target.
Marriage didn't cross Kardashian's mind

In an interview for Mail on Sunday's, You magazine, Kardashian said why she didn't feel the need to marry Thompson.

"I'm in the best relationship I've ever been in and it doesn't take a ring for me to feel that way," Kardashian said of her relationship during an interview with Mail on Sunday's You magazine in August 2017.

"My boyfriend is very protective of me. Feeling loved and validated and secure is a huge thing. Tristan is protective of my entire family, which is beautiful."

How Khloe Khloe Kardashian met Tristan Thompson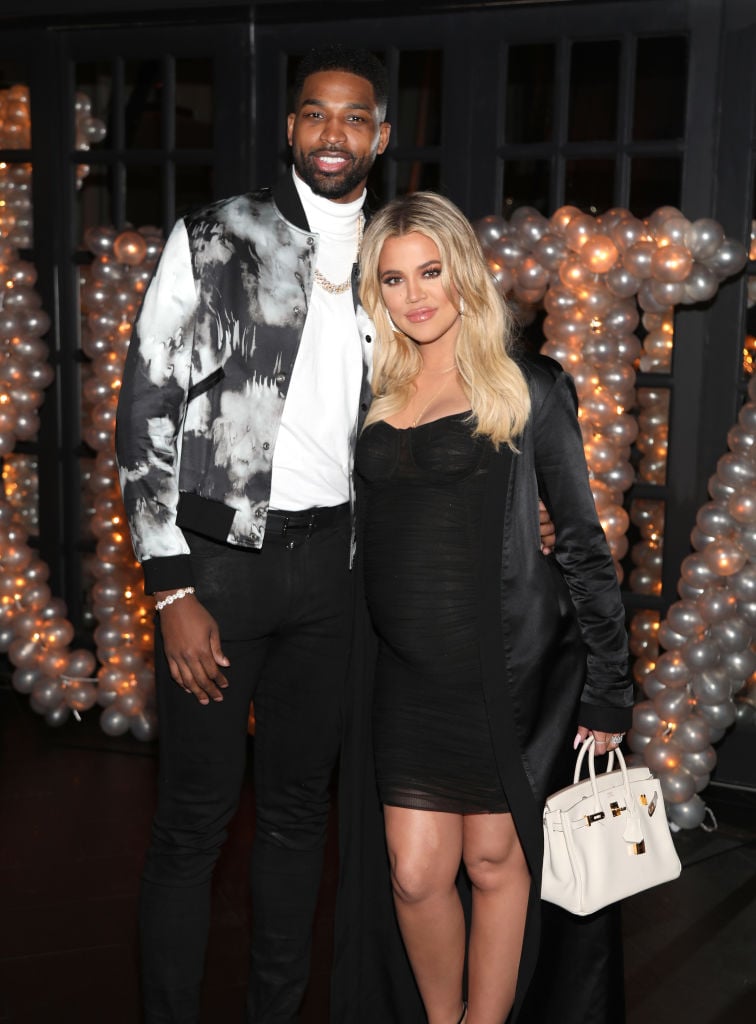 During an Us Weekly interview with Ryan Seacrest for the Keeping Up With the Kardashians Ten Year Anniversary Special, Kardashian explained how she met Thompson.

"I was put on a blind date with Tristan," Kardashian told Seacrest. "Brandon Jennings, who's a basketball player, he's a friend of mine and Malika's, and he's like, 'You're such a good girl, I want to introduce you to someone.'"
"I was at the Bel-Air Hotel. He came to the dinner, cause I didn't want to go on a blind date, so Brandon kind of ambushed the blind date. So I had a bunch of people, and he brought him, and we just connected."