How Did Kristen Bell and Dax Shepard Meet?
Showbiz marriages are still seemingly jinxed when it comes to longevity. Only a very few end up having everything align so they're seemingly perfect. While some seem to admit to open marriages as a way to combat conflict (see Will Smith/Jada Pinkett), others just take the bad with the good. A great example of that is Kristen Bell and Dax Shepard who've had some underlying issues they've had to carefully work out.
The trajectory of their relationship is one built on trust and understanding. Considering both Bell and Shepard are funny people, it also didn't hurt to make comedy a part of what makes their marriage work.
Take a few minutes to learn from what they've learned about marriage.
Dax Shepard was initially skeptical about linking up with Kristen Bell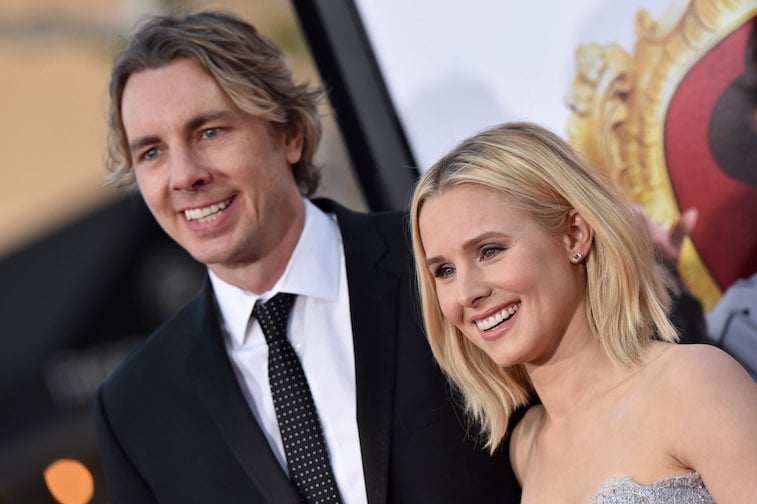 One thing we've learned about Kristen Bell is she's genuinely cheery, even if she plays snarky/skeptical characters as she does in The Good Place. When Shepard happened to meet Bell at a birthday party in 2007, her sunny disposition freaked out Dax with the assumption something wasn't normal.
Outside of thinking she was maybe stuck in a cult, Shepard finally realized maybe there really was an actress out there with a winning personality like that.
When they met up again at a hockey game a couple of weeks later, Shepard might have freaked Bell out a bit when he asked to chew her gum after being in her mouth. This apparently didn't bother her and offered all evidence they had a strong connection.
Soon, romantic texts were going on between the two, paving a path toward eventually hooking up seriously. They didn't marry until five years later.
There was still skepticism about Bell's personality
After becoming engaged in 2009, Shepard attempted to break up with Bell for a brief time. He's never explained why entirely other than saying he went back to her once realizing he'd never find a woman with her personality in all of Hollywood.
Perhaps the real reason for the brief breakup was because he didn't want to marry and just live in common law, something going against Bell's initial wishes.
They stuck together long enough to finally go forward with a wedding in 2013. For Bell, it was a relief since she wanted to bring tradition into their relationship. What made the decision all the easier is the trust she felt in Shepard. He was willing to have an honest marriage where ongoing marriage counseling would always be on the agenda.
Along the way, they've presumably worked out some serious problems, including worries about his past drug and alcohol abuse. Plus, there's been some rumors about infidelity, something they've likely ironed out through their therapy sessions.
There doesn't seem to be one problem they can't work out thanks to honest marital attention worked into their busy schedules.
Having kids made their marriage all the more worth the effort
All we can say is at least Shepard and Bell's kids seem to realize their parents are happy based on how they reportedly walked in on them copulating.
The couple had two daughters (Lincoln and Delta) soon after marrying, both of which continue growing fast. Their privacy has been of paramount concern to Bell and Shepard by taking strict action whenever cameras are around.
Both of their daughters have blonde hair like they do, so we expect they'll grow up looking like a combination of their parents. Considering they're growing up in one of the most "normal" homes in Hollywood, we can see a precedent being set for similar showbiz families. Being funny around the house like they are is also a good start.
We wouldn't put it past Shepard and Bell to take their kids to therapy with them when latter are old enough so there's never any future tell-all books about dramatic feelings hidden away.