How Did Patrick Mahomes and Brittany Matthews Celebrate the Kansas City Chiefs' Historic Super Bowl Win?
Patrick Mahomes and his long-time girlfriend Brittany Matthews are enjoying their first Super Bowl victory. In only his second season as the starting quarterback for the Kansas City Chiefs, Mahomes led his team to their first Super Bowl win in 50 years. With fans in Kansas City celebrating their team's historic win, here is a look at how Mahomes and Matthews marked the big moment.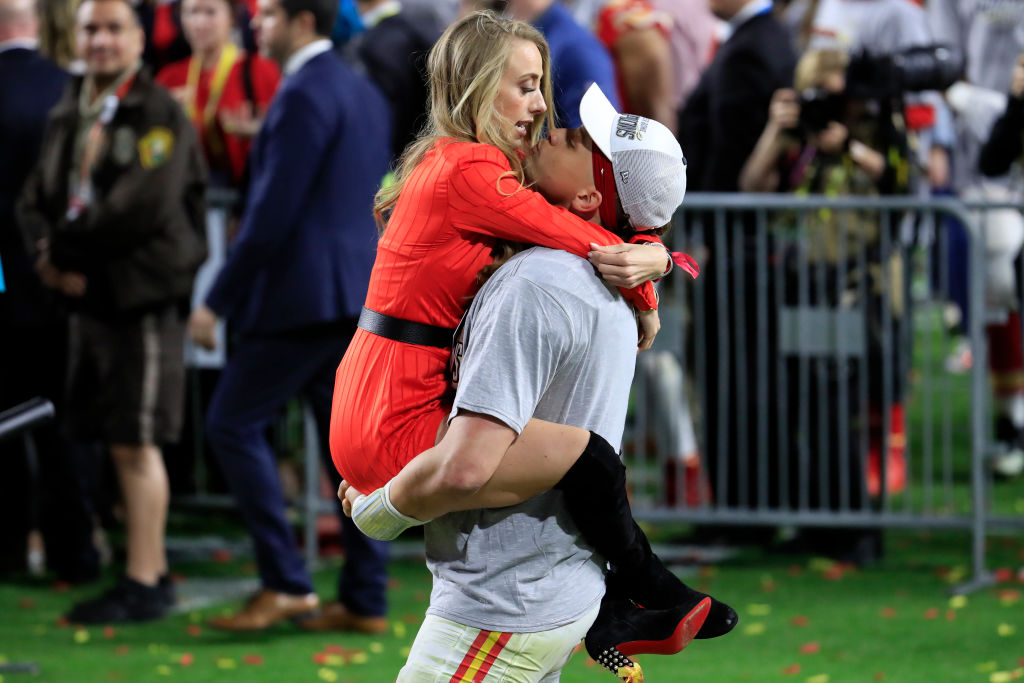 Patrick Mahomes' dreams came true
When Mahomes was 17 years old, he tweeted about how it might feel to win the Super Bowl and the Super Bowl MVP. After guiding the Chiefs to their first championship in 50 years and being named the game's MVP, Mahomes' teenage dream actually came true.
"I bet it feels amazing to be the quarterback who says, 'I'm going to Disney World,' after winning the Super Bowl," he wrote in 2013.
After the big victory, Patrick Mahomes revealed that he was super excited about being a part of the Super Bowl MVP parade at Disney World. He also shared that being able to say those iconic words was a special moment in his career.
"I didn't even remember tweeting it until it came back out before the Super Bowl. For me, it was just such an iconic thing and something that was special, and I wanted to do that. And now I have and I'm here — it's amazing," he stated.
At the time of his Disney World tweet, Mahomes had just graduated high school in Tyler, Texas and was still figuring out which sport he wanted to pursue. His dad, Pat Mahomes St., was a pitcher in Major League Baseball, and Mahomes decided to play football and baseball for his collegiate career.
At the end of his days at Texas Tech University, Patrick Mahomes opted to enter the NFL draft and was picked up in the first round by the Chiefs. Three years later and Mahomes has found himself at the top of the league with a very bright future ahead of him.
Mahomes sets post-game plans
After the big win on Sunday, Mahomes revealed that he had over 250 text messages from friends around the league. According to ESPN, the Chiefs star received congratulatory messages from the likes of Peyton Manning, Brett Favre, Brooks Koepka, Troy Polamalu, and his NBA favorite, Chris Paul.
Patrick Mahomes told his girlfriend that he plans on answering all of the texts once the excitement from the Super Bowl dies down.
He also revealed that former Chiefs quarterback Alex Smith sent him a text congratulating him on the big win. Although one might think there would be a little beef between Mahomes and Smith, it sounds like the two quarterbacks get along great.
"He texted me right after the game, saying he enjoyed it just as much as we did," Mahomes explained. "He wasn't there, but he was part of it — I think that's the biggest thing. He built the culture that I came into. He was the guy that led the team to all these successful seasons and built that winning culture."
While Patrick Mahomes shared quite a few moments with his friends and family, he also got in a few adorable moments with his girlfriend.
Matthews celebrates win on Instagram
Following the Super Bowl, Brittany Matthews shared a photo of her and Mahomes embracing on the sidelines on Instagram. She captioned the pic by writing, "We fought for our right to PAAAARTYYYY," she wrote.
The pic features Mahomes holding Matthews tight as the couple enjoys a quick victory kiss. The two have been together since their high school days and were clearly thrilled by the big win.
Matthews also shared a number of pics throughout the game as she cheered on Mahomes and the Chiefs to their historic win.
Over the past few seasons, Matthews has become a staple on the Chiefs sideline. She also owns her own fitness company in the city called Brittany Lynne Fitness, and played professional soccer back in the day.
Considering Mahomes' performance over the past two seasons, it is safe to say that he and Matthews are in Kansas City for the long haul.
Patrick Mahomes shines in Super Bowl victory
Mahomes has done some incredible things during his first two years as the starting quarterback for the Chiefs. Along with winning the NFL MVP last season, Mahomes threw for 286 yards and two touchdowns in Super Bowl LIV.
His performance, which also included a rushing touchdown, was enough to land Mahomes the Super Bowl MVP. Considering how Mahomes the majority of his career ahead of him, Chiefs fans are optimistic about the future.
Patrick Mahomes, of course, is expected to sign a major contract extension this season that will make him one of the highest-paid quarterbacks in the game. But until then, there is little doubt that Mahomes and Matthews are going to soak up their historic victory.