How Did Pete Davidson Get on 'SNL'?
How did Pete Davidson get on SNL? Connections. He was offered a Saturday Night Live audition after working on a movie with an SNL cast member. Davidson was surprised by the idea that he could even audition for the show but landing the gig was aa big win for the young comedian.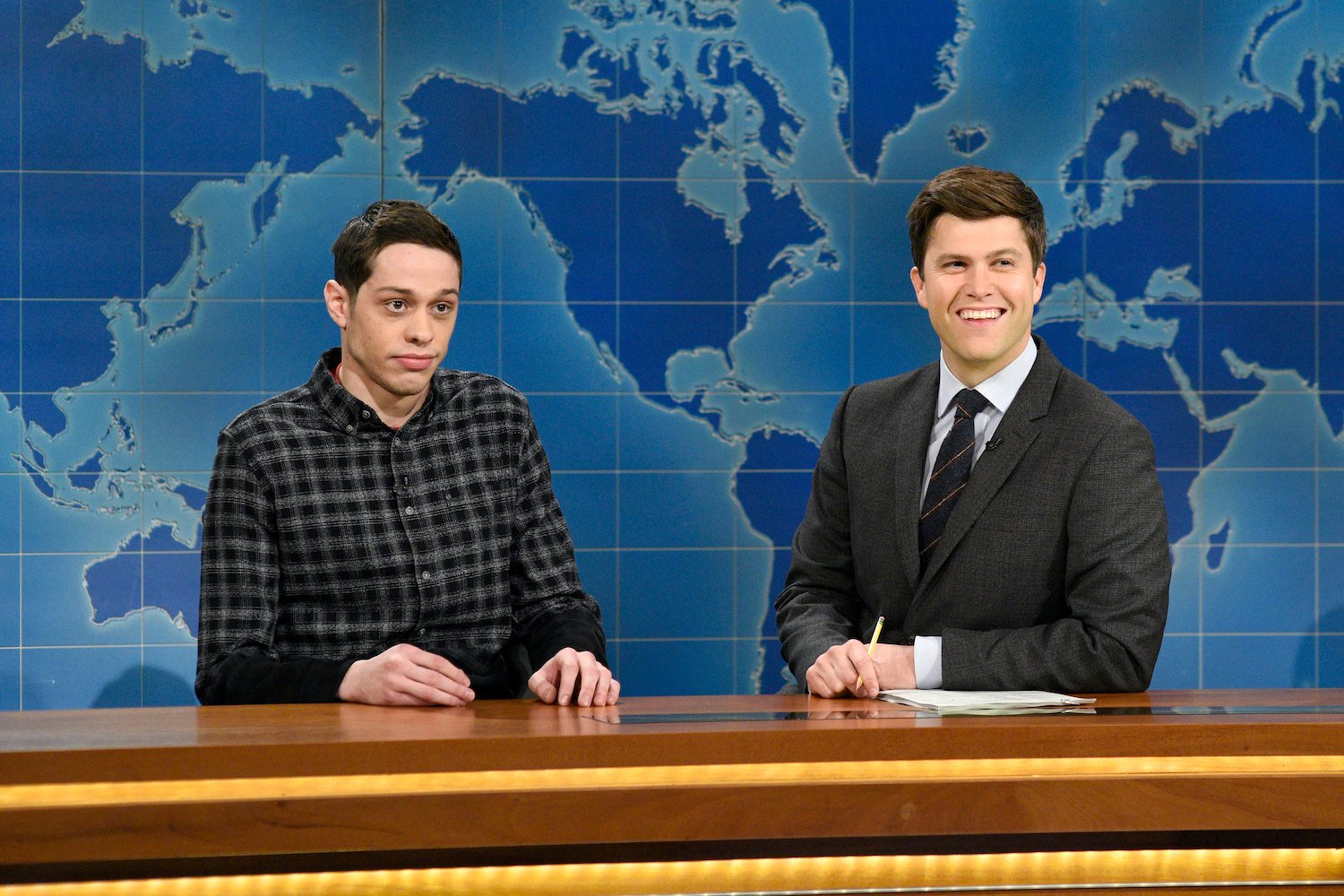 Pete Davidson auditioned for 'SNL'
Davidson joined the Saturday Night Live cast in 2014 when he was 20 years old, making him one of the youngest cast members in the history of the show.
The comedian got the audition after he worked with SNL star Bill Hader on the movie Trainwreck. Hader told producer Lorne Michaels about Davidson … and the rest is history.
"It was after Amy Schumer gave me a part in Trainwreck and I met Bill Hader on set and we talked and kind of hit it off," Davidson told People in 2015. "He called me a week later and said 'Hey, I recommended you to Lorne Michaels.' And I was like, 'Why?' I was just so surprised. I didn't even know that I could audition."
"And the fact that I got it, I just couldn't believe it," he added.
During an interview on Late Night with Seth Meyers, Davidson shared the strange phone call he got from Michaels about landing the gig on Saturday Night Live.
It was a little confusing, to say the least. "I got a call from NBC," Davidson explained. "And it's Lorne Michaels, and he goes 'Hello.' And he was like 'I don't know what to do with you, but you got the show.'"
The show's producer hung up quickly so Davidson wasn't really sure what happened.
"I went home and was like 'I think I got SNL. I think [Lorne Michaels] is already mad at me too.'"
'SNL': Pete Davidson hints at leaving the show
Davidson was rumored to be leaving SNL and opened up about whether it was in the cards for him during a Feb. 24, 2020 interview with Charlamagne Tha God.
"It's a hard thing to do because you don't want to ever pull the trigger too early," he said about when the right time is to leave. "But everybody's always been like, 'You'll know when you know and it'll be all right.'"
Davidson also shared his thoughts on how he felt like he was being mocked on the show.
"Yeah. Here's the thing … I personally think I should be done with that show because they make fun of me on it," he explained. "I get it, but I'm cold open political punchlines, I'm 'Weekend Update' jokes … [It's like] whose side are you on."
"I have a weird feeling in that building where I don't know whose team they're playing for, really … if I'm the joke or I'm in on the joke," he added.
Davidson admitted 'Saturday Night Live' is 'cutthroat'
While Davidson shared that he respects Michaels and considers him a father figure, he also opened up about the challenges of being a cast member on Saturday Night Live.
"Everyone's trying to get their sh*t on, everyone wants to be the next thing, so it's not like a loving … you're not going to get coddled over there. They don't give a f*ck, at the end of the day," he shared.
Davidson admitted that he was worried about getting fired, explaining how "scary" it was to work on the show. "You're just like every day I'm getting fired so everybody's just trying to pound their work on there and you gotta do what you've gotta do," he added.