How Did Prince Andrew and Sarah Ferguson Meet?
Prince Andrew and Duchess Sarah Ferguson have one of the most talked about relationships in the British royal family, but how did the former couple meet?
When it comes to relationships in the British Royal family, Prince Andrew, and his ex-wife, Sarah Ferguson have one of the most talked about scandalous relationships. When they married in 1986 –the red-headed duchess and the "playboy prince" seemed head over heels for one another. However, their romance crumbled almost as quickly as it began.
By 1992 the Duke and Duchess of York were separated and by 1996, they were officially divorced. However, their early days were full of romance and happiness, so how did the royal duo meet?
How did Prince Andrew and Sarah Ferguson meet?
In their early '20s when they first crossed paths, Prince Andrew and Duchess Sarah Ferguson were actually dating other people. They'd seen each other at various royal events since the duchess was good friends with the prince's sister-in-law, Princess Diana. However, it took some time for them to see each other in a romantic light.
Princess Diana set Sarah Ferguson and Prince Andrew up
By 1985, Princess Diana– who had been married to Prince Charles for four years at that point asked Queen Elizabeth II to extend an invitation to Fergie to one of her "dine and sleep" events at Windsor Castle during Ascot week. The cheeky princess thought it was a good idea to make sure that her friend and brother-in-law, Prince Andrew, were seated across from one another. Sparks flew immediately between the pair at that fateful dinner.
The Duke and Duchess of York got engaged after less than six months of dating
Prince Andrew reportedly asked the duchess to be his wife on February 19, 1986 –his 26th birthday. He got down on one knee at Floors Castle in Scotland, the spot where the couple shared their very first kiss. The prince designed his bride's engagement ring which consisted of ten diamonds surrounding a Burmese ruby. He chose the Burmese ruby to compliment Fergie's red hair.
Sarah Ferguson and Prince Andrew's wedding
Prince Andrew and Sarah Ferguson married on July 23, 1986, at London's Westminster Abbey. The duchess wore an embroidered ivory silk wedding dress designed by Lindka Cierach which included a 17-foot train and had the letters "A" and "S" sewn into the fabric. She also wore a 20-foot veil which was draped under her diamond and platinum tiara. The wedding was a massive televised event and was watched around the globe by over 500 million people. Nancy Reagan and Margaret Thatcher were both in attendance, and the newlyweds shared their first kiss on the balcony of Buckingham Palace in front of 100,000 people.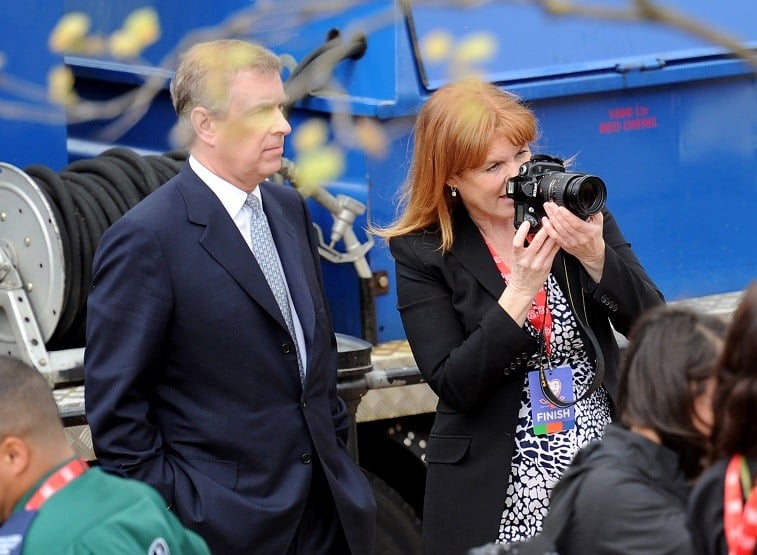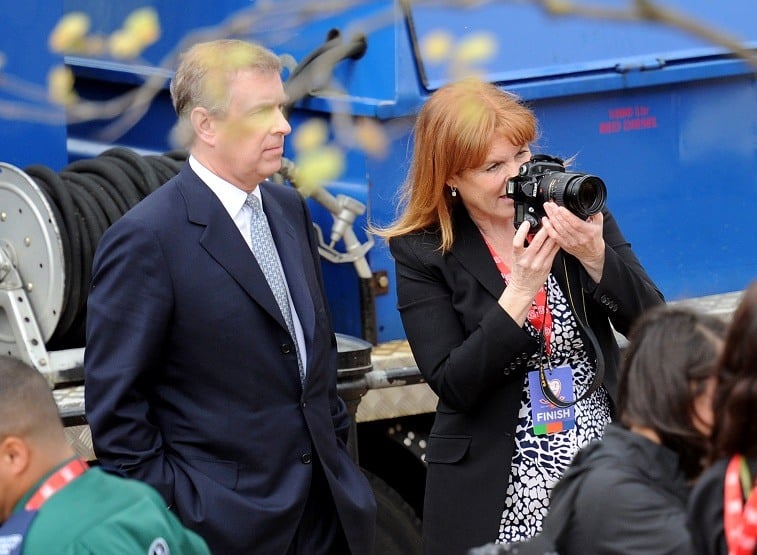 Why did Prince Andrew and Sarah Ferguson get divorced?
The duke and duchess' happiness was shortlived. Though they had two daughters together, Princess Beatrice and Princess Eugenie,  the Duchess of York soon discovered that the royal life wasn't exactly what she'd signed up for. Prince Andrew was an active officer in the navy, which required him to stay away from home for long periods. The couple only saw each other for about 40 days each year. Ferguson told Harper's Bazaar, "I spent my entire first pregnancy alone. When Beatrice was born, Andrew got ten days of shore leave."
By the early '90s, the duchess was searching for some freedom and she found it in the arms of oil tycoon, John Bryan. In 1992, Fergie was photographed topless with Bryan sucking her toes. The photos ended her marriage right then. In 2011, the duchess admitted to Harper's Bazaar that she didn't want a divorce but had to because of  "circumstance."
Though she and Prince Andrew offically went their seperate ways in 1996, they ramin close to this day.
Check out The Cheat Sheet on Facebook!